Hear from the Misses We Miss from Past Merrie Monarch Festivals
Insights and inspiration from former five Miss Aloha Hulas.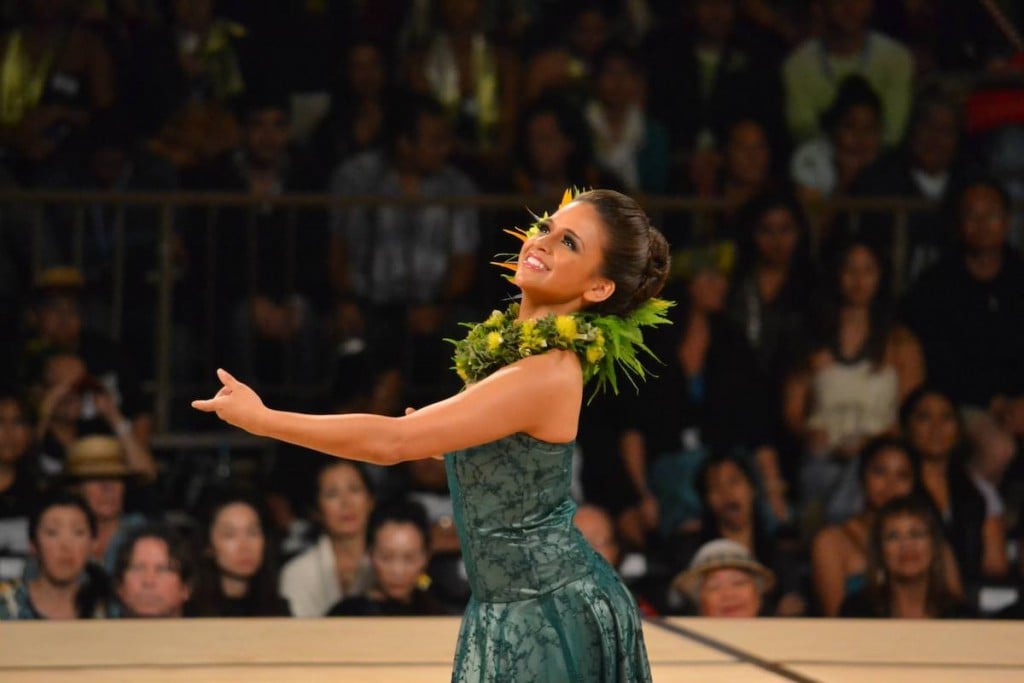 We chat with former Miss Aloha Hulas Natalie Ai Kamauʻu (1990), TeHani Gonzado (2000), Malia Petersen Arakaki (2002), Māhealani Mika Hirao-Solem (2010) and Manalani (English) Souza (2013) as the 2021 Merrie Monarch Festival competition airs today through Sunday.
When the 2020 Merrie Monarch Hula Festival was officially canceled last March, the impact on the hula community was profound. For the first time since its inception in 1963, the competition and all of its accompanying festivities throughout Hilo town came to an abrupt halt. Now in its 58th year, the global hula community is celebrating the return of the competition in a new form as the pre-recorded performances air this week.
In anticipation of this momentous return of the Merrie Monarch Festival competition, we gleaned some insights from five former Miss Aloha Hulas in preparation for the festivities: Natalie Ai Kamauʻu, TeHani Gonzado, Malia (Petersen) Arakaki, Mahealani Mika Hirao-Solem and Manalani (English) Souza. These inspiring mana wāhine waxed nostalgic about their unforgettable memories from the stage, the ways they've kept hula alive throughout the pandemic, and how will be enjoying the 2021 Merrie Monarch Festival from the comforts of home this week.
Natalie Ai Kamauʻu, Miss Aloha Hula 1990
What have been some of the greatest lessons you learned as a Miss Aloha Hula during your reign?
The greatest lesson I learned as a Miss Aloha Hula is that the most important word in that title is aloha. We represent hula, every hula girl who ever dreamed of dancing on that stage and hearing their name, our hālau, our kumu, our 'ohana, The Merrie Monarch Festival—and we do it with grace and aloha. We're not former title holders. We still hold it. We are watched, studied, idolized. The honor continues after our final bow.
As a former Miss Aloha Hula, what is one of your most memorable moments from your performances?
Something was wrong with my dressing room light, so the room kept going black. This really rattled me but I had planned to bring my Walkman to listen to my music while getting ready. I slipped on my earphones and was calmed by my daddy's voice (Hawaiian musician Howard Ai). It's his voice that moves me like no other as a dancer. After my performance, Skylark said, "I've never heard 'Adios Ke Aloha' sung quite like that." He sang for me that night and gave me exactly what I needed during my performance. I stood with him as they announced the winners and when my name was called, he said with a big smile, "You did it." I fell into his arms and cried.
As a hula dancer, what sound, scent or mele always inspires you to dance?
I love to dance hula from my childhood. As kumu hula of Blossoms Hula Studio, I have choreographed hundreds of mele, but none can compare to the hula my mom (kumu hula Olana Ai of Hālau Hula Olana) taught me. I can hear her voice, her instructions, even now. I think of the costumes she sewed for me, the lei my dad made. Hula is all of that to me.
How have you managed to keep dancing and practicing your hula traditions throughout the challenges of 2020?
Zooming with my students has been a blessing. I've learned to be creative in my teaching. I use props, games, flash cards. I've sent my students activity boxes. We've created projects which gave them purpose and drive. A kumu is a source—of teaching, of light, love and hope.
As a Merrie Monarch spectator, what do you look for in an award-winning MAH performance?
I'm a feet watcher. I love a dancer that has mastered their hālau basics. If I can see her kumu in her dancing, to me, she has already won.
How will you be watching Merrie Monarch 2021 and celebrating your own festivities this year?
I'll be watching Merrie Monarch this year with my family, cheering on my sister (Shelsea Apana, kumu hula of Hālau Hula Olana). We're gonna dress up for every night, like we're there—my heart is there! We sent her with our best musical arrangements of songs she chose. We've been talking every day and when she comes home … PARTY! I'm so proud that she's one of the kumu hula that worked through shut downs and tiers.
TeHani Kealamailani Gonzado, Miss Aloha Hula 2000
As a former Miss Aloha Hula, what is one of your most memorable moments from your performances?
My most memorable moment would be from my ʻauana, when I danced the mele "Kuʻu Ipo I Ka Heʻe Puʻe One," sung by The Brothers Cazimero. There's a part in the mele when they crescendo the line "hiki mai ana…" It's held out for a long time, but onstage that evening it was held for even longer than we practiced and even longer than the recording, but I just went with it. Something happened–there was this synergy, this mana, this magic that happened between the three of us. I actually ran out of room to lengthen my motion and had to ad lib a little, and when I did it and I felt really cool. I wasn't worried, I let the music and the musicians guide me. I always remembered that moment and stay true to that anytime I'm dancing to a recording or a live musician as a reminder that the musician is the one that leads.
Has your connection to hula changed or evolved since becoming a kumu hula (of Hālau Nā Mamo O Kealamailani) yourself?
My connection to hula hasn't changed in the sense that hula has always been a foundation in my life. I've been dancing for 41 years–since I was 3 years old—so that's a constant. Even with little breaks here and there, I never stopped dancing, never stopped listening to Hawaiian music and never stopped thinking about hula. Hula is the friend I always can rely on. Hula accepts me for my strengths and weaknesses, and is something and someone that never judges. That's a beautiful, safe thing to feel. My connection to hula has definitely evolved since becoming a kumu hula myself, because the kuleana is bigger, deeper, and stronger. You can look to your haumāna for kōkua, but at the end fo the day, you are the foundation of that hālau, and the way you act, teach and even move about a room sets the tone for that environment.
As a hula dancer, what sound, scent or mele always inspires you to dance?
I'm gonna answer all three cause thats every much what an ʻōlapa, hoʻopaʻa and kumu hula would do! For me, it's the sound of the ipu heke. After years of hula, when my body hears that sound it immediately wants to move. But I also think that response is because of our innate cultural connection to generations of hula dancers and our people. I can see it when I'm teaching keiki—especially those who are poʻe Hawaiʻi kānaka—that when that ipu heke sounds, there is a deeper cultural connection happening.
For scent: palapalai. As an ʻōlapa, you know once you're making lei palapalai or adorning yourself with it for Merrie Monarch kahiko night, it's really the start of all the work that you have put in to months of training, so again it awakens your senses.
For mele kahiko that inspires me to dance, it's anything that has to do w Pele. "Aia Lā O Pele," "Kīlauea," any of those mele. As far as ʻauana, though, it will always be "Ka Lehua I Milia," because that was the first mele I learned as a 3-year-old. While not age appropriate, I learned it because I would go to hula with my mom and aunties, and that was the song they were learning from their kumu, Ed Collier. I would get up and follow them, so that was the first mele I learned from start to finish.
How have you managed to keep dancing and practicing your hula traditions throughout the challenges of 2020?
Besides being the kumu hula of Hālau Nā Mamo O Kealamailani, I'm also the kumu at Mānoa Elementary [on Oʻau]. While they weren't doing online classes with me the first semester of school year, I still had parents who wanted their keiki to take hula from me, and so I was holding online classes after school. For hālau, we met weekly at the same day of the week and same time as our normal schedule. At first it was really great, but it just started to slow down recently and I think we all just needed a little break. I didn't allow myself a break during the 2020 quarantine, so I also needed the break as well. We will resume with our regular schedule of classes again in August.
As a Merrie Monarch spectator, what do you look for in an award-winning MAH performance?
I'm looking for that "it" factor. I'm looking for something special. I used to say I was looking for the girl that wanted it, but the truth is that all the girls really want it…but only a handful of wāhine have the innate ability to really have a "wow" moment. Every contestant is set up and given these tools by her kumu hula, and that in and of itself is very powerful. But the other thing the contestant or representative of the hālau must do is to take that mele and make it their own. It's great to want to interpret what the composer was trying to share and what your kumu hula's interpretation is, but at the end of the day, if you haven't experienced what the mele is expressing, it's really hard for you to connect to it.
How does hula continue to grow and flourish in your life?
That's such a profound question, because although hula remains the same in its importance to me, it feels like it changes with me too, like I'm in a relationship with hula. It never turns its back on me, so I think when I'm growing, its growing with me. When I'm dancing, hula really allows me to be me without judgement, and because of that, our relationship always grows. I'm married to hula—it's not written on paper, it's written in my naʻau.
What are you missing about the competition and/or being in Hilo this year?
Oh, everything! Just landing in Hilo—there's an energy about it from the first step you take off the plane. We all know there's mana felt on moku nui, but there is just something different during that time of year. It's exciting and empowering! I'm really gonna miss it this year but I understand the need to put things on hold and have the competition held differently this year for the health of our lāhui, and I really respect that.
I also miss being invited to watch Merrie Monarch practices, where my kumu, Sonny Ching, will often invite me back to his hālau (Hālau Nā Mamo O Puʻuanahulu) to help train his Miss Aloha Hula contestant. Sometimes I'm invited back to my hālau who I won my Miss Aloha Hula title with, Hālau Hula O Kamuela (under the direction of Kauʻi Kamanaʻo and Kunewa Mook), so that's always really nice. I love going back to see new faces, see how my kumu and the hālau have grown, but to also have them look to me for insight is really beautiful as well. I can't wait to see what these hālau are going to present under such challenging circumstances, but I mahalo them so much for giving us hula this year—because I know I needed it—and our community does too!
Malia Petersen Arakaki, Miss Aloha Hula 2002
Has your connection to hula changed or evolved since becoming a hula mama and watching your keiki dance hula?
My connection to hula will always be there for me—I live for hula! That is my calling, my happy place, my comfort zone. Having my daughter, Makyla, fall in love with hula like I did when I was a young girl brings me so much joy! I took her to hula at 3 years old, and she was so shy she would just sit in the back or just dance in the back on her own. But at the age of 4, she was flipping her kalaʻau with us as we trained for Merrie Monarch 2017. I watched her dance in her first Keiki Hula competition in 2019 at the age of six and I was a wreck—I was more nervous that she was! I am so proud of her and I continue to teach her to be humble and grateful for it all. Hula will always be a part of our lives and we thank "Uncle Anson" aka Kumu Kauʻi for all he does for us both.
As a hula dancer, what sound, scent or mele always inspires you to dance?
As a hula dancer, when I hear music it always makes me dance. Hearing live music gets you swaying. When you're at hula shows and competitions, having fresh plumeria lei and lāʻī skirts gets you in this mood where hula is all you're thinking about, and you just can't wait to get out there and dance! Both Makyla and I dance hula all the time in the car when mele come on and we know the hula to it—it's a special bond we share and have fun with!
How have you managed to keep dancing and practicing your hula traditions throughout the challenges of 2020?
Thankfully we were able to continue dancing in 2020. We started hula on Zoom and it was a so nice to be able to see everyone and just get back to it. I can't wait for in person classes to start again and we can feel each other when dancing and that energy you get from you hula sisters and kumu—it's priceless and we all look forward to that very soon I hope! Makyla dances regularly with her keiki class on Fridays, and I being the hula dancer too, jump in sometimes and dance with her for fun. Now it's fun seeing my youngest, Ellyana, showing some sort of interest seeing her big sister dance. I hope she will want to hula just like Makyla. Makyla loves dressing her up with her pāʻū and put lei on her it's so funny and cute!
When you reflect back to your days as a performer and contestant at MM, what do you miss about those memories?
I definitely miss that excitement of preparation and long hours spend with your hula 'ohana. The challenge, and aches and pains, blood, sweat and tears, its totally worth the feeling that you get being on that stage dancing your heart out. I cherished my year training for MAH…even though I stayed at the hālau till midnight at times, I loved being able to create that bond with aunty Paleka and Anson (Kauʻi). Also, being aunty Paleka's last Miss Aloha Hula is something I hold very dear to me, as she will always hold a special place in my heart. I love seeing old videos and seeing her up there chanting and singing—she was such a gem and we love and miss her so much!
What traditions are you missing about the competition and/or being in Hilo this year?
I miss being there in Hilo town for the festivities! Even if you didn't have tickets to the festival, you still want to be there—it's an energy of the people, the hālau, the kumu, the craft fairs, the events, the parade, the food … everything that week of MM is so much fun! Next year will be my 20th anniversary, and I would love to bring my 'ohana to experience being in Hilo for Merrie Monarch. Hopefully things will be back to normal by then and we will have a live audience again. I miss seeing all my friends, from hula titas and musicians to nā kumu…I miss everyone! The hugs, the talks, the love and smiles on everyone's faces!
Māhealani Mika Hirao-Solem, Miss Aloha Hula 2010
As a former Miss Aloha Hula, what is one of your most memorable moments from your competition?
One of my most memorable moments from my Miss Aloha Hula presentation was the feeling of piha—wholeness and completion. That feeling of knowing that all my years of hula since I was a child culminated in that moment. Every single lesson I've ever learned contributed to that moment in time, that presentation, those minutes on the most grand hula stage in the world. When I close my eyes 11 years later, I can still feel exactly what that moment of realization felt like.
What have been some of the greatest lessons you learned during your reign?
I didn't realize what an impact I had on others around the world who love Hula until I traveled & performed as Miss Aloha Hula. It was only at that time, doing meet-n-greets, interviews, appearances and performances that I truly understood what a large impact I had on others, which solidified what I knew all along … that hula has the ability to bridge cultures, languages, religions and differences. I was in awe of the love so many people had for hula and Hawaiian culture. It made me want to assure a great experience for anyone I interacted with, so they could not only see what hula was but also so they could feel what hula was through my aloha for them. Sometimes I think people can forget to be kind to others and I hope to never forget that lesson … it's the most important part of the title Miss Aloha Hula. There is no hula without aloha.
As a hula dancer, what sound, scent or mele always inspires you to dance?
The scent of maile and palapalai trigger my hula genes and always make me want to dance! I have so many memories of significant moments in my life as a hula practitioner that include those scents. I love many other lei but every single time I wore palapalai, it was because I had kūpeʻe or lei poʻo for kahiko and it was always such a special moment. Any time I hear the rumble of the pahu I immediately start to bend my knees, raise my hands, fill my lungs with air and activate my posture to hula. The sound of the pahu resonates in my naʻau in such a raw and ancestral way. When I hear the pahu I immediately know my ancestors have heard this same sound and felt this exact same way, so it's a genetic and generational response. As for mele that move me to hula, it honestly changes depending on where I'm at in my life. Currently, Kekuhi Kanakaʻoleohaililani's albums have been on repeat, especially "Awaiaulu Ke Aloha" from her 1998 album entitled "Kekuhi." Her leo is embodying the vibe I'm living in at the moment.
When did you open your Kilohana Dance Studio in Japan and how has your connection to hula changed or evolved through that experience?
I opened my hālau, Kilohana, in Tokyo, Japan in 2012. We're celebrating 10 years next year—OMG! My connection to hula has definitely evolved throughout this past 10 years through teaching. I have strengthened my connection to hula and have found a purpose for my hula that wasn't obvious to me as a competitive dancer and haumāna. I strongly feel that through teaching I have strengthened my dancing abilities as well. I have tapped into the connection to creativity and expression through hula as I experience more in my life. I have also witnessed the positive changes hula can affect on others through teaching my haumāna. Many of their lives completely change for the better because of hula. There are so many new facets I have discovered about myself and hula because of my hālau.
How do you think the practice of hula differs regionally as you have experienced teaching in Japan, California and Hawai'i?
Through my experience teaching in different parts of the world I have definitely noticed that specific places and cultures directly impact the way dancers interpret hula through their bodies. For example, with my students in Japan I work on emotional expression, hip movement and variation of situations they might be faced with when performing. These are aspects of hula that do not come as natural to them given the nature of their culture. They are not highly encouraged to outwardly express varying levels of emotion and they hold preparedness in high regard and always have a back-up plan.
In Hawaiʻi, our culture is a little more laid back and sometimes in hula you just gotta go with it and "geev ʻum." Sometimes we dance outside and it starts to rain, we keep dancing. Sometimes the musician will forget the words, we keep dancing and start singing out loud. Sometimes there's 100 people in the audience, sometimes there's only one—we give our all anyway. These are characteristics of hula that do not come as natural to someone born and raised in Japan. Hip movement is another one. To better understand I decided to take a traditional Japanese dance class and I was horrible at it! The teacher kept telling me to stop moving my hips, tuck my pelvis forward and don't pull my shoulders back … all the opposite reminders I tell my students! Everything made sense at that moment!
When I taught in Mexico I didn't need to tell them to express or move their hips, they did all of that naturally and I instead had to focus a little more on control and posture. It made sense to me because as a Latin culture they were naturally expressive of their emotions and had their own dance forms where hip movement was involved. In California it's very interesting because there are many Hawaiʻi people who moved to California or their parents or grandparents are originally from Hawaiʻi. There is a Hawaiʻi connection, yet, they are not in Hawaiʻi. The hula community in California has been able to establish their own way of thriving which is so beautiful, but in my opinion from my own experience, there is something slightly missing which is the connection to ʻāina that you can only get from Hawaiʻi. And that's not a bad thing, because it means that in order for Hula to truly feel 100%, you need Hawaiʻi. There is no such thing as hula without Hawaiʻi and that fact will forever keep hula practitioners around the world coming back to Hawaiʻi…to the piko of hula.
How have you managed to keep dancing and practicing your hula traditions throughout the challenges of 2020?
I have been able to keep up my hula through having to be creative in my teaching methods since I haven't been able to see my students in over a year. I have filmed myself dancing from every single angle imaginable on every kind of device available … I'm sure like so many others have had to do. They have been incredibly patient & committed to continuing their learning virtually. We have had a couple opportunities to participate in virtual performances which has been a blessing so they can get excited about working towards their hula goals. Overall, it has been a blessing to be so connected to them throughout this time. We have been able to focus more on history, chanting, singing, ʻōlelo and ʻukulele during this pandemic. I'm so grateful for them.
How has it felt being home since your recent move back to O'ahu after 9 years living abroad in California and Japan?
It has been like HEAVEN being back home on my beloved ʻāina! I have been taking my time adjusting to being back home and it's been beautiful being around my ʻohana all the time. I'm excited to strengthen my connection to my home and continue our love story—yes, I totally have a love affair with my beautiful Hawaiʻi! I was 27 when I left and I'm now 35. I am so grateful for the time I spent away from Hawaiʻi because I have gained so many amazing experiences, learned so much about the world and myself.
How will you be watching Merrie Monarch 2021 and celebrating your own festivities this year?
I'll be watching Miss Aloha Hula night with my tita, TeHani Gonzado (Miss Aloha Hula 2000), and I'm hosting a Merrie Monarch watch party with my dear hula brothers and sisters from high school days at Kamehameha! I would normally be up in Hilo so this will be a different way to enjoy Merrie Monarch and I'm kind of looking forward to celebrating in this new way. Don't get me wrong though, there's absolutely nothing that compares to being in Hilo!
Manalani (English) Souza, Miss Aloha Hula 2013
What have been some of the greatest lessons you learned as a Miss Aloha Hula during your reign?
Humility. Not just humility as its defined in the dictionary, but humility in every possible way—in every uttered word, in every reaction, in every motion and in everything I do. Being awarded Miss Aloha Hula is not just an honor, it is a responsibility. To be gifted this honor is a blessing that I truly believe was given to me so that I can be a leader of good.
As a hula dancer, what sound, scent or mele always inspires you to dance?
There are so many sounds, haku mele (composers) and artists that I can't help but want to hula to! Keauhou, Nā Hoa, Mark Kealiʻi Hoʻomalu, Kealiʻi Reichel, Amy Hanaialiʻi, Makaha Sons, Chad Takutsugi, Hoʻomanawanui Apo, Kamakoa Lindsey-Asing, Kīhei Nahale-a, Sean Naleimaile, Josh Tatofi, Kainani Kahaunaele, Nā Palapalai, Kaumakaiwa Kanakaole, Mark Yamanaka, Natalie Ai Kamauʻu and Aaron Sala—just to name a few! But, ultimately, it has always and forever will be the voice of my kumu. Kumu Nāpua awakes my every hula cell whether on her ipu heke or on her ukulele. Lucky for me to have a kumu that has super powers like that.
If I had to pick one specific mele, however, it would be Puamana. I recently married my soulmate, Kalama Souza (ʻōlapa of kumu hula Kaleo Trinidad and hālau Ka Leo O Laka I Ka Hikina O Ka Lā) who is the grandson of Imgard Farden Aluli, the haku mele of Puamana. When I dance this song I feel the generational pull and importance of our kuleana to continue such a beautiful family tie to these amazing mele that were so genuinely brought into our world by such an amazing ʻohana that I now call my own.
How have you managed to keep dancing and practicing your hula traditions throughout the challenges of 2020?
When I think of this question, it almost comes out in reverse for me. Hula, my traditions and the discipline I've been taught have grounded me and enabled me to face the challenges of 2020. I never stopped dancing. Well, I never stopped working (as a cardiac catheterization technologist at Kuakini Medical Center, Straub and Castle) but when I was stuck at home I would dance and chant–old mele, new mele, kahiko and ʻauana mele. It makes me clear my mind, it makes me forget the craziness of this world we live in and most of all it grounds me.
As a Merrie Monarch spectator, what do you look for in an award-winning MAH performance?
A dancer that moves me, that demands my attention, has perfect chemistry with their kumu and musicians and really emulates the passion of hula out of them. Footwork is also a big one for me. Because even though we lose ourselves in our mele, it takes a skillful dancer to be in control of their footwork, every kaholo, every tap, every ʻuwehe and all while keeping the perfect distance between each foot. After that, its presence. I've always been so passionate of the expression maiau–skillfully meticulous.
The color coordination of lei, flowers and costumes, the look of a slick updo as opposed to long freshly braided hair, the perfection of flower placement, the beauty of lei that were so perfectly gathered prepped then sewn together, the look of a long holokū versus the swishing a full double knotted ti-leaf skirt and most of all the thoughtful process of every little piece that makes the magic happen. This is where my brain goes when watching a hula anywhere. I've learned to appreciate all schools of hula and that incredible sacrifice every hālau goes through in order to bring our mele alive.
How does hula continue to grow and flourish in your life?
It's quite amazing to think that at 9 years old my mom forced me to go to hula practice. Twenty-three years later my mom and dad still drop me off to hula when I'm home on Maui. Hula is my foundation in life. It's taught me values that make me strong, balanced and comfortable in my skin. The older I get the more hula continues to teach me, even still today and even tomorrow.
What are you missing about the competition and/or being in Hilo this year?
I miss the pilina of my hula tita. Competition with my "Nā Lei Loves" has always been about the adventure. If you ask anyone that competes Merrie Monarch in our hālau, they will all have the same. We were always taught that sure we want to be the best we can but at the end of the competition it's the life we brought to these mele, to these places and to these people that will live within us forever. Every year is an experience of a lifetime and how lucky we are we get to have a lifetime experience every single time we go. It's incredible. It's invigorating.
How will you be watching Merrie Monarch 2021 and celebrating your own festivities this year?
Well, this year is special as my hālau is going through its first ʻūniki (graduation) ceremony, just another reason to be utterly obsessed with hula! We will be on kapu for our ʻūniki, during this year's Merrie Monarch. I'm kind of a fanatic when it comes to Merrie Monarch (I have every DVD and tape of all Merrie Monarchs even the collaboration of the first ever 30 years of Merrie Monarch, LOL), so I'm hoping that we won't have ʻūniki kuleana during the showing of Merrie Monarch 2021, if so I'll have to tape it and watch when I'm not distracted in the comfort of my home and cozy couch.