Help Reforest Gunstock Ranch on Oahu's North Shore
The Hawaiian Legacy Reforestation Initiative started a project to reforest more than 500 acres of land at Gunstock Ranch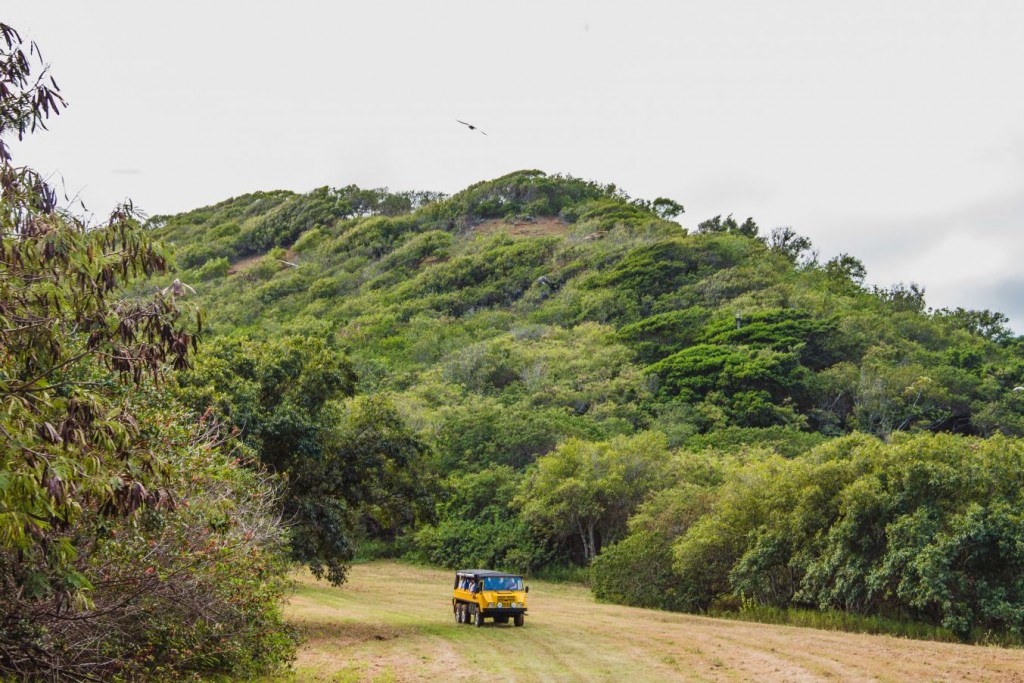 Lilia Tollefsen helps me shimmy a small milo tree from its pot, the soft dirt crumbling between my fingers. Before I place the fragile plant, the one I had selected from a few others, into the hole already dug for me, she says to wait. I get the feeling something important is about to happen.
And I'm right.
"What do you want for this tree?" Tollefsen asks me. I'm not immediately sure. I want this tree to grow, obviously. And I want this tree to help the ranch's goal of restoring part of its sprawling ranchlands into a thriving native forest. "Put your energy into the tree, your hopes and your dreams," she says. "Everything. In the tree."
I do, mostly because she's told me to, but also because it feels right. I want this tree to be part of this legacy forest, the first on Oahu for the nonprofit Hawaiian Legacy Reforestation Initiative, which has already reforested more than 400,000 native and endemic Hawaiian trees on two sites on Hawaii Island and now on Oahu. None of the milo trees we're planting today will be cut down; instead, I can actually track the growth of my tree online through the company's Tree Tracker program, as each one is outfitted with an electronic chip with an assigned serial number and GPS coordinates.
Ranch owner Greg Smith grew up on this ranch. His dad started it more than 45 years ago, clearing the former sugarcane land to raise horses and cattle. Smith and his wife, Kyndra, raised their five children here, too, and they have a deep connection to this place.
"When you work on the land, raising cattle, you know you're taking away from it," says Smith, whose quiet kindness shows in the way he treats his employees and talks about the thousands of kids who visit the ranch every year. "We felt this was a way for us to give back. It's a nice way to do something good."
Thousands of milo trees have already been planted on the ranch—some to commemorate wedding anniversaries, others in honor of loved ones. "Every tree has a story," Smith says.
I carefully place the small tree, mindful of its young branches, in the hole, then surround it with soil. Tollefsen tells me to hold out my hands around the sapling, as she pours water over them, spilling into the soil where I had just placed the tree. It's almost a religious experience, as if baptizing this young tree as it starts its new life rooted in the forest floor. It's much more emotional than I had anticipated.
"There's something about planting a tree," says Tollefsen, who has worked at the ranch for years, a place where her own children have grown, a place she considers a second home. "There's a reason why the trees here are doing so well. They are loved."
How to Plant a Tree
Gunstock Ranch offers three tours that allow you to plant a legacy tree on its North Shore property. (You can also book a private charter through Paradise Helicopter to land at the ranch to plant a tree.)
Planter's Experience Tour:
This one-hour experience takes you on a short tour of the ranch, which ends with the planting of your own milo tree. Starts at $95.
Private Off-Road Planter's Tour:
Explore the ranch on this private two-hour guided tour that includes a tree-planting and lunch catered by nearby Pounders Restaurant. Starts at $136.
Horseback Planter's Experience:
On this 2.5-hour experience, ride on horseback through the historic ranch on mountain trails with stunning views of the ocean and coastline. At the end, you plant your own milo tree; lunch catered by Pounders Restaurant is included. Starts at $289.
For more information, call (808) 341-3995 or visit gunstockranch.com.