Here's a sneak peek inside our latest Outdoors Issue, on newsstands now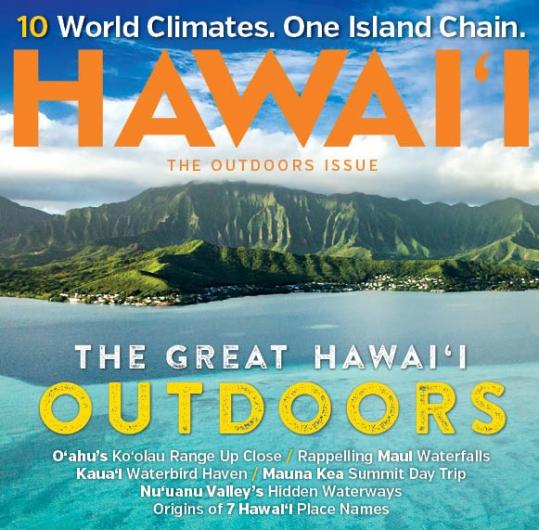 HAWAII Magazine's March/April 2015 Outdoors Issue hit newsstands this week. Its stunning cover—of Oahu's Koolau mountain range from Kaneohe Bay by photographer Cameron Brooks—sets the pace for what you'll find inside: pages chock-full of Hawaii insider tips for the outdoors, activities to try and an exploration of the facets of Hawaii that make it such a unique place.
Here's a sneak peek:
• Even though it occupies a (relatively) small space, Hawaii's "Big Island" has the world's most dense and diverse concentration of distinct climate zones. In this month's feature, "All the World in One Place," editor Derek Paiva wandered through all 10 to learn and share what to expect from each one. We're challenging our readers to get out there and see all of Hawaii's climate zones too! Share your Hawaii climate selfies with the hashtag #HIMagClimates on social media and check out others doing the same.
• Photographer and avid hiker David Chatsuthiphan snapped some crazy panoramas of the Koolaus—a "mountain range" that is actually the western half of a million-years-extinct massive volcano caldera on Oahu's Windward (eastern) coast—for our 12-page photo essay "Such Great Heights."
• "Island Hopping" stories this month take you alongside an early Hawaiian canal system hidden amidst residential neighborhoods and parks in Oahu's Nuuanu Valley, to the precipice of a raging waterfall on Maui, into the only place in the world where all five of Hawaii's endangered native wetland bird species live side by side (it's on Kauai), and on a nostalgic daytime trip to the top of snowcapped Mauna Kea.
• Learn about Na Ala Hele, the state-run network of 124 trails that snake through six islands; find some great Hawaii outdoor reads; and discover a tasty new post-hike eatery: Livestock Tavern.
And, that's not all! There's much more to discover in our "Hoomaka" (To Begin), "Shopping, " and "Maoli" (Indigenous) sections, before taking "One Last Look" at the longest and deepest lava tube on Earth, and going "Back in the Day" to Oahu's Nuuanu Pali Lookout and Road.
We're so excited to share our latest issue with you!