Here's video of Hawaii's first humpback whale sighting of the season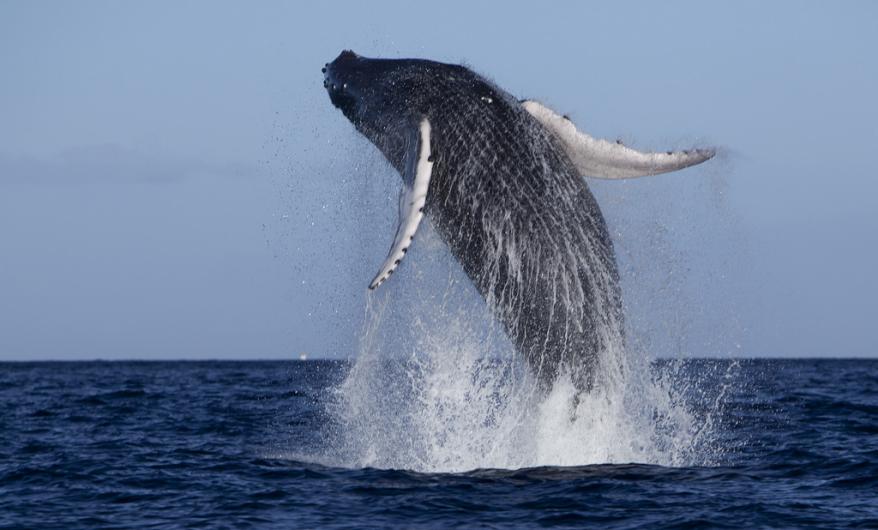 Humpback whale season arrives earlier than expected this year in Hawaii.
Last week, oceanic researchers traveling aboard NOAA ship Hiialakai spotted the first humpback whale off the Niihau coast.
The crew was on their way home from Papahanaumokuakea Marine National Monument in the Northwestern Hawaiian Islands when they saw the adult mammal's hump and tail breach the surf of the water, and they were quick enough to catch it on video.
Video: NOAA
In Hawaii, humpback whale season is typically considered to be from November through May, however this sighting on September 29, 2015 marks an early start to their migration. Just a few days later off the Kauai's southerwern coast, another adult humpback was seen, that time including a pectoral slap and a dive.
That event wasn't caught on camera, but there'll be more than enough opportunities to do so in the coming weeks. More than 10,000 whales are expected to enter Hawaiian waters—a reminder that everyone must keep a safe distance from this endangered species that's protected in Hawaii. Federal law enforces all to stay at least 100 yards away from the whales when on the water and 1,000 feet if operating an air vessel.
If you do notice one of these creatures in distress (injured or tangled), keep your distance and call the NOAA Marine Mammal Hotline at 1-888-256-9840, or if you observe a suspected breach of the whales' safe zone, call the NOAA Fisheries Enforcement Hotline at 1-800-853-1964. That in mind, happy whale watching!