Here's What To Do If You Can't Get a Car Rental in Hawaiʻi
Times are tough out there, and with car rentals going for hundreds of dollars a day, we've come up with a few alternatives for visitors who can't get a set of wheels.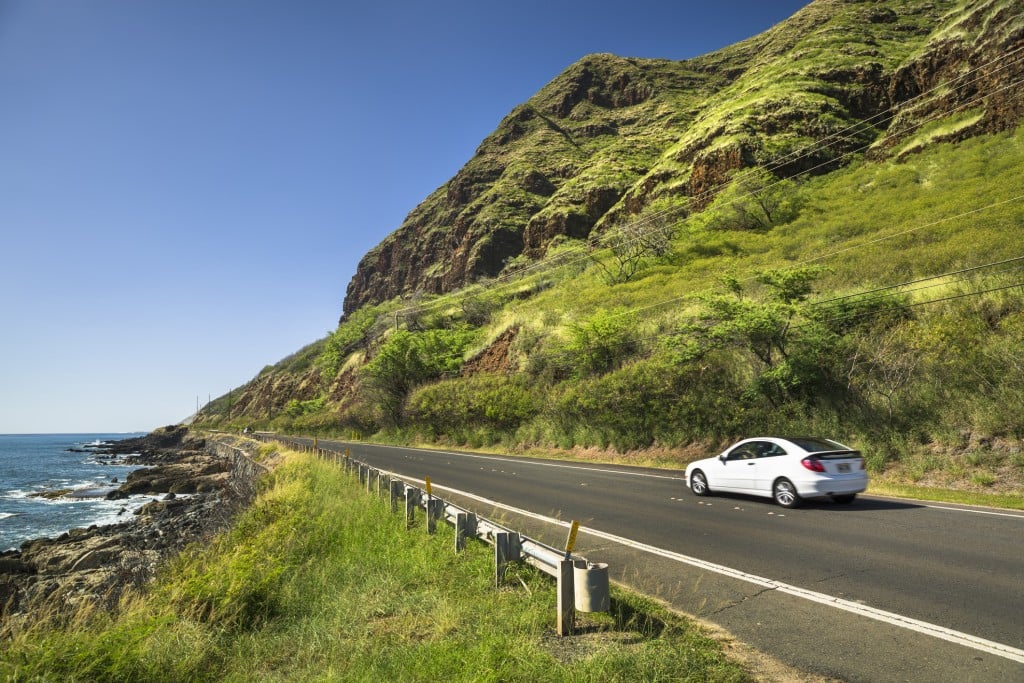 One aspect of traveling to Hawaiʻi that has caught a lot of travelers off-guard—including our editorial team—is just how hard it is to find a car rental in the Islands. A shortage created by the COVID-19 pandemic, visitors have been left scrounging for a vehicle to take them to all of the magical places they want to go. And, to make matters worse, car rental prices have skyrocketed, with cars costing hundreds of dollars a day to rent. If you've found yourself in this tricky situation, here are a few ways you can get around Hawaiʻi without breaking the bank.
1. Location, Location, Location
The golden rule of real estate—location, location, location—actually applies here. When planning your accommodations out, make sure your hotel, B&B or vacation rental is in a super central location, whether that's smack in the middle of Honolulu, in the heart of Wailuku or in the center of Hilo. This will put you within walking distance to much of the necessities you will need throughout your trip—groceries, restaurants, shopping. Of course, your best bet is renting a hotel that you can drive, also known as an RV. Surfer Van Hawaiʻi on Oʻahu, Kauaʻi Camper Rental on Kauaʻi and Huakaʻi Campers on the Big Island will hook you up with the camper van of your dreams.
2. Two Wheels Are Better Than No Wheels
If you can't get a car—or can't afford to rent a car—bike rental services are much more accessible and affordable. Biki services much of Honolulu, with over 120 bike rental stations in convenient locations. Even outside of Biki, The Bike Shop in Kailua also offers daily bike rentals for those trying to get around town, or to the beach, and Maui Cyclery offers road bike rentals perfect for long distances. Of course, this method is less effective for those traveling with families, especially those with keiki (kids) who aren't so comfortable riding a bike yet.
3. Call a Cab!
While Uber and Lyft are both excellent options for those without a car rental, almost every island in the state has some sort of taxi service available for visitors to use. Sure, it's expensive, but if you're only using a cab a handful of times during your trip, it'll save you some serious green in the long run. If you can swing it, book a car rental for half your trip—or when you think you'll be on the road the most—and then rely on taxi or rideshare services afterward.
4. What's Turo?
To put it simply, it's a car rental service, but instead of dealing with national car rental agencies like National or Budget, you're doing the transaction with an individual. Of course, there are pros and cons to using Turo. While you'll still be paying above average prices for a car rental, Turo rates are much lower than those at car rental agencies. And you have a better chance of actually getting a car, especially if you're booking late. But you will be dealing with a person and not a professional, so the quality of the car and its overall cleanliness may not be up to your standards.
5. Reschedule
It's the answer nobody wants to hear, but sometimes the best thing you can do is simply rescheduling your trip. It's not like this car rental shortage will last forever—probably—and if you're really looking to get the most out of your Hawaiian vacation, you'll want a car. Even though there are ways to get around with a vehicle—like renting a U-Haul or risking it with Turo or even catching the city bus in Honolulu—you don't want to be stressing out on what could be a once-in-a-lifetime trip. A little patience can go a long way for your happiness and your finances.