Hidden Oahu menu items found on Travel Channel's "Man Finds Food"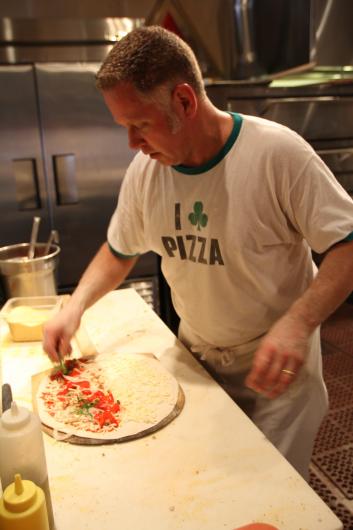 Less than a five-minute walk from HAWAII Magazine's offices is a popular local restaurant that serves a "secret" pizza.
J.J. Dolan's, an Irish bar on the border of Honolulu's Chinatown, is widely known among downtown denizens for its New York-style pizza. But what was news to me—until I watched a sneak peak of the Travel Channel's new Oahu-centric "Man Finds Food" episode scheduled to air tomorrow—was that chef Jay Neibur also makes a pizza called the "Drunken Duck," not found on its regular menu.
Apparently, the Drunken Duck features local cabbage, Chinese roasted duck from a neighboring Chinatown shop, crispy duck skin, Maui sweet onions sautéed in Irish whiskey, parsley, cilantro, goat cheese and a duck egg top an Irish Stout-infused pizza crust. And now I know what I'm having for lunch!
For those unfamiliar with "Man Finds Food," the premise is simple: host Adam Richman wanders the U.S. searching for and trying unique, surprising and hidden food items in both popular and obscure restaurants.
Tomorrow's episode, "The Food Abides," focuses on the hidden gems and secret menu items scattered around southern Oahu. Residents and frequent Oahu visitors will likely recognize some of the people, places and foods featured: Le Cordon Bleu-trained Glenn Uyeda's five-course prix fixe menu served alongside the Aiea Bowl's bowling alley (but only on Tuesdays). Or the by-request-only paiai, a traditional Hawaiian treat of pounded taro root that was until recently illegal, prepared with different ingredients each day by chef and owner Ed Kenney of town in Kaimuki.
I don't want to spoil the whole episode for you, but you should also be prepared for some truly mouth-watering images of chef Andrew Le's "Mushroom Godzilla," an off-menu item offered at The Pig and the Lady. It's a monster of a sandwich with more than 50 ingredients that might just make you want to pay another visit to the beloved Chinatown eatery just to see it in person and shake the hand of the man who made it.
"The Food Abides" airs tomorrow (Wed., April 15) at 9 p.m. ET/PT and Hawaii Time. For more information on "Man Finds Food," visit the Travel Channel's website here.