Hike Along Kauai's Napali Coast Through a Lush Jungle to Hanakapiai Falls
It's not easy, but the views, the beach and the falls are worth it.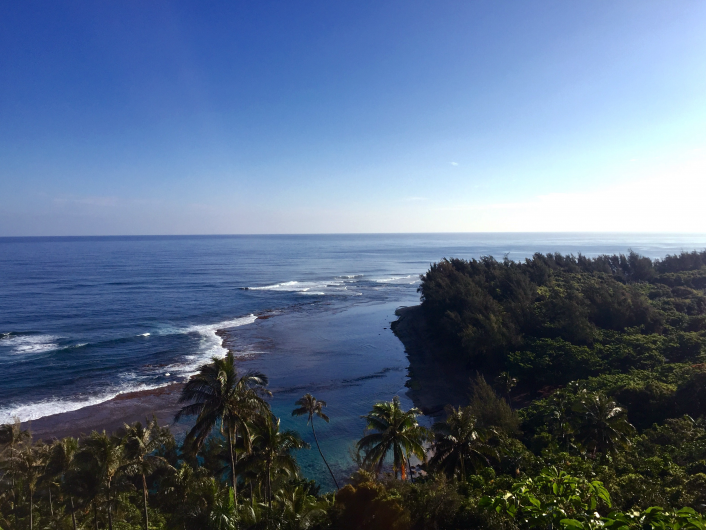 It was 6:30 a.m. when we started our hike to Hanakapiai Falls, a roughly 300-foot tall waterfall nestled in the back of Hanakapiai Valley on Kauai's north shore. We were the only ones out hiking. In fact, save for the vocal birds above, we had the entire beach and valley to ourselves.
While this hike may become a highlight of your trip, give yourself half a day for this excursion. It's 2 miles to Hanakapiai Beach, then another 2 miles to the waterfall, making it an 8-mile day hike. It's not easy either: The trail is muddy and slippery, and you'll have to cross Hanakapiai Stream multiple times and gingerly make your way across wet, mossy boulders. Be sure to wear hiking shoes or boots, clothes you don't mind getting wet and dirty, and if you have them, trekking poles are helpful getting up and down to Hanakapiai Beach. Don't let this deter you, though. The views, the beach and the falls are worth it.
The trailhead for the falls begins at Kee Beach at the Napali Coast State Wilderness Park. (Parking can be challenging, so plan ahead.) This is where the renowned 11-mile hike to Kalalau Beach begins and ends. You'll see hikers with large backpacks making their way to and from this starting point.
The first 2 miles of this hike will bring you stunning vistas of the coastline as you trek up a mile to an elevation of 400 feet, then a mile back down to Hanakapiai stream. Be sure to only cross if the stream is clear, shallow and calm before going on to the beach and falls; people have died here.
After crossing, you'll see Hanakapiai Beach and its chaotic, crisscrossing surf—it's not recommended to swim here, especially in the winter months—but more immediately you likely will notice the cairns of rocks stretching across the beach. It's a tradition started by visiting hikers, but the stacked rocks are not part of Hawaiian culture and are thought to contribute to beach erosion.
Continuing on to the falls is another 2-mile trek into Hanakapiai Valley. About a half-mile in, you'll come across a towering bamboo forest. Be on the lookout for a tall chimney from an oven used long ago, as well as the remains of a traditional Hawaiian shelter. (There are remnants of Hawaiian terraces and walls throughout the Kalalau Trail.)
The trail to Hanakapiai Falls is not well maintained, but there were hot-pink trail flags to guide our way, even indicating where to cross the stream. One-and-a-half miles in you'll spot it, peeking through the trees: Hanakapiai Falls. As we got closer, we felt the overspray from the powerful falls mist our faces. It's an impressive waterfall in arguably one of the most scenic Hawaii locales.
(Updated: 8/22/17)