Hike and Camp on Conservation Land at Camp Pālehua on Oʻahu
Camp Pālehua is a hidden gem in Kapolei, with campgrounds and hiking trails on land steeped in Hawaiian culture and history.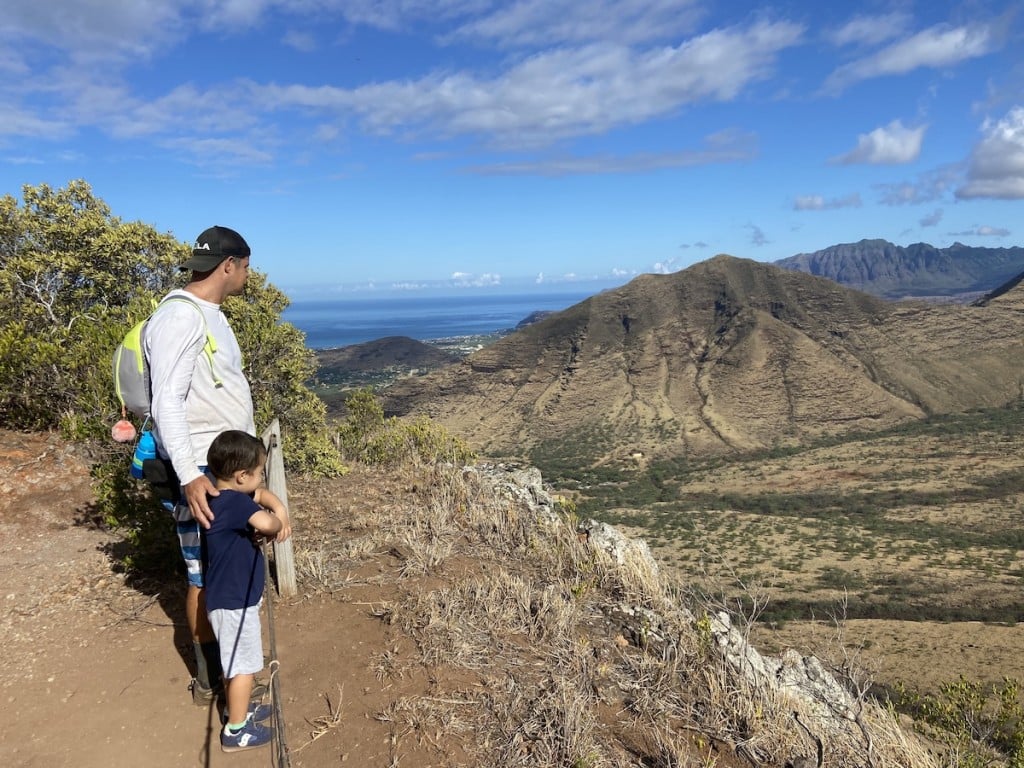 Almost exactly a year ago, the state closed its hiking trails in an effort to curb the spreading COVID-19 virus in Hawaiʻi.
But there was one place on Oʻahu where you could still get lost in forests and find stunning views of the island: Camp Pālehua.
You might remember it as Camp Timberline, a popular site for camps and retreats in Kapolei (about 30 miles west of Waikīkī), situated on the southern slopes of the Waiʻanae Mountains. In 2016 it reopened as Camp Pālehua, focusing on Hawaiian culture and conservation efforts. It boasts campgrounds across 15 acres of land and access to hiking trails that traverse another 1,600 acres of conservation land owned by Gill ʻEwa Lands. The trails were opened to the public in 2018.
View this post on Instagram

When the state shut down its trails last year, the two at Camp Pālehua remained opened—they're not state-run—and our family made the trek to Kapolei on the weekends to escape into the serene landscape of this place. (FYI: You have to make reservations and there's a small fee.)
Part of the fun was driving through the surrounding ranchlands before getting to Camp Pālehua, passing Texas longhorn and other cattle grazing on the slopes with commanding views of the southern coastline of Oʻahu.
On our first visit to the camp, we were met by camp director Kawika Shook, who gave us a quick overview of the area. There are Hawaiian structures and sites here that date back to 1600 AD, he said, meaning that families lived near today's campgrounds at this high elevation back then. A heiau (place of worship, shrine) here is aligned to the sun's movements throughout the year and with the Pleiades constellation, which signifies the beginning of the annual makahiki festival. From the summit, Mauna Kapu, you can see all the main Hawaiian Islands—including Kauaʻi and Niʻihau—when the conditions are perfect.
"So anciently, I do believe this place had a special and unique vantage point and was used by Hawaiians to kilo (stargaze) and to observe the natural world around them," Shook says.
Camp Pālehua offers both self-guided and guided hikes, tent camping, overnight accommodations in its bunkhouses or cabins, and various conservations activities. Here, you can immerse yourself into the natural beauty of this puʻuhonua (place of refuge, sanctuary), surrounded by a slew of native plants and animals. Native flora that grow here naturally include wiliwili (Hawaiian leguminous tree), ʻiliahi (Hawaiian sandalwood), lama (an endemic kind of ebony), ʻaʻaliʻi (a native hardwood shrub) koa and ʻōhiʻa lehua trees. You can also find pulehua and monarch butterflies, pueo (Hawaiian short-eared owl) and—at higher elevations—ʻamakihi (an endemic Hawaiian honeycreeper) and ʻelepaio (native flycatcher).
While you can hike on your own—that's what we did—we recommend signing up for one of the camp's guided hikes. You'll trek to the Nānākuli overlook and learn about the native plants and moʻolelo (stories) of the area. You'll get a chance to ask questions and learn more about this special place.
​"Our hope is that guests come to Pālehua and develop a deeper connection and appreciation for ʻāina (the land) and nature," Shook says. "This connection, we hope, will translate into a lifelong commitment of stewardship to mālama (care for) not just Pālehua but ke pae ʻāina—all of Hawaiʻi."
Camp Pālehua, 1 Pālehua Road, Kapolei, (808) 347-0736, camppalehua.org