Hike Up the Private Flanks of Hualalai Volcano with Hawaii Forest & Trails
A tour of the Big Island's Hualalai volcano reveals its native flora and fauna, and fascinating geological history.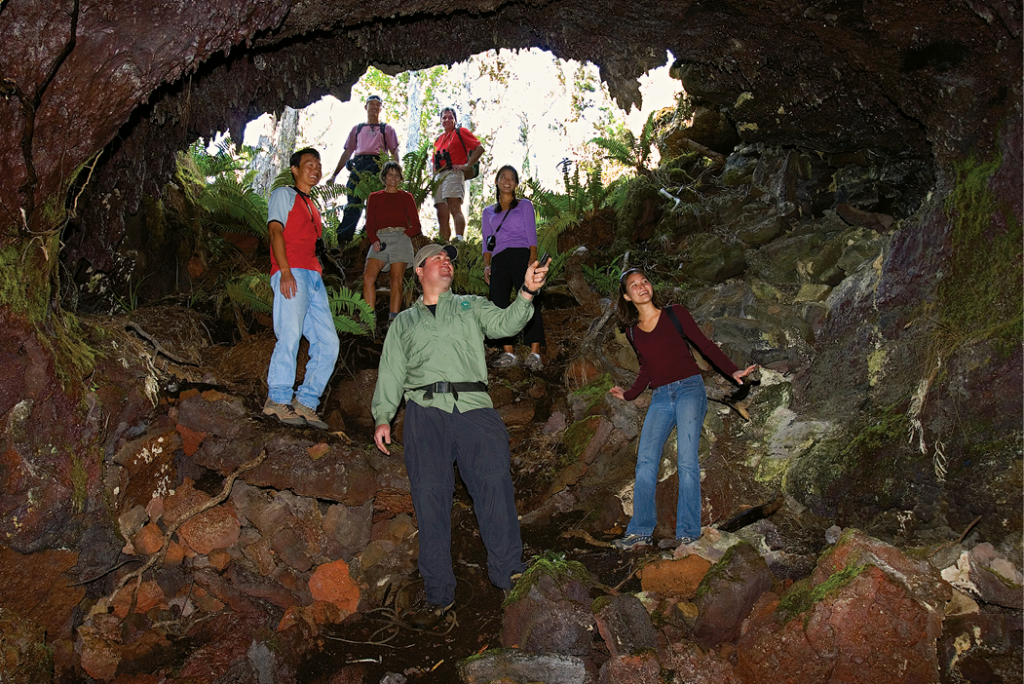 Rob Pacheco wipes up the coffee he spilled in the cab of his massive Toyota Tundra but keeps driving.
He swears he's not in a rush. Pacheco, the owner of Big Island adventure tour business Hawaii Forest & Trail, is simply really excited to get to the upper elevations of Hualalai, the 8,271-foot westside volcano often overlooked by visitors flocking to Kilauea volcano on the island's east side. This, even though Hualalai is, historically speaking, the third most-active volcano on the island after Kilauea (No. 1) and Mauna Loa (No. 2).
Pacheco has a sincere affection for this shield volcano rising above the rugged Kona coastline. He gushes about the native plants that grow along the volcano's rift zones and its cinder-strewn surfaces. He can identify all of Hualalai's native birds—the amakihi and apapane, among them—whose songs can be heard in its lush forests. He even resides on Hualalai's southwestern uplands, in the small town of Holualoa, known for its multitude of small, family-owned Kona-coffee farms.
On Hawaii Forest & Trail's Hualalai-focused "Hidden Craters Hike" tour, Pacheco also speaks excitedly and animatedly about Hualalai's last volcanic eruption in 1801 as though he actually witnessed it.
"I love that you can move, within minutes, from a completely non-native, exotic ecosystem to a truly native Hawaiian endemic ecosystem," says Pacheco, with infectious enthusiasm. "I mean, almost everything I can interpret about Hawaiian volcanoes and Hawaiian culture and how those relate, everything you can see at the Hawai'i Volcanoes National Park, we can do right here."
He pauses.
"Well, except you can't see the red stuff." That would be molten lava, by the way.
Pacheco's Kona-based Hawaii Forest & Trail offers small-group adventure tours exploring the Big Island's profusion of natural wonders and scenic beauty. Its menu of tours includes everything from bird-watching to off-road adventures to the Hualalai tour I'm on, which ends with a visit to a coffee farm on the mountain's slopes.
Hualalai dominates the landscape on just about every approach to Kona town. Its summit looms over a coastline built by its eruptions. Its flanks are transected by highways and roads, and studded with coffee farms, housing developments and towns, including Kona.
Hualalai also boasts a recent geological history as fascinating as those of its more active sister volcanoes further south. Estimated to have risen from the ocean surface about 300,000 years ago, Hualalai is rougher in shape and structure than its similarly aged siblings, with more than 100 volcanic cinder and spatter cones arranged along three major rift zones.
Between the late 1700s and 1801, molten lava erupted from six different Hualalai vents, two of which generated flows that poured into the ocean up to 15 miles away from their sources. The last of these flows extended the Kona Coast shoreline by about a mile, creating Keahole Point. The Ellison Onizuka Kona International Airport at Keahole and much of its runways were constructed on this flow in 1970.
Though Hualalai's most recent volcanic activity was a powerful, monthlong earthquake swarm in 1929 that failed to produce a lava breakout, geologists expect the mountain will erupt again within the next century.
Hawaii Forest & Trail takes visitors to areas of Hualalai not accessible to the public, sharing the geology and biology of the mountain, and its place in Hawaiian culture. As the tour winds up and along the volcano's flanks, guests are taken through dense rain forests filled with native plants and trees. Near Hualalai's summit, the landscape transforms into a native dryland forest with scattered craters and other volcanic features.
Navigating the tour route with Pacheco, we hike up to Kaupulehu, a crater on private property, 6,000 feet above sea level. A light fog is rolling in and the temperature, though only 12 miles from warm, seaside Kona, has already dropped to 64 degrees. Adorning this volcanic landscape are the red berries of the pukiawe bush, majestic koa trees and the chirping of native birds, fluttering from tree to native tree.
"Why is it that we, as humans, feel driven to visit places?" Pacheco asks, rhetorically, scanning the deep crater. "We're hot-wired to discover. We like to learn new things."
He stops talking. Something has caught his eye. Perhaps an apapane or other native bird.
"There's something about this place, the essence of it," he continues. "It's that same force that brought up the lava from the ocean depths and built one of the greatest island chains in the world.
"It's pretty cool."
Gazing at a Hawaii mountain landscape and Big Island vista few visitors or residents get to see, I have to agree.
Hawaii Forest & Trail Hualalai "Hidden Craters Hike"
(808) 331-8505, hawaii-forest.com.