Hiking Moanalua Middle Ridge on Oʻahu, an All-Day, Experts-Only Adventure
A thrilling mountain ridge in Central Oʻahu leads to summit views of the Windward Side.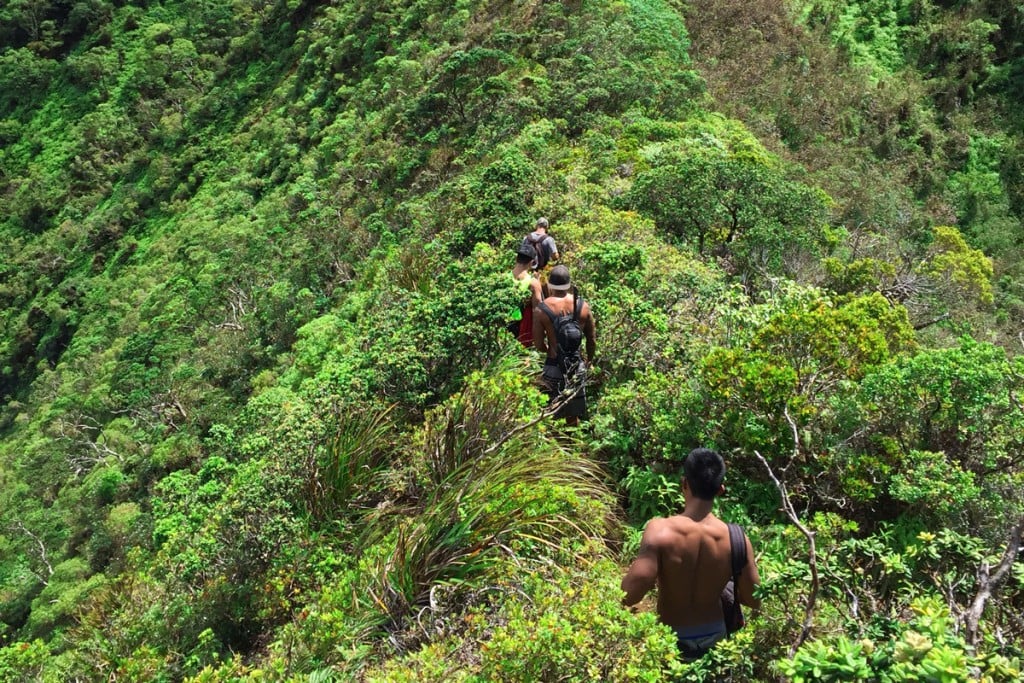 "This is a beast of a hike," my friend says, as he slathers his face with sunscreen, the tinted kind that leaves streaks on your skin like war paint. I'm not easy to sunburn, but he tosses me the bottle anyway, a suggestion to rub in a little more than I already have. After all, we'll be inching closer to the sun at an elevation gain of about 2,585 feet from where we're currently standing. Translation: It's going to be a long day.
Moanalua Middle Ridge is a challenging, 11- to 12-mile, out-and-back hike in Central Oahu, a journey that, more or less, takes eight hours to complete. Even with all the information there is floating around online to help hikers prepare for it, I prefer to have a guide, someone in the flesh who's done this before, to lead the way to the finale peak, Puu Keahi a Kahoe, at the back of Moanalua Valley. There is danger involved with traversing a mountain's ridgeback, an absurdly obvious fact that's slightly deceiving during the first leg of this trek, which begins at Moanalua Valley Park, a flat, straightforward 3-mile walk into Kamananui Valley. The area escorts us into a network of trails here, where the middle ridge opens up upon crossing a streambed found just after the marker for the Kulanaahane Trail. We make our initial ascent.
Trudging up the slope, it takes about half an hour to scale the first hump. The trail quietly opens up and we're greeted with an elevated view of the valley's treetops sprawling out beneath us. But, this is just the beginning, and there are more to scale, a handful of which require ropes already strung along its steepest sections, and I gather this will be the theme of the day: up and down, then up again until there's nowhere else to climb.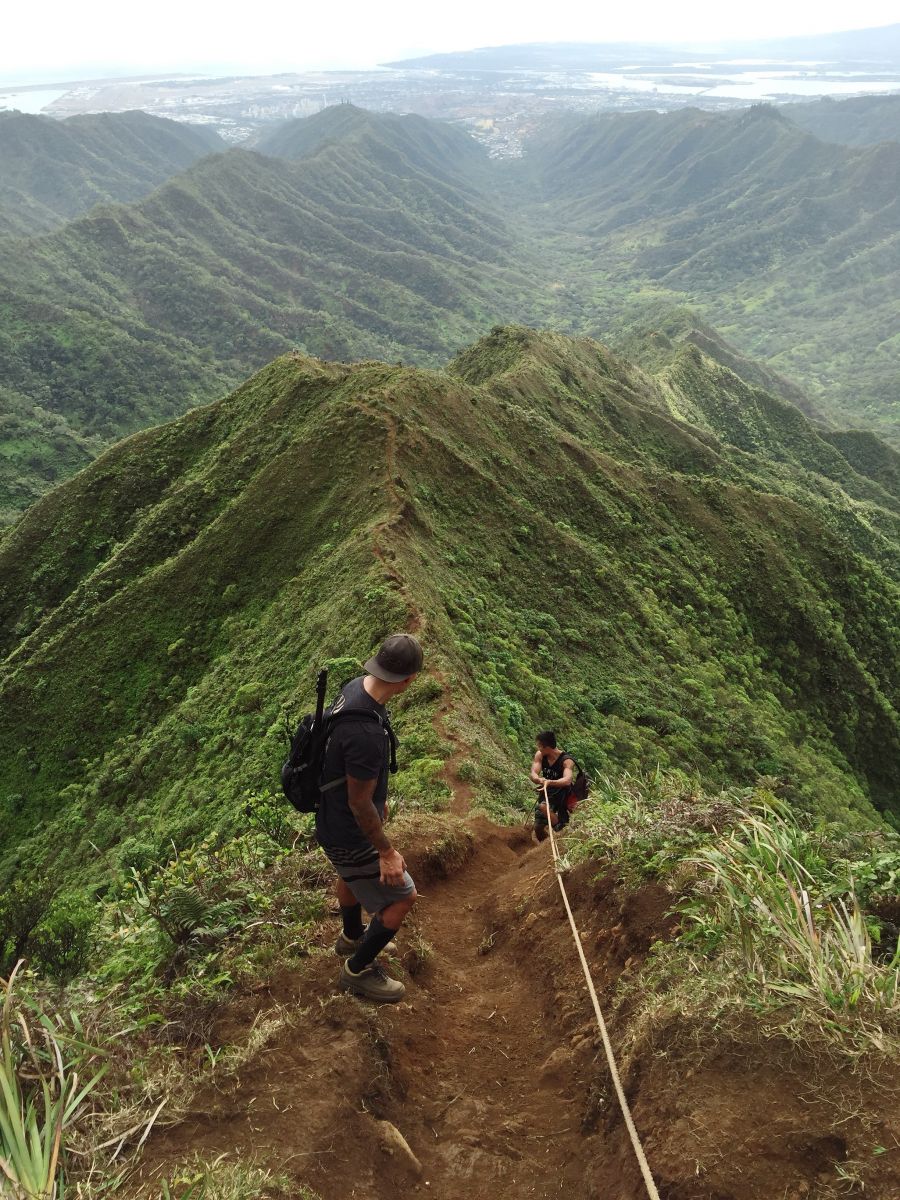 The weather today is just as my friend hoped for; he's been monitoring it daily since a week out to ensure the trail will be dry and moderately windless, opportune conditions for a hike that has us teetering across razor-thin sections with steep drops on either side. At a few points I need to brace myself against the bark of an ohia tree to keep from losing my balance. At another, I cut up my knuckles clawing for exposed roots to keep from tumbling down the rugged spine.
Native plants along the ridge and rare apapane (Hawaiian honeycreeper) sightings aside, the hike has grown in popularity over the years because of its whispered status as a legal access route, the "back way," to the infamous Haiku Stairs. (That said, while you may take in the jaw-dropping views it showcases of Oahu at the hike's summit, the stairs themselves are still illegal to go down and trespass on, regardless of how you've reached them.) As we continue on for the next few hours there's something encouraging about being able to zero in on where we started at Moanalua Valley Park and the remote summit before us, to visually track our progress.
Eventually, a sliver of the Pacific Ocean peeks out from the other side of the mountain and, before I know it, we're at our destination, rewarded with a panoramic view of the Windward Side. You can see everything—Kaneohe, Kailua, Mokolii (aka Chinaman's Hat), Olomana and the H-3 snaking its way through it all—and I'm basking in the extraordinary sight of how miniature life looks from up above.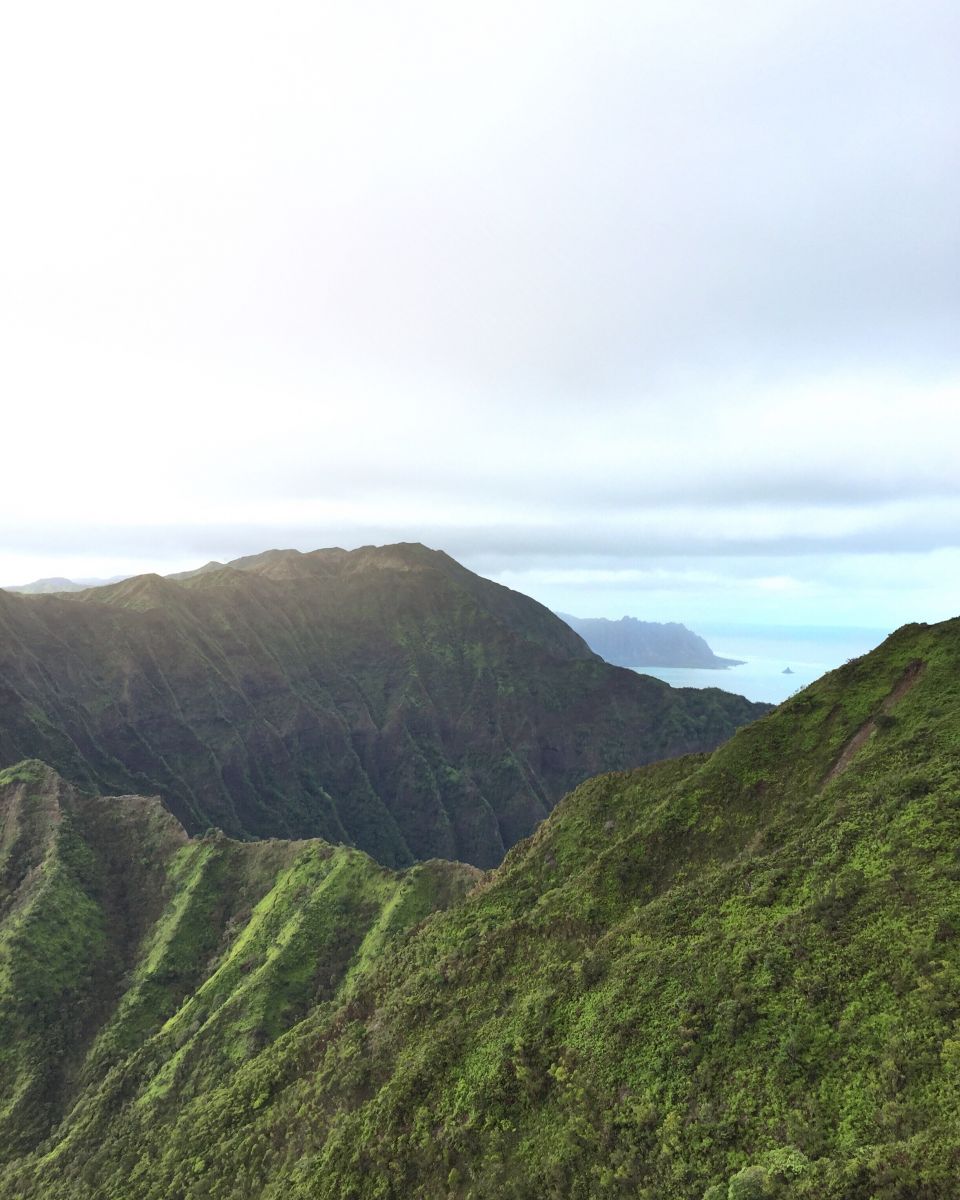 We rest here for a while, towering above the island. Puu Keahi a Kahoe is the end of this trail, but symbolically it serves as a beginning—it marks the start of the ahupuaa (land division) of Kaneohe. I feel surprisingly renewed by this and take a moment to find my center of gravity before retracing the long way back. It's here, you should remind yourself, as you make your initial descent, not to rush. To watch your footing. To remember: You came this far.