Hiking to Kaua'i's Secluded Secret Beach
This is one of the island's best-kept secrets.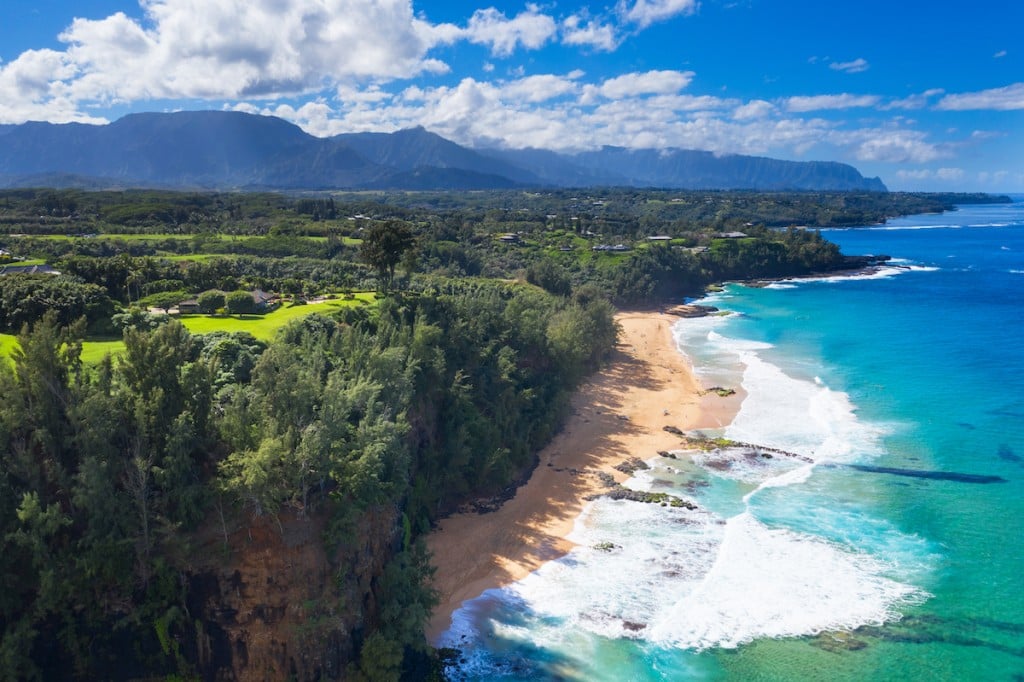 One of Kauai's most breathtaking beaches is one you can't see from the highway. The rewards for those who venture to it, though, are well worth the effort: No resorts, no crowds—just serenity and picturesque seascapes. Kauapea Beach, also known as Secret Beach or Secrets, is a large yet secluded North Shore hideaway with deep, soft sand guarded by towering, palm tree-lined sea cliffs. Located off a nameless dirt road in Kilauea near Kalihiwai Valley, the beach is truly one of the island's best-kept secrets.
Where to find the trail
As its nickname suggests, Secret Beach is not marked with signs nor is it easily accessible. A short but fairly steep trail leading to the beach is located at the end of the first dirt road you'll see on the right hand side when turning onto Kalihiwai Road from Kuhio Highway. There is no formal parking lot. Visitors leave their vehicles along the road's end, which abuts a private residence. The dirt path to the beach is easily found just west of the house. The 10-minute hike to the water is moderately difficult and can be slippery when wet. While seasoned locals typically hike down barefoot with a surfboard slung under one arm, sneakers are recommended for first-timers. Take it slow and watch for root systems that can potentially be tripping hazards.
The beach
Stepping onto Secret Beach is like arriving to your own personal paradise. A wall of lava rock marks the edge of the beach's western end. To the east, there are dazzling views of Mokuaeae Island and Kilauea Lighthouse, perched atop a sea cliff. Tidal pools and a small, trickling waterfall can be found along the half-mile stretch of sand. Secret Beach's rugged beauty is incomparable. It's a great place to start your morning, watch the sunset or spend an entire day. But come prepared—there are no restrooms, lifeguards or public facilities.
Swimming conditions
Whether it's safe to swim at Secret Beach is dependent on water conditions, which vary by season. Swimming is typically safe in the summer months, though rough surf and strong currents sometimes bring about conditions that are dangerous. On mild days, tidal lagoons form around the lava rock, creating swimming pools for kids and adults. In winter, the water is usually dangerous, attracting advanced surfers. Other activities include sunbathing, fishing and hunting for seashells along the shore. Year round, Secret Beach is the perfect backdrop for a picnic or a long walk in the sand.