Hilton Hawaiian Village to add new vacation timeshare towers to Waikiki property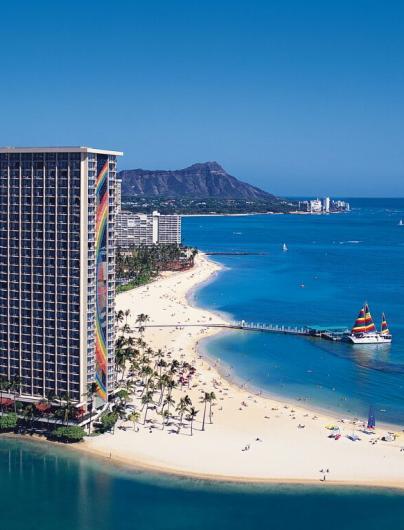 The Hilton Hawaiian Village Beach Resort & Spa will begin construction on two new vacation timeshare towers in 2013, launching an aggressive expansion that will add 550 units to the resort's timeshare holdings by the end of the decade.
Hilton Worldwide officials announced the multi-tower expansion plan this week, along with plans to redevelop the resort's Rainbow Bazaar shopping village, front desk area, main entry and Rainbow Drive thoroughfare. The 22-acre resort's expansion plans also include new children and adult swimming pools, increased pool deck space and a new Hau Tree Bar.
The new towers, when completed, will expand the Hilton Hawaiian Village's total pool of vacation ownership units to more than 1,000. The resort introduced 330 brand new vacation ownership units into mix in 2008 with the opening of its timeshare-exclusive Grand Waikikian Tower.
Construction on the first of the two new towers, a 37-story building with 300 units, is expected to begin sometime in 2013. Construction on the second tower, a 25-story building with 250 units, will begin after the first tower is completed.
Because both towers will be built on already developed lots—the first over a bus depot, the second over a redeveloped Rainbow Bazaar—Hilton officials say the project will not reduce the current amount of open space on the resort property.
Hilton Worldwide did not disclose an estimated total cost for the project. The company expects the project to generate 682 permanent jobs when all phases are completed.
The Hilton Hawaiian Village's total lodging capacity currently comprises 3,627 guest rooms, timeshare units and suites in seven towers.