Historic stretch of Maui's Lahaina ranked among "2011 Great Streets in America"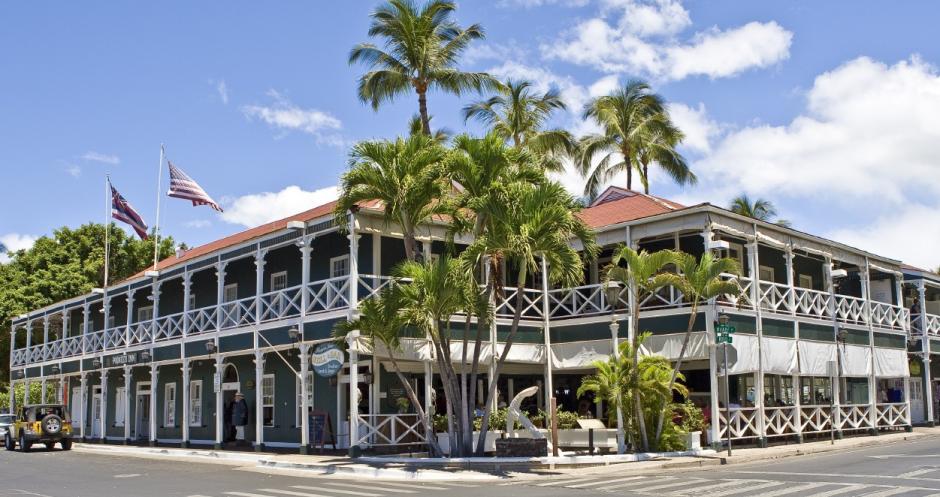 Situated on the west side of Maui, the historic town of Lahaina is sometimes referred to as the "jewel in the crown of Maui." And Front Street, which runs near the former whaling village's waterfront, contributes to that claim with scenic ocean and mountain views, historic architecture, a lively mix of shops and restaurants, and a 50-foot banyan tree that serves as canopy for two-thirds of an acre and is famous for being the largest in Hawaii and among the largest in the United States.
Last week, the five-block stretch was recognized by the American Planning Association as one of the top 10 2011 Great Streets in America. Maui Mayor Alan Arakawa unveiled a bronze plaque dedicating Front Street on the Baldwin Home Museum's front lawn.
The nonprofit's Great Places in America program recognizes inviting streets, neighborhoods and public spaces that have benefitted from innovative and thoughtful planning efforts.
The nonprofit's Great Places in America winners' listing noted the following: "Front Street packs in everything that makes Lahaina, Lahaina: wooden storefronts, second-story balconies, public parks, art galleries, eateries, residential quarters, whale-watching tourists, children scurrying to and from school, elderly couples taking early-morning walks, bicycles and vehicles sharing the road, divine views of the majestic West Maui Mountains, Lahaina Harbor and island of Lanai, and an archeological site dating to the year 700."
The listing continued, "Major transformations have taken place since the mid-19th century when Lahaina was a major port of call for whaling ships that resupplied here — and Front Street was lined with raucous taverns filled with sailors on shore leave."
In 1997, the street underwent an $11 million upgrade with projects ranging from widening sidewalks to burying most electric utility lines. Lahaina Restoration Foundation Executive Director Theo Morrison nominated Front Street for the "Great Streets" program, and has noted that the recognition marks the first time a location in Hawaii has been selected for the annual top 10 lineup.
The other top streets include: Santa Monica Boulevard in West Hollywood, Calif.; U Street N.W., Washington, D.C.; Main Street, Galena, Ill; Main Street, Nantucket, Mass; Washington Avenue, St. Louis, Mo.; Market Street and Market Square, Ports mouth, N.H.; Davis Street, Culpeper, Va.; King Street, Alexandria, Va.; and downtown Woodstock Streetscape, Woodstock, Vt.
For additional information about the American Planning Association, click here. And for more details about Lahaina's restoration efforts, click here.