Hoku Zuttermeister wins big at Na Hoku Hanohano awards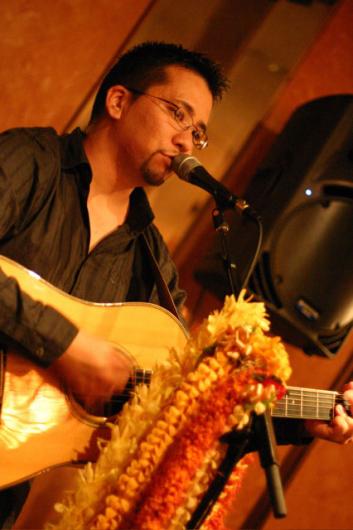 Honolulu singer-composer-musician Hoku Zuttermeister took a long time to record his debut solo CD 'Aina Kupuna.
But that diligence paid off big last night when the traditional Hawaiian CD took home six Na Hoku Hanohano Awards—the Hawaii music industry's equivalent of a Grammy. It was the most Hoku any artist or CD would win at the 31st annual awards show.
Zuttermeister's awards included Hawaiian album of the year, male vocalist of the year, best Hawaiian language performance and most promising artist. He also won entertainer of the year—the only Hoku category voted on by the public.
The bulk of Na Hoku's 26 categories are voted on by members of the Hawaii Academy of Recording Arts, an organization of recording industry professionals, journalists and others with interest in Hawaiian music.
The accolades heaped on Zuttermeister last night were hardly surprising to folks who closely follow Hawaiian music. Though new to Na Hoku Hanohano recognition, Zuttermeister, 33, has over the last decade collaborated with some of Hawaii's most popular and critically-praised musicians. Among them: Robert Cazimero, Ho'okena, Raiatea Helm, Ku'uipo Kumukahi, Sean Na'auao and the late Aunty Genoa Keawe.
This collection of music peers and friends encouraged Zuttermeister to finally record 'Aina Kupuna in 2006. Released last year, it immediately bowed at the top of Hawaii music sales charts.
Only one other CD took multiple awards: Ku'uipo Kumukahi and the Hawaiian Hall of Fame Serenaders' The Hawaiian Music Hall of Fame Presents: Na Lani Eha. The disc took the top honor of album of the year and won an award for graphics.
Newcomer Napua Greig won female vocalist of the year honors for her CD Pihana, while Maunalua took home a third group of the year Hoku for Ho'okanaka.
Click here for a complete list of winners.
If you missed last night's live broadcast of the awards—or were peeved by technical glitches that made large stretches of broadcast unwatchable—Honolulu television station KFVE will replay the entire ceremony at 10:30 p.m. on Saturday.