Holding period begins for 2013 Vans Triple Crown of Surfing on Oahu's North Shore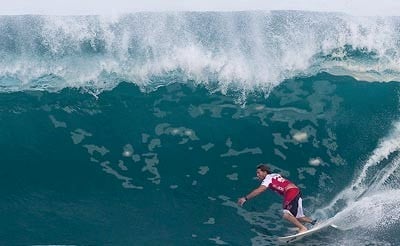 The biggest waves of Hawaii's annual winter big wave season haven't arrived on the north shores of our islands just yet.
But the official holding period for the 31st annual Vans Triple Crown of Surfing will begin today on Oahu's North Shore with opening ceremonies and a lay day in anticipation of a stronger swell and some actual competition tomorrow. The 39-day, three-event professional surfing competition is one of the surf world's most prestigious annual contests.
Each Triple Crown event keeps an extended holding period, with competition happening only on days with big surf—in general, sustained wave heights of 15 feet or higher. The holding period for the first jewel in the Triple Crown, the Reef Hawaiian Pro, begins today and ends Nov. 23, with competition set for waters off Haleiwa's Alii Beach Park. The park is also known as the southernmost gateway beach to the so-called "Seven-Mile Miracle" of famed surf breaks that make up Oahu's North Shore.
The waves today at Alii Beach Park are small at one- to two-feet. A large north swell due in this evening, however, is expected to push surf heights up to 20- to 30-feet for the north shores of all Islands through 6 p.m. Wednesday.
The second-jewel of the Triple Crown, The Vans World Cup of Surfing, will stage its holding period between Nov. 24 and Dec. 6 at Sunset Beach, which, when winter wave conditions are ideal for pros, produces some of the most challenging and complex waves in the world. The Triple Crown of Surfing's final jewel, the Billabong Pipe Masters, stages its holding period between Dec. 8 and 20, with competition between the pros played out at one of Hawaii's most iconic and historic breaks—the Banzai Pipeline. Often rated among the world's best and most dangerous surf breaks, the Banzai Pipeline break is known for producing top-to-bottom barrels and close proximity to the shoreline near Ehukai Beach.
Triple Crown pros have to compete in all three events, annually the final contests of the Association of Surfing Professionals (ASP) yearlong world tour. Each event crowns an individual champion, with a total of $960,000 in prize money at stake. The surfer who gains the most points over all three of the events wins the Vans Triple Crown of Surfing overall championship.
Beach view of Triple Crown competition. Photo: Vans Triple Crown of Surfing.
This year's Triple Crown contest is expected to be a battle between 11-time ASP world champion Kelly Slater from the U.S. and two-time ASP world champion Australian Mick Fanning, for Triple Crown and ASP top honors. Slater has won the Triple Crown twice in 1995 and 1998. Fanning has not won a Triple Crown.
If you're on Oahu and want to check out the action, visit the Triple Crown of Surfing website first each morning to check on surf conditions and the status of events. Pending wave conditions, all events run from 7:30 a.m. to 4 p.m. Expect thousands of surf fans, media and the just plain curious on days when waves are kicking.
All Triple Crown surf competitions are free and open to the public. Beat traffic and get the best spots on the beach by leaving town for the North Shore early.