Holding period starts for Hawaii's prestigious Eddie Aikau big-wave surfing contest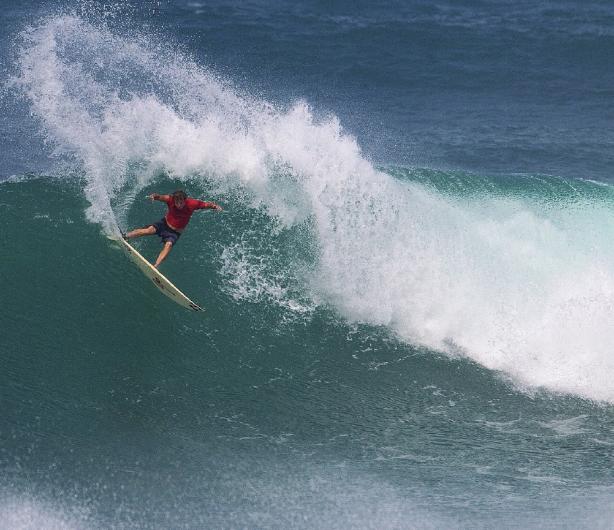 The annual opening ceremony for the Quiksilver in Memory of Eddie Aikau surfing contest — the world's longest-running and most prestigious big-wave invitational — was held yesterday afternoon in gentle waters just off Oahu's North Shore.
Floating on their boards, about 50 top-notch surfers formed circle, held hands and paid tribute to legendary 1960s and '70s Hawaiian surfer and North Shore lifeguard Eddie Aikau.
The invitation-only one-day professional contest is held when waves at Waimea Bay are seriously big. Wave heights must exceed a minimum 20-foot threshold. The holding period for the contest started yesterday and runs through Feb. 29, 2012.
Total number of competitions since the event was launched about 27 years ago? Eight.
The defending champion is California's Greg Long. Past champions: Denton Miyamura (Hawaii), Keone Downing (Hawaii), Clyde Aikau (Hawaii), Noah Johnson (Hawaii), Ross Clarke-Jones (Australia), Kelly Slater (USA), and Bruce Irons (Hawaii). This year, the contest's organizers invited 28 elite surfers and 24 alternates. Slater, a 10-time world champion, is confirmed as a competitor in the 27th edition of "The Eddie." To check out photos from the last time the contest was held — the 2009 Quiksilver in Memory of Eddie Aikau — click here. For updates on this season's contest, click here.
Also in the waves just off of Oahu's North Shore, the 29th annual Vans Triple Crown of Surfing is now well under way. The 38-day, six-event professional surfing competition (three for men, three for women) is the surf world's most prestigious annual contest.
Each Triple Crown event keeps an extended holding period, with competition typically reserved for days on which sustained wave heights are at about 15 feet or higher.
The first men's event in the annual series, the Reef Hawaiian Pro, wrapped up last week with Taj Burrow of West Australia (pictured, top of page) winning the title. A winner in the in the second event, Vans World Cup of Surfing, is expected to be named after today's final heats. The third men's event, the Billabong Pipe Masters, is slated to start on Thurs., Dec. 8. For more information about Triple Crown events, click here.
If you're on Oahu this month, both the Triple Crown and Eddie Aikau competitions are worth the drive to the North Shore. Spectator warning: If the waves call the "The Eddie," you can expect to be among thousands of spectators. Unless you arrive very early in the day, expect traffic backups in the Haleiwa area. Bring binoculars and enjoy the waves.