Holding period under way for Vans Triple Crown of Surfing on Oahu's North Shore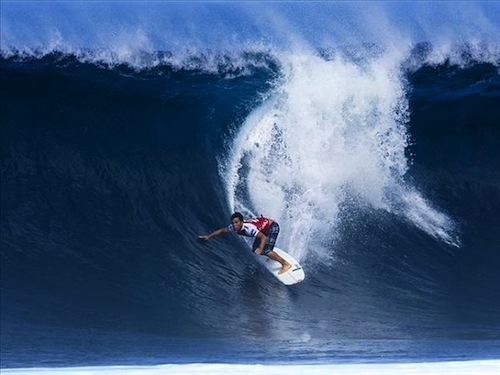 It's that time again. Winter waves will soon start rolling into Oahu's North Shore, and the world's best surfers are ready to ride. The holding period for the annual Vans Triple Crown starts today with a "lay day" as the waves are too small to meet competition standards. Surf forecasts are now expecting a swell to bring bigger waves by Thursday or Friday. The overall competition will wrap up by Dec. 20.
Celebrating its 30th anniversary the three-event series features big names in prof surfing circles, such as 11-time world champ Kelly Slater and defending Triple Crown winner John John Florence. With a $1 million cash purse up for grabs, we should be in for quite a show.
Events for the Crown will go as follows:
• Reef Hawaiian Pro — Holding period, Nov. 12 through Nov. 24, Haleiwa Alii Beach. The purse prize for the event will be $250,000.
• Vans World Cup of Surfing — Holding period, Nov. 25 through Dec. 6, Sunset Beach. The purse prize for the event will be $250,000.
• Billabong Pipe Masters — Holding period, Dec. 8 through Dec. 20, Banzai Pipeline (Ehukai Beach Park). Prize purse: $425,000.
Want to head to the North Shore to catch some of the world's best surfers in action? If so, you're not alone. When the waves are competition-ready, thousands of spectators make their way to the beaches. And, yes, there are often traffic delays.
Here's a list of "Dos & Don'ts," courtesy of Van Triple Crown:
Do bring sunscreen, hat, sunglasses, plenty of water, and a camera. Also, bring a beach chair, towel or mat to sit on. Bring a rain jacket as the winter months are known to bring drizzles and occasional downpours. Arrive early to avoid traffic. Heed warnings from lifeguards as the North Shore winter waves can be very dangerous.
Don't bring an umbrella. It could blow away and/or block views. Don't bring pets. Don't stop on Kamehameha Highway to watch. If you do, your vehicle may be towed, and you may fined. Don't bring noise-making devices.
For more information about the Triple Crown events, click here.