Holiday light displays shine in Hawaii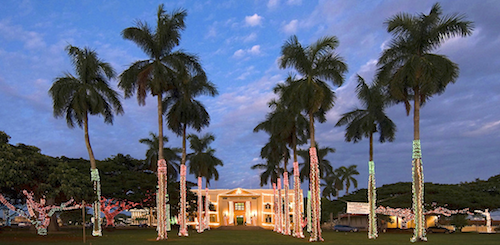 The holidays are in full swing here in Hawaii, and what the state lacks in snow, it makes up for with elaborate and festive holiday light displays. If you're in the Islands this holiday season, here's what you need to know and where to go for some free and open-to-the-public holiday cheer.

OAHU
• Honolulu City Lights: The state's largest light display emanates from Honolulu Hale (Oahu's historic city hall), with tens of thousands of tree-clinging bulbs forming colorful corridors throughout the downtown area. Honolulu Hale boasts a nightly keiki carnival (weather permitting) from around 6 p.m. til 10:30 p.m. through Dec. 30. Check out the decorative lawn displays, including a melting snowman family and the iconic 21-foot shaka-flashing Santa along the building's fountain pool. Inside, a holiday wreath competition lines a vaulted passageway, and an elaborate forest of trees decorated by government workers is open nightly from 7 p.m. to 9 p.m. nightly until Dec. 24. On Mon., Dec. 22, the Honolulu Blend Show Choir will perform on the building's front steps. See the Honolulu City Lights website for more information.
• Iolani Palace: The only royal palace in the United States (now a museum) maintains its annual tradition of hanging red, green and white lanterns from each of the building's windows. This year, in commemoration of the 180th birthday of Queen Kapiolani on Dec. 31, special evening palace tours will showcase holiday traditions from the 19th century including period music, dance and glimmering holiday decorations. Tours run Sat., Dec. 27 only and cost $12 for adults and $6 for children. Lantern light viewing is always free. For more information, click here.
• Kapolei City Lights: Lights and displays in Kapolei's city hall are open 6 to 10 p.m. Friday through Sundays until Jan. 1. A tree on the building's front lawn is illuminated nightly.

KAUAI
Festival of Lights: A homey celebration of holiday folk art is on display in the Historic County Building in Lihue. Inside, you'll find displays of unusual and nostalgic decorations created from recycled materials such as a Christmas tree made from 7,500 green toothpicks, a tree bedecked in ornaments fashioned from aluminum cans, wreaths made from egg cartons and Kauai-style trees featuring themes like SPAM and hula bears. Holiday lights will shine every night until Christmas Eve, but the indoor holiday decorations can only be viewed on Fridays, weekends, Christmas Eve and Dec. 27 from 6 p.m. to 8 p.m. For more information, click here.
MAUI
Banyan tree in Lahaina: Thousands of colored lights illuminate the historic banyan tree in downtown Lahaina. This downtown landmark is hard to miss, lights or no—it was planted in 1873 and now, with its multiple trunks, encompasses nearly an acre. For more information, visit the Lahaina Town website.