Honolulu bike-share program expected in early 2016, other locations in Hawaii to follow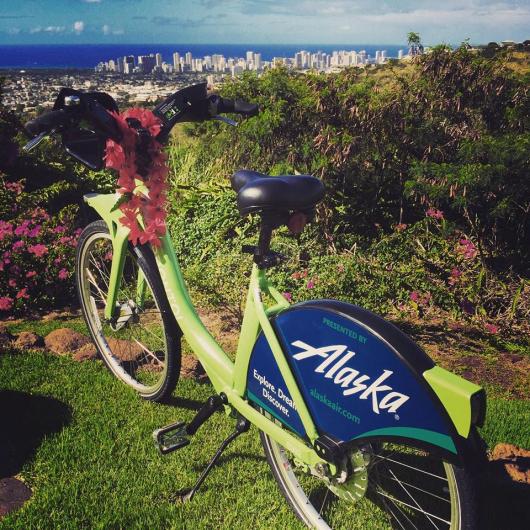 Starting as early as next year, there may be a new way to get around Honolulu. The non-profit organization Bikeshare Hawaii hopes to introduce the state's first bike-sharing program in the city by early 2016. If the first phase of the program is successful, the organization hopes to expand to other locations across the state.
Though the specifics of bike-sharing programs vary from city to city, the concept is the same: Bike-sharing programs allow users to borrow a bike from one location and return it in another. According to proponents, these systems alleviate the theft, maintenance and storage concerns that come with owning a bike, and provide a more flexible and cost-efficient way of getting around than other means of public transportation. Many programs also tout the added health benefits of biking, especially when compared to commuting by bus or car.
Bikeshare Hawaii already has the support of the State of Hawaii and the City and County of Honolulu, and according to the organization, plans to roll out its first phase in early 2016. The non-profit hopes the its first phase—2,000 bikes at 200 regularly spaced docking stations between Waikiki and Chinatown—will alleviate some of downtown Honolulu's commuter traffic. Bikes will be designed for short trips of two to four miles. In later phases, the organization hopes to expand the program beyond Oahu to other locations throughout the state.
Last week, the organization imported two sample bikes from bike-sharing programs in New York City and Seattle to raise awareness and solicit input on how a new bike-sharing program might work in Honolulu. The borrowed bikes from New York City's Citi Bikes and Seattle's Pronto Cycle Share will stay in Hawaii until the end of January and travel with Bikeshare Hawaii representatives to speaking engagements with business and community groups around the state.
Bikeshare Hawaii says the two bikes highlight some of the different ways communities use bike-share programs and could help to illustrate how bike-sharing might work in Hawaii. "Each bike-share system has a different personality and creates different benefits for the community," the organization said in a press release. "Citi Bike in New York has provided a low-cost, fun, healthy way for residents to get around their city. Pronto Cycle Share…from Seattle has further reinforced a strong biking culture."
The organization hopes to customize the program for Honolulu and Hawaii's needs and is seeking community input regarding how the program might be used. Decision points could include where bike racks will be located, differences in membership or payment options and what additional features—like rental helmets, an option in Seattle's Pronto Cycle Share program—could be offered.
But don't plan to sell your car or decide to skimp on a rental for your next vacation just yet. Bikeshare Hawaii's goal of launching and managing a bike-share program in the state of Hawaii will still need some outside help to become a reality.
Many U.S. bike-sharing systems, including New York City's Citi Bike and Seattle's Pronto program sponsored by Alaska Airlines, incorporate public/private partnerships. Bikeshare Hawaii has yet to find one and says it will need $8 million before it can launch its first phase roll-out.
Bike-sharing programs have become increasingly popular with commuters and visitors in urban locations around the world. According to Bikeshare Hawaii, 600 cities around the world, including 57 in the U.S., already have established bike-sharing programs.
For more information on Bikeshare Hawaii and the future of bike-sharing in the state, click here.