Honolulu City Council backs bill to ban plastic bags at store, restaurant checkouts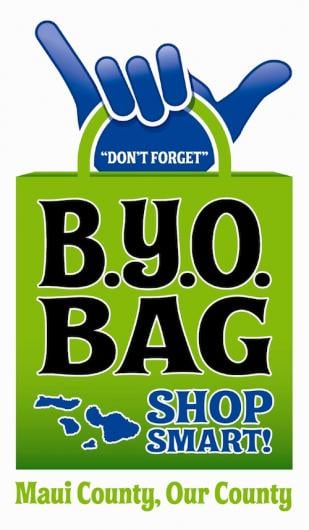 They drift about on trade winds, marring Hawaii's landscapes and posing threats to marine life.
Floating plastic bags can kill marine animals, such as green sea turtles (hono) that become entangled or ingest the buoyant trash, mistaking it for a jellyfish snack. Also, in addition to cluttering beautiful scenery in the Islands, non-biodegradable plastics and non-recyclable paper place avoidable burdens on landfills.

What to do? One by one, Hawaii's counties have passed green-minded bills that ban businesses from distributing non-biodegradable plastic bags and non-recyclable paper bags. They're also encouraging both residents and visitors to bring their own reusable shopping bags to stores and restaurants.
Bans are already in place on Maui, Kauai, Molokai, Lanai and, starting in January 2014, on the Big Island, too. Pending Honolulu Mayor Peter Carlisle's signature on a ban bill backed by the Honolulu City Council, Oahu could follow suit in July 2015. With an Oahu ban in effect, Hawaii could become the first state in the U.S. with a statewide crackdown on non-biodegradable plastic and non-recyclable paper trash.
The Honolulu City Council approved a plan on Wednesday that will ban the distribution of both non-recyclable paper and non-biodegradable plastic bags from distribution at store and restaurant checkouts. According to the bill, which is now on Mayor Carlisle's desk, civil fines would range from $100 to $1000 for each day of violation.
According to the bill, Oahu businesses would be permitted to give customers reusable bags — made of biodegradable plastic or recyclable paper. Also, the bill includes a list of exceptions. Among them: bags used to contain or wrap frozen foods, meat and fish or other damp items, dry cleaning bags, and bags used to transport chemical pesticides and other caustic chemicals sold at the retail level.
If Mayor Carlisle signs the bill, Oahu businesses will have until July 2015 to prepare for the ban. In January, the Big Island's Mayor Billy Kenoi signed a similar bill that will become law next year. It will ban non-biodegradable plastics starting in January 2014.
For more information about the Maui and Kauai county bans, click here and here. For additional information about the environmental dangers posed by plastic bags, click here to check out the Rise Above Plastics program organized by the Oahu Chapter of the Surfriders Foundation.