Honolulu City Lights poised to illuminate "Holoholo Holiday" in Hawaii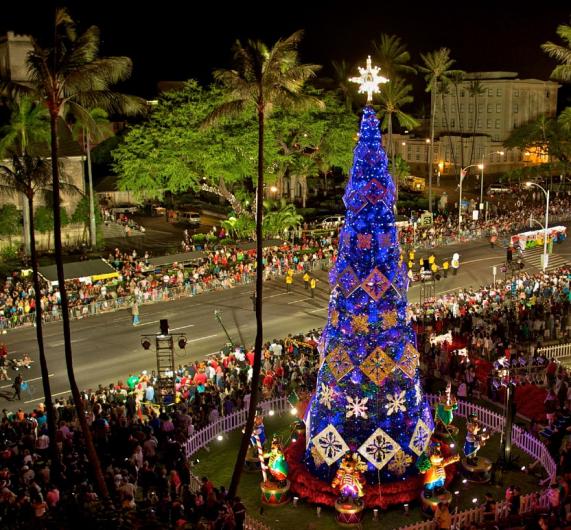 The 21-foot shaka-flashing Santa is already seated next to a lei-draped Mrs. Claus, toes cooling in a fountain pool fronting Honolulu Hale (Oahu's city hall). Nearby, menehune-style elves (pictured, below) and a much larger-than-life snowman and his family are in place for the 27th annual Honolulu City Lights display, which will get under way this weekend.
At sunset on Sat., Dec. 3, at about 6:30 p.m., Honolulu Mayor Peter Carlisle will flip a switch to light the city's elaborately decorated 50-foot holiday tree (pictured, right). The tree illumination will be preceded by the annual Public Workers Electric Light Parade — floats, bands, more than 30 decorated city vehicles ranging from fire trucks to TheBus city buses — and a concert at historic Kawaiahao Church, which is across the street from Honolulu Hale.
As city's holiday tree lights up, so will dozens of other trees and holiday-decked buildings along downtown Honolulu's "corridor or lights." Following the tree illumination, several music performances are slated for a stage on municipal grounds. Also, Honolulu Hale will open its doors for its annual indoor tree and wreath displays.
The outdoor courtyard areas will be decorated festive outdoor displays. In addition, children's rides will be operating through the month-long celebration. Thousands are expected to turn out for opening night, followed by a steady flow of visitors through the Christmas holiday.
This year's City Lights theme is "Holoholo Holiday," which translates as "just for fun." If you're on Oahu during December, we highly recommend stopping by Honolulu City Lights — with a camera. The Mele Kalikimaka scene is Honolulu's aloha-filled season's greeting.
For more information about Honolulu City Lights' opening night and related special events, click here.