Honolulu goes green for St. Patrick's Day. Here's where to go.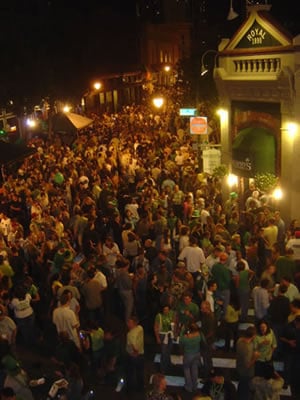 Hawaii and Ireland have a lot in common.
Both are islands. Ireland is known for its verdant "emerald" countryside, while Hawaii has more than its fair share of lush green surroundings. Also, both places know how to have a good time come St. Patrick's Day.
Hawaii's St. Paddy's Day festivities begin this afternoon. A parade, sponsored by the Friendly Sons of Saint Patrick of Hawaii, begins at noon in Waikiki. About 750 marchers, 50 vehicles, a float and five bands will start at Saratoga Road, before marching down Kalakaua Avenue to Kapiolani Park.
The state's biggest St. Patrick's Day celebration, however, happens in downtown Honolulu tonight. For decades, Murphy's Bar & Grill has led the Celtic charge by doing what it does it best: serving up plenty of food and libations to patrons. This year will be no different.
Honolulu's "Irish corner"—on the corner of Nuuanu and Merchant Streets where Murphy's is located—will be set up all day for an epic block party that starts at 6 p.m.. Food and beverage booths from Murphy's, Side Street Inn and Wahoo's Fish Tacos will line the streets. Get your fill of corned beef sandwiches, steamed clams and Guinness Ale. Live music from Doolin Rakes and Piranha Brothers will set the evening's soundtrack as thousands of revelers fill the streets. The party officially goes until 10 p.m., but reveling continues downtown into the wee hours.


On the menu all day at Murphy's are classic Irish fare such as corned beef and cabbage and Gaelic steak. Murphy's is donating $1 for every pound of corned beef it sells this month to the Hawaii Children's Cancer Foundation. More than $5,000 was raised last year. Don't worry. There's no chance of the pub running out of corned beef anytime soon.
A St. Patrick's Day celebration will also take place at nearby Aloha Tower Marketplace at 6 p.m. tonight, featuring Irish food, drinks and music. For more information, call (808) 566-2337 or click here.
Bring your appetite, and throw on some green—unless you're looking to get pinched.
Erin go bragh!