Honolulu Marathon off and running on Sunday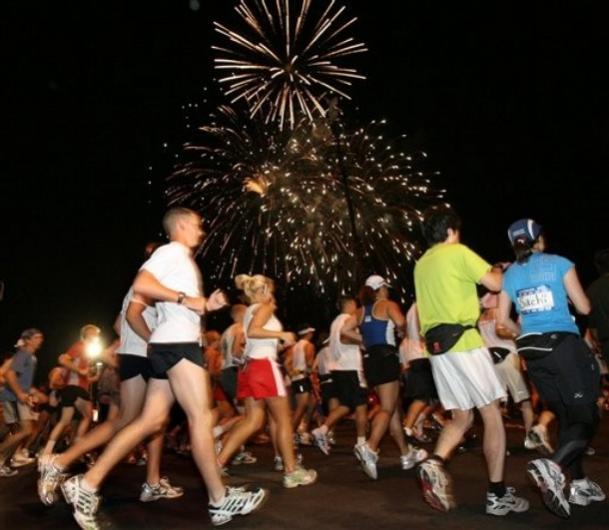 26 miles. 42.195 kilometers.
Runners from all over the world are arriving to run that distance Sunday morning as the Honolulu Marathon fires the starting gun on its 36th year.
This year's marathon has attracted nearly 22,000 participants. That's nowhere near the kind of record numbers that has made it one of the most popular marathons in the country. But it's a respectable count, nonetheless.
Why does the race draw a large following each year? No surprise … it's the weather. Hardcore marathoners enjoy the challenge of running in Hawaii's tropical climes. For casual runners, the warm weather is a welcome change from fall season races like the New York City and Chicago marathons where long underwear seems as much as necessity as a good pair of running shoes.
From its start near Ala Moana Beach Park, the marathon course goes west along the waterfront toward downtown Honolulu, and bends back east through Waikiki, around Diamond Head, and out toward the suburbs of Hawaii Kai. From there, the course doubles back toward the finish line at Waikiki's Kapiolani Park. Click here for an official marathon map.
Partly sunny skies are forecast for Sunday's race, with a predicted high of 79°F. Among the runners will be Boston Red Sox All-Star pitcher Hideki Okajima, sporting No. 37—the same number as his jersey.
If you're on Oahu and want to check out the festivities you'll need to rise early. The race starts at 5 a.m.—fireworks and all. President-elect Barack Obama's sister, Maya Soetoro-Ng, will fire one of the starting guns.
The winner typically crosses the finish line in just over two hours. The Honolulu Marathon record is 2:11:12, set in 2004 by Kenyan and reigning champ Jimmy Muindi. Runners will be crossing the finish line all morning and into the afternoon at Kapiolani Park.
Bring a lunch.
UPDATE: The winner of the 2008 Honolulu Marathon is Patrick Ivuti, 30, of Kenya, with a time of 2:14:35. Kiyoko Shimahara, 31, of Japan, won the women's title with a time of 2:32:36. Last year's winner Jimmy Muindi finished in fifth place with a time of 2:21:43.