Honolulu Museum of Art's Kamaaina Christmas
A fundraiser, a holiday spectacular and a family tradition.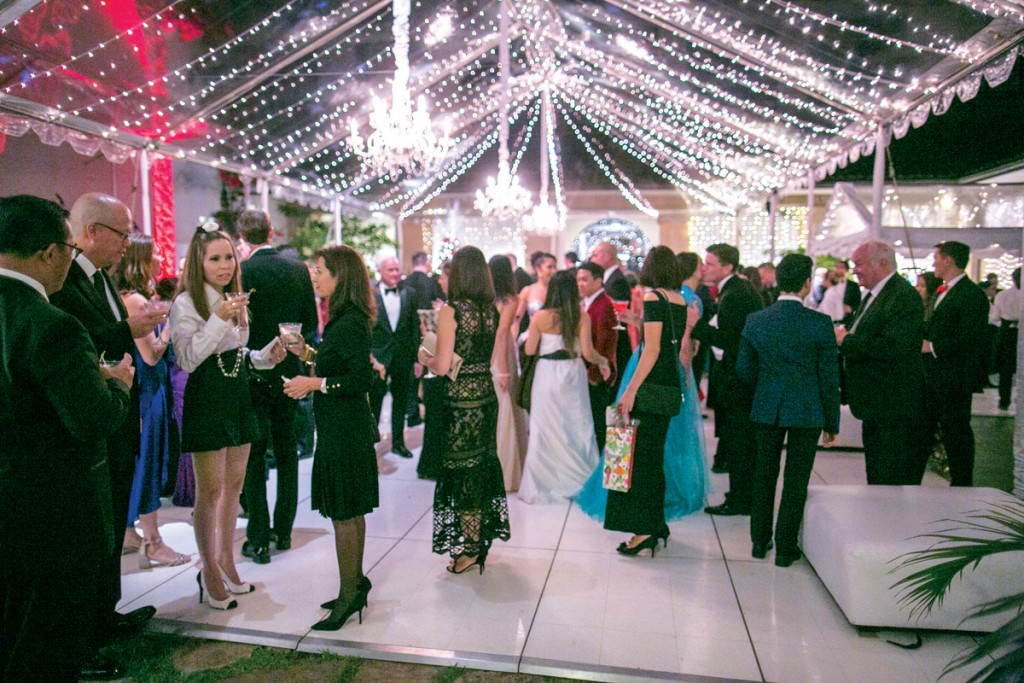 Should you queue up for this year's Honolulu Marathon in the pre-dawn hours, hydrated, well rested and ready to run, don't be shocked if someone ambles in late, maybe a little disheveled with a bow tie slung around his neck, and takes his place amid the runners. Chances are he's not had enough sleep and probably won't see his best time. But traditions are meant to be kept. Every December, that means more than a couple of dedicated runners find themselves clinking champagne glasses and dancing under the stars on Saturday night before the Sunday marathon. The marathon may be older, but Honolulu Museum of Art's annual Kamaaina Christmas gala is the stuff of legend, tradition and unabashed elegance. And nothing gets in the way of that.
First created by Alice Guild as a family-style Poi Supper over 30 years ago — a way to kick off the holiday season, raise a little money for the museum and bring families together in their best muumuu and local attire — Kamaaina Christmas is now the hottest, most coveted ticket in town. "I remember being a teenager and attending the event with my parents," says Lori Feldman, laughing. "I was always like, 'OK, I'll go, but it doesn't sound fun and I'd rather be out with my friends.'" But as every good daughter does, she put on her best holoku and joined her parents.
Over the years, Lori noticed that things seemed to change. "I went off to college and then when I'd come home, I noticed my dad was putting on a tux and my mom a ball gown," she says. "'Wait. This is Kamaaina Christmas now?' I'd ask them. It's like it went from Hilo to Paris, a charming small town to something sophisticated and grand."
Yes indeed, Lori. Just like you, Kamaaina Christmas grew up.
While Feldman didn't know it as a child, it was only a matter of time before she'd take her place amid the volunteers and event chairs. She grew up watching her mother, Sharon Fairbanks, chair the second annual event and volunteer year after year. Married and back home, Feldman started volunteering and attending regularly in the early 2000s, finally accepting the request to chair the event in 2015, its 30th anniversary. Chairing any event is a big undertaking, but Kamaaina Christmas is a herculean one.
While some events follow a set script year after year, this one looks to the chair and her committee to create a magical Christmas experience, unique from previous years in theme, feel and fundraising opportunities. From an old-world Christmas village one year to a rocking, stomping holiday spectacular another, the event promises to be rather like Christmas morning itself: By showing up, you surrender to whatever wonder and magic that found its way through
the doors and under the tree.
Asked if her mother was proud of her work chairing the 30th anniversary, Feldman laughs. "Probably," she says. "But I was proud of myself! I couldn't believe how magical the museum looked, like a fairy tale with twinkling lights and traditional Christmas trees and wreaths everywhere." It's true. The venue alone makes the event spectacular. As though with a magic wand, the museum is reimagined into a holiday wonderland, with guests wandering the open-air corridors enjoying appetizers and champagne before dining amid the art in the intimate and exquisite galleries.
Like every good event, there's always just enough palace intrigue to make the night more fun. Whispers tell of the occasional brawl over an auction item and tuxedos and gowns unlike anything seen in the Islands before. The intimate seating, with small groups dispersed among the galleries, also creates mystery and intrigue, particularly as the exhibits change from year to year. Word is that some patrons prefer to be seated in galleries that bear family names, while some like to dine surrounded by their favorite art. Others opt for larger galleries so they can gather with all their friends for a particularly festive and magical evening.
After dinner, everyone gathers in the courtyard under the stars to dance and toast the glow of the holidays and an evening well spent.
"People like my parents who've been going since it first started still attend," Feldman says, "but now their grown children and grandchildren are there too," taking the reins, carrying on the tradition and keeping up with the times. "I took my teenage daughter the year I chaired," Feldman says, "and I think she was bored just like I was when I was her age. But it was important, showing her that this is what you do, that you give back when and how you can."
It might have taken three ghosts and a rather chilling evening to convince Ebenezer Scrooge that Christmas is a celebration to be shared, one of giving not only to your family but also your community. But for those who turn out year after year to celebrate the arts and raise money for art education across the island, that lesson's already hard-set. "I learned everything from my mom," Feldman says.
"You give back and give back and give back. Because you can."
"I learned everything from my mom…You give back and give back and give back. Because you can."
-Lori Feldman