Honolulu Surf Film Festival screening 52 new, classic films throughout July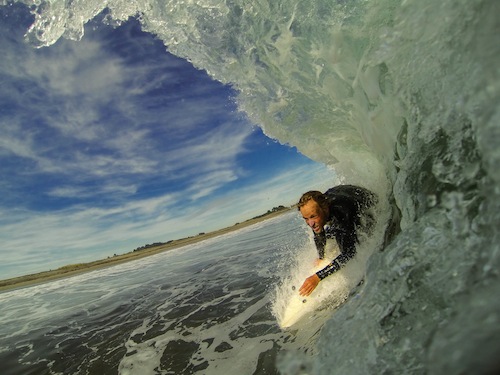 Should you find yourself seeking some relief from Honolulu heat this month, head over to the Honolulu Museum of Art's Doris Duke Theatre and cool off at the Honolulu Surf Film Festival.
Running July 5-31, the seventh annual Honolulu Surf Film Festival is screening its largest lineup yet, with 52 short- and feature-films ranging from new releases to surfing classics. (And yes, the Doris Duke has beat-the-heat air conditioning).
The festival's July 5th opening-night reception begins at 6 p.m. with a live performance by local musician Mike Love. Munch on grinds from Da Spot and sip a brew from Kona Brewing Co. before catching the opening-night screening of Hawaiian: The Legend of Eddie Aikau.
Directed by Sam George, this Emmy award-winning documentary examines the life of the late, big wave surfer and legendary waterman Eddie Aikau and his impact on the revival of the Hawaiian culture. Hawaiian screens at 7:30 p.m. Stick around after the film for a Q&A with members of Aikau's family.

Cradle of Storms, directed by Bryce Lowe-White & Ben Weiland.
The fest is sure to please audience members no matter their level of surf experience, whether observer or participant, offering films with a large variety of surf-related subject matters. Films on the schedule range from the personal to the global, telling stories of artistic inspiration, community service, overcoming prejudice and global exploration, to name a few.
Here are some of this year's noteworthy Honolulu Surf Festival films: Here are some of this year's noteworthy Honolulu Surf Festival films:

A 50th anniversary screening of The Endless Summer, Bruce Brown's "ultimate surfari" following two surfers on their global search for the perfect wave. Live vicariously through them as they surf West Africa's uncharted waters, Hawaii's own Waimea Bay, and much more. Screens July 12 at 7:30 p.m.
Good Morning Miyazaki, director Matt Wescott's documentary about Japan's surf culture. Boasts the filmmakers: "This is not your average Japan!" After seeing the picturesque beaches and countryside in the film's trailer, we wholeheartedly agree. Screens July 11 at 7:30 p.m. and July 25 at 1 p.m.
Cradle of Storms, about the frigid, treacherous journey three surfers make through the remote Aleutian Arc of Alaska, home to storm systems that send swells through the rest of the world's oceans. Screens with Good Morning Miyazaki on July 11 and July 25.
Flux: Redefining Women's Surfing, a 17-minute essay documentary about the harmful effects of sexualizing women in surf media. Screens July 8 at 7:30 p.m. and July 18 at 1 p.m.
Australian director Ian W. Thomson's OUT in the Lineup, which gives voice to gay surfers and seeks to change surf culture's homophobia into a culture of acceptance. Screens with Flux on July 8 and July 18
Se7en Signs, directed by Nathan Myers.
This year's closing reception on July 27 follows the fest's tradition of immersing audience members in a sea of nostalgia. The closing night flick this year is Bud Browne's Cavalcade of Surf. This 1962 classic surf film includes footage of iconic surfers such as Duke Kahanamoku, Buzzy Trent, and Ricky Grigg. Grigg, a big wave surfer and oceanographer, was a regular attendee of past Honolulu Surf Film Festivals. He passed away on May 21, and this year's showing of Cavalcade of Surf pays tribute to his life as well as his ocean science contributions.
The closing-night screening of Cavalcade of Surf begins at 7:30 p.m. A panel discussion about surf filmmaking and Ricky Griggs' legacy led by Anna Trent Moore, curator of Bud Browne Film Archives, happens after the film's conclusion. The closing-night reception begins at 6 p.m. with music by Mike Love, and food from Da Spot and drinks from Kona Brewing Co.
Tickets for regular screenings of Honolulu Surf Film Festival films—all at Doris Duke Theatre—are $10 ($8 for Honolulu Museum of Art members). Opening and closing night reception tickets are $15 each ($12 for museum members). If you're planning on watching a number of fest films, purchasing a Flash Pass will cover the cost of 10 screenings, excluding opening and closing night receptions. In addition to the opportunity of seeing a number of fantastic surf films, Flash Pass purchasers are also eligible to win a hand-shaped shortboard by shaper Eric Walden. Flash passes are $95 for general admission ($75 for museum members).
Visit Honolulu Museum of Art's website to see a full schedule of Honolulu Surf Film Festival films, purchase tickets, and get the lowdown on each film.