Honolulu's public transit to expand green-minded portion of Oahu-circling bus fleet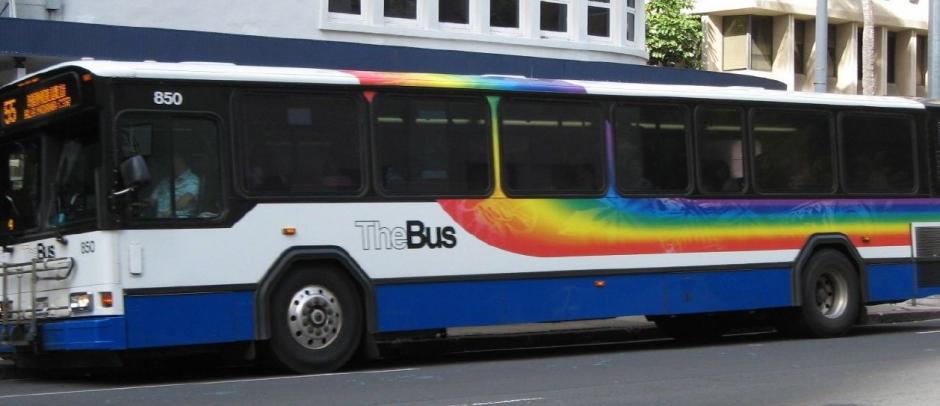 TheBus — Honolulu's city bus system — is expanding the green-minded portion of its Oahu-navigating fleet.
Hawaii's congressional delegation announced earlier this week that Honolulu is slated to receive $5 million from the federal government to purchase eight new turbine electric buses, thereby increasing the city's overall fleet to 539 buses. Sixty are hybrid electric. Also, every bus in the fleet sports a bike rack.

The funding is coming from the U.S. Department of Transportation's Transit Investments for Greenhouse Gas and Energy Reduction (TIGGER) program, according to a joint press release issued by Sens. Daniel Inouye and Daniel Akaka and Reps. Mazie Hirono and Colleen Hanabusa. The elected officials lauded the funding as an opportunity to help the city move more people around Oahu while lessening dependence on imported fossil fuels.
We love TheBus because it will take you around the entire island, and it travels to all of Oahu's major shopping malls, museums, restaurants, beaches and nearly every attraction on the island.
The first fleet in the city's TheBus program took to the streets of Honolulu on March 1, 1971, under then-mayor Frank Fasi. Since then, the fleet has grown to provide more than 75 million rides to residents and visitors every year.
TheBus has been recognized twice by the American Public Transportation Association as "America's Best Transit System," in 1994-1995 and 2000-2001. It remains the only mass transit system to win the recognition twice.
With one-way adult fares at $2.50 (allowing one free transfer for each paid cash fare) and discounts for seniors, military and children, TheBus is one of the most affordable ways to get around Oahu. Visitors can also get a four-day bus pass for $25. For more information about TheBus and its routes, click here.