How (And Where) To Watch the Massive Waves on Oʻahu's North Shore
The season of XXL surf is upon us, so here's how you can watch the gigantic winter swells on Oʻahu.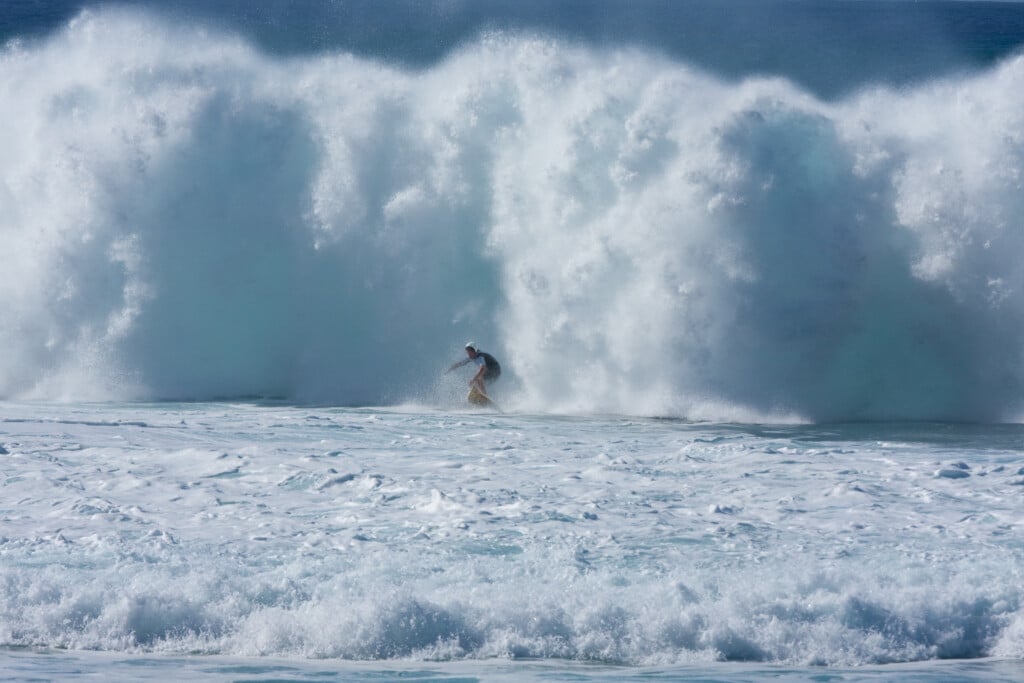 The waves that pound Hawaiʻi during the winter have a hypnotic beauty to them. Massive in size, these moving mountains of water slam against northern shorelines every winter—starting as early as November and pulsing through January. And on Oʻahu's North Shore, it's easy to watch these massive slabs of water roll in from a safe distance, as long as you know where to look. Here are a few things to know about winter wave watching on Oʻahu.
1. Go to Waimea Bay, Pipeline or Sunset Beach
When it comes to watching big waves, what you really want is a place that caters to large swell. Surf spots like Waimea Bay, Pipeline and Sunset Beach—all on Oʻahu's North Shore—are perfectly suited to handle the size. (We're talking 20 to 30-foot waves here, the biggest of the big.) Not only that, but these spots are also popular amongst big-wave surfers, so you can actually watch brave watermen and waterwomen tackle the waves with nothing but their bodies and their boards.
2. Do Not—I Repeat, Do Not—Go Near the Water
While it may be tempting to get closer to the shoreline to get a better look at the waves, it's incredibly dangerous to go anywhere near the shorebreak. Even if you've been watching the sets roll through and think you know where it's safe, unexpected and much larger waves—called rogue sets—are incredibly dangerous and can catch anyone off guard. Being put in a compromising situation not only puts your life at risk but also the water safety team that has to rescue you—so it's best to play it safe and make sure you're far away enough from the water.
3. Photographers Will Want to Bring Their Biggest Lens
Since most big wave surf spots are way—way—out in the water, shutterbugs won't be able to shoot great photos without a telephoto lens. Of course, you can still take photos of the waves without a high-zoom lens, but you won't be able to capture close-up shots of surfers or the dramatic cresting of individual waves.
4. Surfline is Your Best Friend
If you don't want to drive all the way up to the North Shore—which can take 45 minutes to an hour from Honolulu—check "the cams." What we mean by that is, check Surfline's handful of live cameras, all pointed at some of the best breaks on the North Shore. You'll want to keep an eye on overall wind conditions—if it's too windy, the waves won't look great—size and what the weather is like on the North Shore. (Just because it is nice and sunny in Waikīkī doesn't mean it's the same on the North Shore.)
5. Go Early or Late
When it comes to finding the cleanest conditions for wave-watching, early morning sessions are your best bet. Typically, the wind doesn't pick up on the North Shore until 9 or 10 a.m., and early birds can watch massive waves come in with smooth ocean conditions. The same can be said for the late afternoon when the wind dies down compared to the often breezy midday surf conditions—and you may even catch an epic sunset.
6. Prepare to Walk the Distance
Since everyone loves watching the North Shore at its most hectic, parking can be tight—like, real tight—at most major big wave surf spots. So if you're determined to see the waves for yourself, be prepared to walk.
7. Pack a Lunch and Bring Plenty of Water
Since finding your spot in the sand can be hard enough, you don't want to have to hike it back to your car once you get hungry or thirsty. So pack a lunch or grab a bento from the Pūpūkea Foodland on your way down to the beach, and be sure to use the restroom before leaving as not all North Shore beaches have public facilities.