How May Day became Lei Day in Hawaii
In the 1920s, during the era of steamships and sidewalk lei sellers, poet Don Blanding came up with an idea.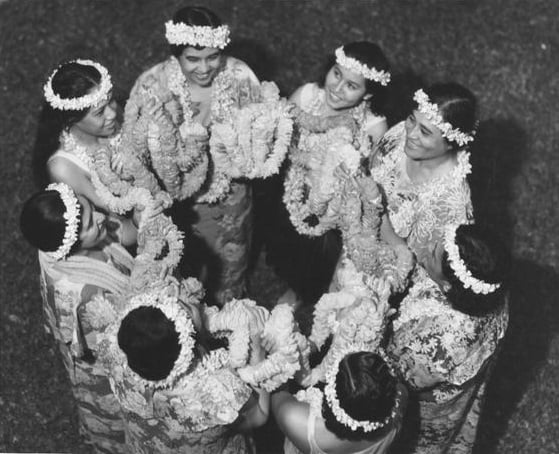 Lei (garland or wreath) making, whether it be with flowers, shells or feathers, is a traditional Hawaiian custom and art form passed down through generations. Many floral lei were created for a particular person in mind, intended to be gifts, and great care was given in finding the materials and artfully stringing the flowers together. Traditionally, lei were oftentimes tied around the person's neck as a sign of respect because the head and back were considered sacred, which is unlike today's lei presentations where the presenter places the lei over the wearer's head. Either way, when presented, the mana (spirit) of the lei maker is said to pass to its wearer.
In the 1920s, at a busy period of steamship travel to the Islands and the growing appearance of lei sellers lining the piers and sidewalks of downtown hotels, poet Don Blanding came up with an idea. He thought Hawaii should have a day set aside to celebrate the flower lei, and discussed this with Honolulu Star-Bulletin columnist Grace Tower Warren, who suggested it be on May Day and coined the phrase "May Day is Lei Day." May Day was seen as the perfect day for Lei Day because many varieties of flowers would be in bloom and it'd make May Day a colorful day and occasion.
The public loved the idea and, in 1928, the first official Lei Day was celebrated. The Honolulu Star Advertiser reported, "Leis and more leis will be seen in Honolulu today, for May day has been designated Lei day in Hawaii. One of the interesting features of the celebration is that many women in the city are making their own leis, and yesterday afternoon special blossoms were ordered. In some instances, the flowers will be picked from private gardens."
Along with the many individuals working day and night to create hundreds of lei, Matson Navigation Co. decorated every passenger arriving on Maui that day with flower lei, Lei Day programs were created throughout the Islands' schools and junior police officers wore flower lei for the day. The Bank of Hawaii building's lobby was also said to resemble a flower garden, with "balconies banked with banyan boughs" and a maypole was strung with fragrant maile. The city's first Lei Day queen was Nina Bowman and leis were entered into a contest and exhibition with awards given by Princess Kawananakoa.
As the years went by and Lei Day outgrew City Hall, the event moved to Queen Kapiolani Park in Waikiki where it continues to be celebrated each year.
Did you know? Each of the Hawaiian Islands has its own color and flower.
Hawaii Island's color is ulaula (red) and its flower is the ohia lehua; Maui's color is akala (pink) and its flower is the lokelani; Oahu's color is melemele (yellow) and its flower is the ilima; Molokai's color is omaomao (green) and flower is the kukui; Lanai's color is alani (orange) and flower is kaunaoa; Kahoolawe's color is hinahina (silvery gray) and flower is the hinahina (Heliotropium anomalum); Kauai's color is poni (purple) and its flower is mokihana; and Niihau's color is keokeo (white) and its flower is the pupu (shell).