How Professional Surfer Bethany Hamilton is Doing It All
Seventeen years after the shark attack that took her arm, the Kaua'i native is blazing through life as a motivational speaker, wife and mother of two.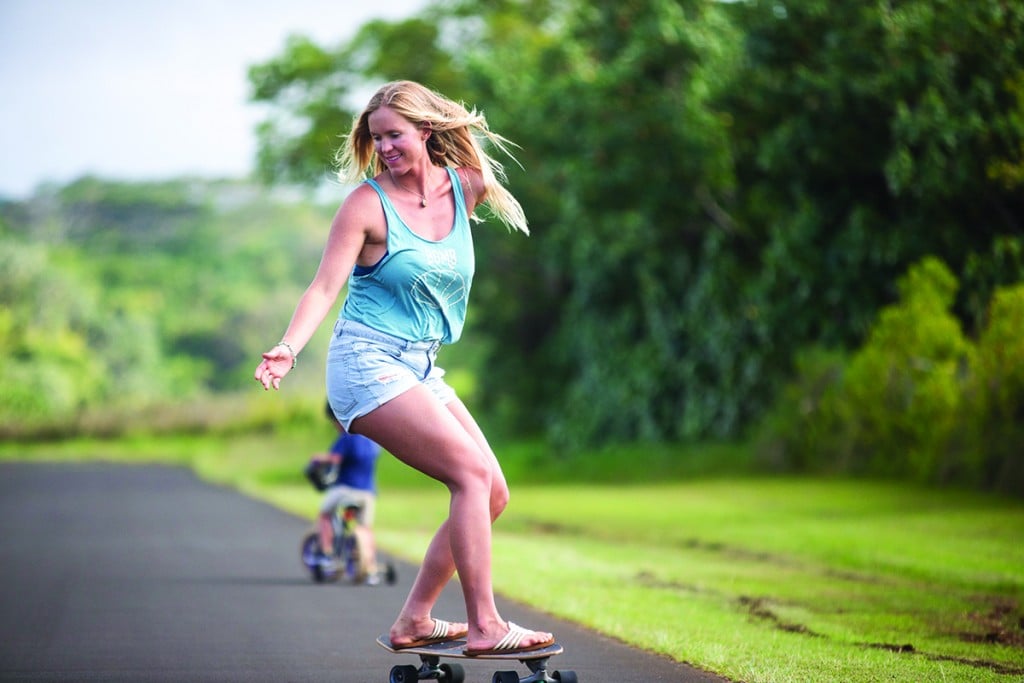 A lot has changed in the 17 years since Bethany Hamilton lost her arm in a shark attack on Halloween morning in 2003. She's published an autobiography; seen her story depicted in the movie, "Soul Surfer," starring AnnaSophia Robb; and most recently released a documentary, "Bethany Hamilton: Unstoppable," that provides a glimpse into her experience as a professional surfer.
Not only that, but 30-year-old Hamilton has started her own foundation, Friends of Bethany, which supports traumatic amputees, and travels across the country as a motivational speaker.
And along the way she got married and started a family; she and husband Adam Dirks have two blond little boys, Tobias and Wesley.
In a nutshell: This Kaua'i woman has been busy.
"It feels like it's a never-ending balancing act," Hamilton says with a smile. "I think it will always be like that—in an awesome way."
But at the same time, a lot hasn't changed at all for this self-described "island girl," despite a tragic event that thrust her into the spotlight when she was just 13.
Her love for surfing remains a constant in her life, especially now as she prepares to compete full time this year. This will be the first time Hamilton will fully immerse herself into competitive surfing, starting with events on the World Surfing League's qualifying series, which start in March, with the goal of securing a spot on the championship tour. Surfing is a passion she shares with her sons—Tobias, 5, has his own board and Hamilton is sure to take Wesley, turning 2 this year, on at least one wave every time they visit the beach.
"I just want them to appreciate the ocean and wave riding and hopefully be able to share that with them because I want to be surfing until I'm old," Hamilton says.
On the lānai of her Kaua'i home, the stack of children's books and Bibles on the table and the exercise ball in the corner are evidence of Hamilton's many roles—as a doting mother, a driven athlete. But sitting across from her, you'd never know that she leads such an incredibly busy life. She looks too relaxed for all that.
With Dirks and Hamilton home-schooling the boys, the family of four travels together for all of Hamilton's competitions and appearances. The kids have already visited exciting parts of the world; Tobias celebrated his first two birthdays in Fiji.
"We're a team unit and so we split a lot of the work," Hamilton says. "Even though I do a lot, I also feel like I'm still a full-time mom. The only time they're not with me is when I'm out in the ocean, pretty much. They just are a part of our life very thoroughly and just come along for the ride."
Yet despite all of her recent accomplishments, the story of Hamilton's shark attack at Tunnels Beach on Kaua'i in 2003 continues to be what people remember about her. A 14-foot tiger shark severed her left arm just below her shoulder. (Amazingly, she returned to surfing a month after the attack.)
"Our culture is so addicted to drama, so they hang tight to the drama points of life and so naturally everyone is really focused on the dramatic aspects of my life," Hamilton says.
That's where her 2018 documentary, "Bethany Hamilton: Unstoppable," the product of five years of filming, comes in.
"In the last 15 years, people would be like, 'Oh, you're the shark girl,' or 'Oh, you're that girl that lost her arm,' or 'Oh, you used to surf,'" Hamilton says.
The documentary turned the lens away from Hamilton's attack to capture her ongoing love for high-adrenaline, high-performance surfing.
"It was just to be like, 'Hey, it's more than just this one-hour incident in my life,'" Hamilton says.
But what was supposed to be a short film focused solely on Hamilton's surfing transformed into something larger. The film tells Hamilton's story in her own voice, from the attack to her experience as a celebrity to meeting Dirks and starting a family—all in addition to documenting Hamilton's training in and out of the water. It features not just Hamilton but the voices of other professional surfers and those closest to her.
"It was a good excuse to be in the ocean and have fun," Hamilton says. "Let's just make a documentary short along the way. And then I got pregnant and just a lot in life had happened. We just felt like there was a really cool story to tell that the other ways my story had been shared hadn't captured."
It became a way for Hamilton, who describes herself as a little shy, to give viewers a peek into her life—from home videos of young Hamilton training alongside her best friend, professional surfer Alana Blanchard, to captured moments of Hamilton stopping between surf competition heats to breastfeed Tobias.
"We really wanted the film to be true to surf, but very inviting for nonsurfers too—just sharing my life story in a way that felt like me," Hamilton says. "I've become more outspoken, I would say, because of the role I've been just flown into, but I'm not naturally someone who goes around telling people about myself and it's not my passion to talk about myself by any means. I loved how, yes, there's a lot of talking in it, but it's a lot of the story that's told just visually."
So certainly, while the shark attack did require adjustments to Hamilton's life, the pro surfer says she is following what she calls God's plan.
"I do think I would have veered toward a professional surfing career and probably had a lot of success competitively—probably a lot more success than I have," Hamilton says, reflecting on where she would be now if she had not lost her arm. "But I also don't know if I would have a kid now or have my husband. I believe God's plan is better than our own and that's just part of this life. In a lot of ways, I have lived my life how I wanted it to be, just a little differently."
Being a full-time mom and traveling internationally for speaking engagements and competitions—plus daily workouts in preparation for competition this year—means that sometimes Hamilton has to put her family first and cancel a  trip so the four of them can catch up on sleep.
With Hamilton so well-known, family beach days are occasionally interrupted by fans. She's still not fully used to the attention, she says.
But Hamilton says she treasures the impact her story has had on others, and she hopes to continue with her online motivational course, Unstoppable Year. The program, led by Hamilton and other guest speakers, takes subscribers through 12 sessions, each centering on a different way to become more empowered.
"I cherish the role that I have in being able to inspire people," Hamilton says. "I just wanted to create a place where I could get deeper with people and really encourage them in their journey."
Hamilton's experience, along with her faith, has given her a unique perspective on the shark attack and the loss of her arm.
"The world's not perfect; you're going to face pain or struggles or things that are going to bring you down," Hamilton says, speaking of the life lesson she hopes to instill in her two sons. "You're going to have to choose and make choices that will either bring you down or up. We just have to be kind of ready for whatever comes our way, no matter what it ends up being." Q
Former HAWAI'I Magazine editorial intern Madeleine Carr is a writer from O'ahu with a passion for food, writing and dogs—in no particular order. After graduating in May from Pepperdine University, she hopes to pursue a journalism career in the Islands.