How the Hale Mua empowers Native Hawaiian men
In this hale mua, or house of men, all strive to keep their traditions alive and apply them to modern life.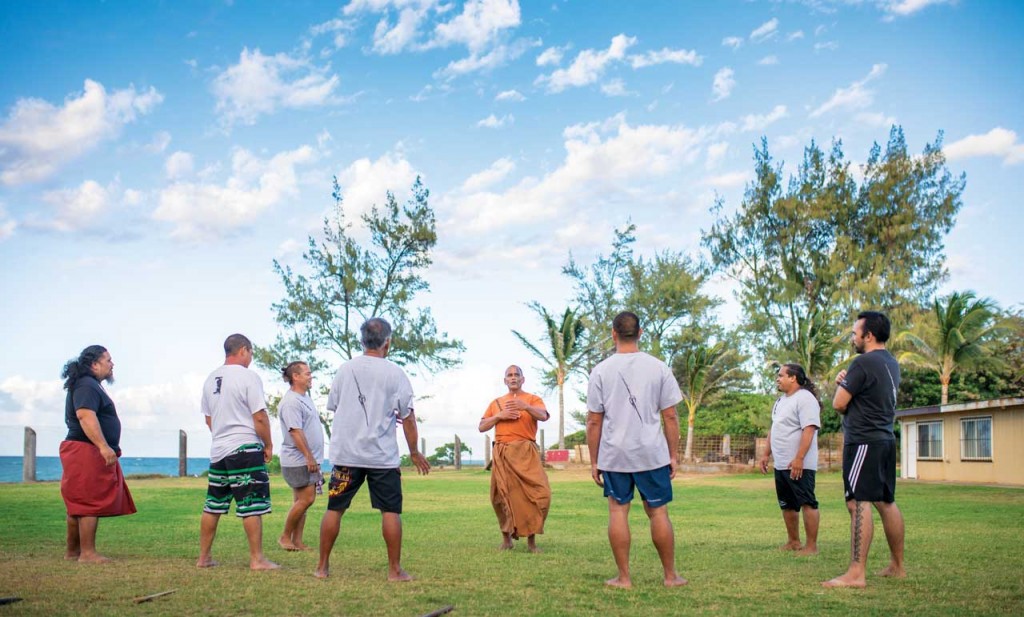 Kyle Nakanelua is seated across from me, staring me down with eyes that have seen plenty. Half of his face is embedded with ink, his intimidating appearance offset by his friendly demeanor. He's the co-founder of the modern hale mua (house of men), along with Kamanaopono Crabbe, CEO of the Office of Hawaiian Affairs. Hale mua have appeared throughout the Islands, from Waianae to Kailua, Papakolea to Waimea.
"Historically, the hale mua is the first educational institution that a Hawaiian male enters into," Nakanelua tells me. In modern days, however, the hale mua serves a more expansive purpose. "This is where the males figure out what they want to do [regarding Hawaiian activities], and then begin the planning process to go and do it," Nakanelua says. "If there are at least five Hawaiian men that gather and discuss and plan a Hawaiian activity, that's a mua—that's a men's house."
The first modern hale mua, started in 1995 and organized by Nakanelua and Crabbe, began in turbulent times. "Our main focus the first 18 years was with older Hawaiian men," Nakanelua recounts. "These individuals [had been] steered away from the traditions and the old templates, so our main mission was to [remind them of] these older traditions." The most prominent internal block for this initial group was the wearing of the malo (man's loincloth). "We were raised to believe that the malo was a mark of a poor savage," Nakanelua says, recounting the social and political influences that smothered Hawaiian culture for decades. "It became a symbol of poverty, a symbol of incivility." However, with time and patience, those barriers were torn down by Nakanelua and his group, and the wearing of the malo has become one of the many Hawaiian traditions practiced by the hale mua.
Deep within a Maui industrial park lies the cultural center Hale Nanea, an unassuming one-story building with a dirt parking lot and an ocean view. Winds gust violently and men chant their pule (prayer) louder. Here is where the hale mua meets. Inside the complex, I sit with elders Ted Awana and Kawika Kiili. Awana, who's been with the hale mua for more than a decade, explains to me its current mission. "We're currently involved in a project called kane makua, the male parent," Awana says. "So within that we have several disciplines in respect to traditional food preparation, the methods to cook, manufacturing the implements to serve the food, and we're incorporating that with the Hawaiian language." Food preparation is just one of the bases covered by the kane makua project, which ultimately aims to give hale mua members skills for parenting from a Hawaiian perspective.
Programs such as these are a fundamental aspect of the hale mua, which has undertaken a number of projects over the years. Which path to follow is decided by the group. "We train and we do these things because we like them," Kiili says. "We like to learn, we like the knowledge and the intellectual, physical [and] spiritual pursuit of everything." Learning these Hawaiian traditions serves as an act of preparedness for when they are needed, such as during the homecoming of the Hokulea's most recent voyage around the world, where a kalii rite was performed and eight spears were hurled at Sam Kapoi, a crew member of the Hokulea. The rite, which serves as a way for the community to recognize a leader and measure his ability and courage, was conducted by hale mua, who'd already been training for various aspects of the rite long before the thought of doing it at the Hokulea's return home.
The fluidity of the group's mission can also extend into community outreach programs. "We felt a few years ago that it would be good for us to pursue helping the youth. How can we help our youth and at the same time grow our skills in doing so?" Kiili says. "So we got together four of us to figure out what we can do. And out of that came the kalii project." The kalii project was a three-year venture in which members of the hale mua prepared opio (youths) to become contributing members of society while also teaching them Hawaiian traditions.
Outside of the mua, Ted Awana works as a claims representative. Kawika Kiili is a software engineer. However, inside of the mua, these Hawaiian men are able to pursue their interests, whether it's fishing, holona (sailing) or lua (Hawaiian martial art), in the company of likeminded kane (men).
"All of us come from all different walks of life, we have various stressors in our life, you know, family, work, just whatevers. So we come here and the first pule we do is to set aside those noises," Awana says. So they continue to pray over the howling Maui winds, lessening the noise, connecting with their roots and continuing to grow as men.