How the Popular Hanapēpē Art Night on Kauaʻi Pivoted During the Pandemic
The street fair is not back just yet, but some businesses are staying open late Friday nights.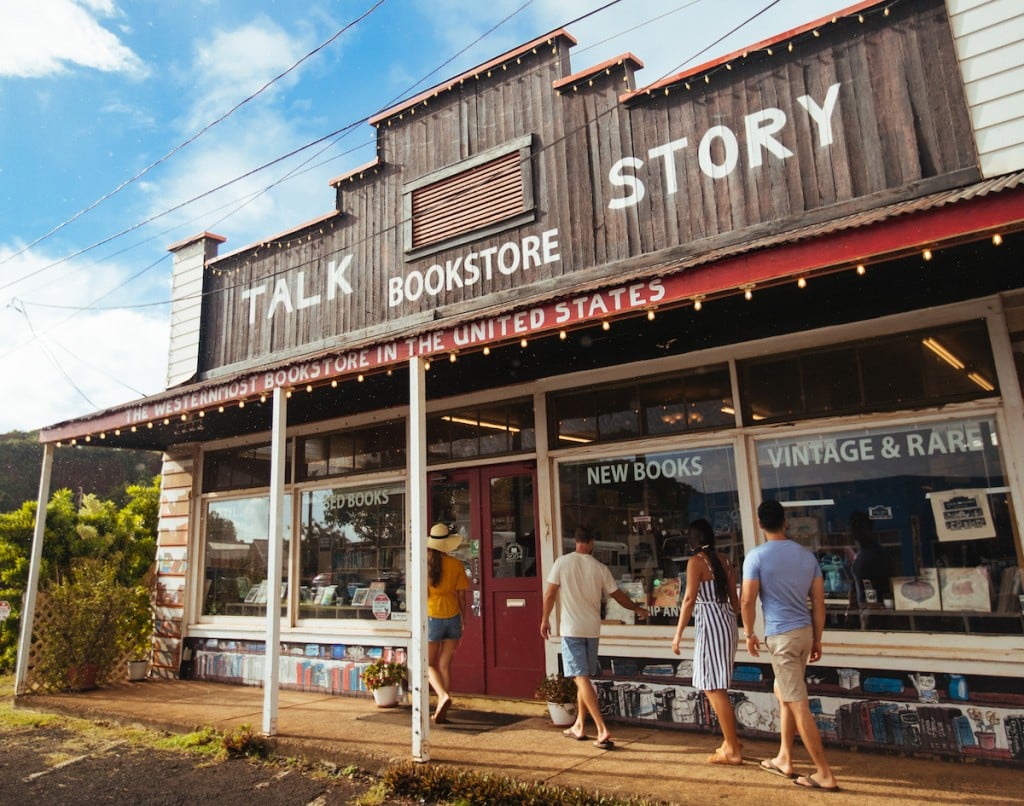 Friday Art Nights used to be when sleepy Hanapēpē Town woke up, drawing hundreds of people to art galleries, eateries and shops – many located in historic buildings—the street filled with musicians, artists, and craft and food vendors.
That changed in March 2020 when the state shut down, in-person Art Nights paused, and businesses shortened their hours or temporarily closed. That pushed the Hanapēpē Economic Alliance to reimagine Art Night: Now it would be six virtual events in the fall and winter aimed at promoting local businesses and engaging people who couldn't come to Kaua'i.
Each 30-minute episode was hosted by social media comedian Zavier Cummings and featured three businesses and a musician. The Kaua'i native would talk with business owners about their stores and engage in other activities, like trying on clothing, sampling tacos, preparing sushi, making a drink and painting a ceramic tile. Viewers were also able to experience some of the music and sights that would normally be heard and seen at in-person events.
"People who have been here and been to Art Night really wanted to support the town and businesses here, and so we really got wonderful feedback about 'thank you for doing this,' " says Joanna Carolan, treasurer of the Hanapēpē Economic Alliance. "It was a way for people who couldn't come to Kaua'i, that love Kaua'i, to have that experience and an opportunity, a way for them to support artists."
The Hanapēpē Economic Alliance was formed in 1997 and started Art Night that same year. The weekly event was meant to help revitalize the town after Hurricane ʻIniki, a Category 4 storm, pummeled the island in 1992, says Judith Page, the organization's president.
The virtual Art Nights, Carolan says, "fit the same mission of how do we, economically … support businesses that have to be shut down? And because everybody who could make the pivot to online was doing so, we felt like this would be a way [to help] people who either hadn't already been set up to do online or didn't have as good an online presence or needed the additional social media boost of that collaboration."
Evolution of Art Night
Carolan is an artist and the owner of Banana Patch Studio, a ceramic studio and art gallery, and Aloha Spice Co. She purchased the building that houses Banana Patch Studio in 1999, drawn to Hanapēpē's artist community and affordable commercial properties.
"Hanapēpē was always an entrepreneurial town from way back when," she says. "And part of what I love about it is for people who didn't necessarily fit into the plantation mold, that wanted to be more independent, do their own thing, start their own business, had their own ideas, this was one of the few independent towns on Kaua'i."
From the beginning, the Hanapēpē Economic Alliance knew that Friday Art Nights would only work if all businesses agreed to be open at the same time. Back then, businesses would generally open at their leisure – a practice some continue to this day. The agreed upon time was Fridays from about 6 to 9 p.m.
In the beginning, the event consisted of a small group of artists, but it still attracted a good amount of people, including some from Hanalei looking for art and something to do on Friday nights, says Angela Headley, former Hanapēpē Economic Alliance board member and the owner of Island Art Gallery. She and her husband purchased the gallery's building, a former laundry, in 2002. In those early days, business was slow during the week, she says, and a lot of her gallery's sales came from Art Nights.
"It was like that saying, a one-horse town," she says. "It was like a car would drive by and you'd go, 'oh maybe somebody's here.' "
The event grew as time went on and eventually added a street component with vendors and musicians. About 50 street vendors and Hanapēpē businesses would participate each week, pre-pandemic.
Going Virtual
Tune into the sixth episode of Virtual Art Night and you'll feel like you're alongside Cummings as he walks across the famous Hanapēpē Swinging Bridge and visits with The Bridge Gallery before heading back to Hanapēpē Road to talk with Headley of Island Art Gallery, listen to music by Bill Dick and then chat with Carolan of Aloha Spice Co. The episode culminates with Cummings back at the Swinging Bridge, making a cocktail called Aloha 2021 using Aloha Spice Co.'s guava lime smoked Hawaiian sea salt.
Headley, whose lū.lā. boutique was also featured in the first episode, and Carolan, whose Banana Patch Studio was in the fourth episode, say participating in virtual Art Night was a good experience. Carolan says her appearance helped spur collaborations with other businesses, including Kōloa Rum Co., whose white rum was used in the Aloha 2021 cocktail. She's also worked with Anahola Granola, just down the road, on a joint promotion.
She says virtual Art Night also got her excited about other online opportunities, including Aloha Spice Co. cooking videos. "Through this process I was able to see, OK, here's how you work with a videographer, here's what they can do for you, here's how they can benefit your business."
Renee Palmer, who coordinated the virtual Art Nights as project manager, says the sixth episode received 37,000 views; others had around 20,000 or 21,000. There's no way to track whether businesses made sales as a direct result of the episodes, she says, but connections were made nonetheless. For example, a customer thought one business had closed but was able to reach out to the business after watching virtual Art Night.
More than Just Art Night
As part of the U.S. government's coronavirus rescue package, the Hanapēpē Economic Alliance received a $115,000 grant from Kaua'i County to put on those six virtual Art Nights, but the money also helped businesses and the town in other ways.
The organization hosted online and in-person scavenger hunts, gave away gift baskets, supported an online art class, funded the filming of a walking tour, provided 40 businesses with professional photos, and helped owners who needed website and social media support, Palmer and Carolan say.
Hanapēpē Economic Alliance's efforts changed over time as it learned what businesses' needs were and tried to find ways to support them.
"We assumed everyone would have a website and would be able to participate in the Virtual Art Night and generate sales, but obviously for people who didn't even have a website, for the Virtual Art Night, we had to step back," Carolan says. "So we realized through the process of the program what people's needs were [and] … some of the ways that people would need support to even be able to participate in Virtual Art Night."
Return to In-Person Events
As of this writing, Art Night has yet to officially return.
Carolan says the Hanapēpē Economic Alliance, which is in charge of Art Night activities on Hanapēpē Road, has applied for a "shuttered venue operators" grant to host socially distanced events. Outdoor gatherings in Kaua'i County are limited to 25 people, so to host the event, the organization would need to divide the street, which is a mix of public and private property, into sections limited to 25 people each. The funds would help the organization hire security and extra personnel to help control the crowds.
"We do not want to create an event that has potential to spread COVID because Kaua'i has been so safe," Carolan says. "So if we're going to do it, we want to do it safely, we want to make sure we have the additional staffing and distancing. We have the whole street, so it would have to take place over a larger section of town."
She adds that visitors are welcome to visit Old Hanapēpē Town on Friday nights when some businesses still stay open late, even without Art Night. Also, some new businesses have opened up, both before and during the pandemic, including Mercedes Maza Art and Amaize, Inc. Foods.
"People are having to have a different experience on Kaua'i," Carolan says. "So we want to encourage people to come down, support the stores that are open, the restaurants that are open on Friday night, and we're working hard to be able to safely bring back the event that happens on the street as well."
For more information and updates on Art Night, go to hanapepe.org or follow the Hanapēpē Economic Alliance on Facebook and Instagram at @historichanapepe.