How to buy an ukulele from Hawaii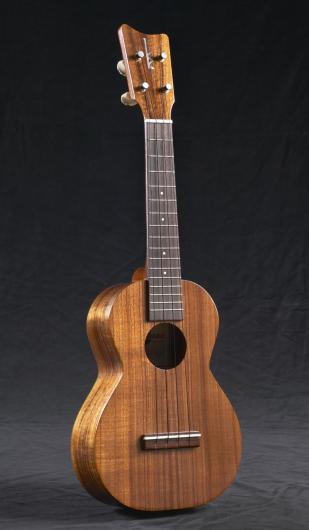 A HAWAII magazine reader asked us for some tips on buying one of Hawaii's most iconic instruments:
Where can we find ukuleles and banjo ukuleles (new & used) being produced or sold in Kauai?
You ask, we answer. And we answered the question for all the Islands, not just Kaua'i.
Standard ukuleles are far easier to find than "banjo ukuleles." A banjo ukulele, or banjolele, has the small scale, tuning, and playing style of a ukulele but, not surprisingly given the name, is constructed like a banjo. Banjo ukes are not commonly used in Hawaiian music, so most music stores here would have to special order one.
We found one Hawaii crafter who builds both banjo ukuleles and standard ukuleles. Bonus? He's on Kauai—Thomas Owen of Kapaa, Kauai-based Wailua Instruments. Click here for his contact info.
Unlike the banjo uke, the standard ukulele is synonymous with Hawaiian music and culture. You'll find the instruments for sale on all of the major Hawaiian Islands, not just Kaua'i, in places ranging from music stores to department stores to Waikiki convenience stores.
As with most musical instruments, you get what you pay for. If you're looking for an inexpensive music-making memento of your Hawaii trip, for less than $20, you can find ukuleles at most local flea markets and retailers specializing in Hawaii souvenirs.
Most music stores in Hawaii carry quality new and used ukuleles from reputable crafters. Things can get a bit trickier for consumers hoping to buy an authentic "made in Hawaii" instrument, though.

The price of a quality Hawaii-made ukulele is usually based on the type of wood. An ukulele made of Hawaii koa—a highly prized wood endemic to the Islands—will cost you upwards of $650. A Hawaii-crafted ukulele made of mahogany, on the other hand, can cost between $50 to $80.
Also, not all ukuleles labeled "made in Hawaii" are actually 100 percent made in Hawaii. This is also a key factor in price. An ukulele assembled in Hawaii with parts made outside the Islands may still carry a "made in Hawaii" label. If it matters to you, make sure to inquire whether the ukulele and its parts were entirely or partially made in and assembled in Hawaii.
The best way to ensure that you are purchasing a 100 percent "made in Hawaii" ukulele is to buy directly from the ukulele crafter, manufacturer or authorized retailers of their brands. Here are some notable brands:
• Kamaka Hawaii Inc.
One of the oldest and most prestigious ukulele makers in Hawaii. Kamaka's ukuleles are hand-crafted from Hawaii koa at Kamaka's Oahu factory.
Musician endorsements: Jake Shimabukuro, Israel Kamakawiwoole
Available at the manufacturer, select music retailers and online.
550 South St., Honolulu, (808) 531-3165, www.kamakahawaii.com
• KoAloha Ukulele
A young company with the warranty slogan, "better than the weather," their ukuleles are also made from Hawaii koa.
Musician endorsements: Raiatea Helm, Herb Ohta, Jr., Daniel Ho
Available at the manufacturer, select music retailers and online.
744 Kohou St., Honolulu, (866) 840-4911, www.koaloha.com
• Sonny D.
More of a ukulele artisan than a manufacturer, this production line is a one-man factory; the ukes here are made from koa and other various types of wood.
Musician endorements: Troy Fernandez, Robi Kahakalau
Available at the manufacturer and select music retailers, but not online.
94-164 Awalau St., Waipahu, (808) 671-0267, www.sonnydukuleles.net
Whether you're in the market as a collector looking for an investment or an occasional strummer seeking a souvenir, with a good Hawaii-made ukulele you'll always have a piece of our Islands at your fingertips.
Happy shopping!