How to Hike Oahu's Iconic Diamond Head Crater
Short, steep and sunny, this Oahu trek gives you an unrivaled view of Waikiki, Honolulu and East Oahu.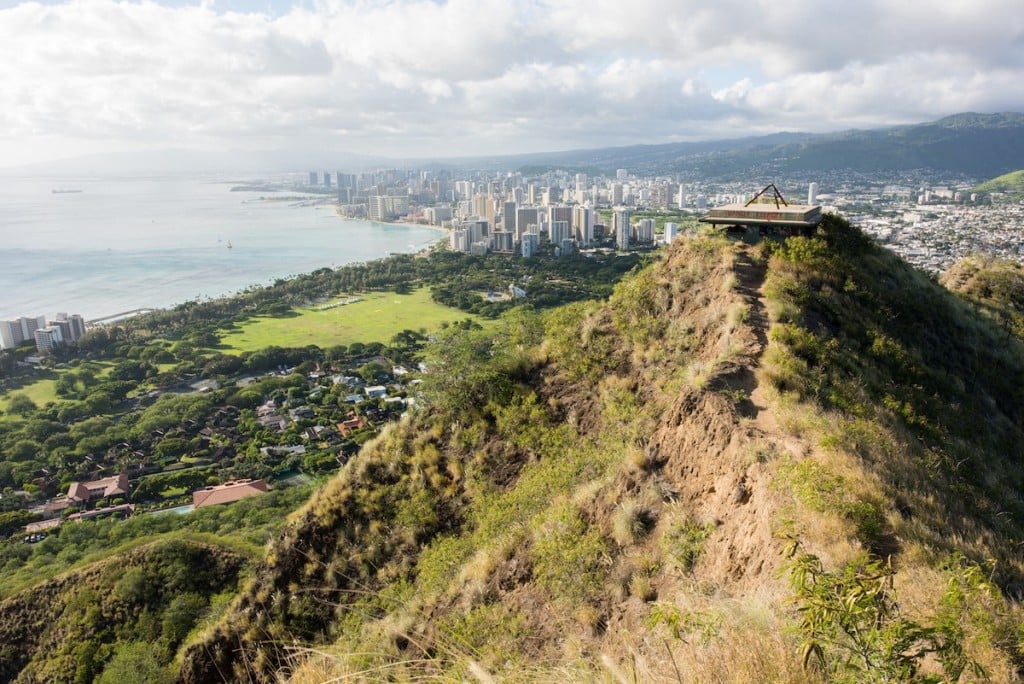 If you've seen a postcard of Waikiki, there's a pretty good chance Leahi, more commonly known as Diamond Head, will be in there somewhere, showing off its epic ridges and, after a good rain, lush foliage. The volcanic crater is open to visitors—more than 3,000 people hike here every day, making this one of the most popular hikes in the Islands—and hikers can climb the 1-mile trail to the summit. The tuff cone formed 300,000 years ago when the southern section of the Koolau Range erupted, and the landmark has since been used as a vantage point by both ancient Hawaiians and the U.S. government to spot enemy naval vessels. Leahi, which translates to "brow of the tuna" in olelo Hawaii (Hawaiian language) also offers panoramic views of Honolulu, Waikiki and the southern coast of Oahu. Here's a quick guide on where to park, what to bring and how to hike Leahi.
Preparation
Trust us: Bring a hat and a lot of sunscreen. Although the hike isn't long (less than two hours roundtrip for decent hikers), you will likely be exposed to the sun the entire time, and there isn't much in the way of shade on this trek. Of course, water is a must, too, and snacks for little hikers. The hike from trailhead to summit is less than a mile one way, and there is a concession stand in the parking lot area that sells food, snacks, hats and reusable water bottles.
Parking
Finding a spot for your car can be more challenging than the hike itself. Diamond Head Crater does have a parking lot; however it costs $10 per vehicle and there are few stalls. On weekends, you can park for free at Kapiolani Community College, located across the street from Diamond Head Crater's trailhead. If you walk into the crater, you will still need to pay: It costs $5 per person. Also, sorry, sunset lovers, but the trail is only open from 6 a.m. to 6 p.m., and 4:30 p.m. is the last time to get in.
The Hike
The path to the summit starts off easy. Large, paved walkways lead you to the base of the trail, and the only thing to see here is overgrown grassy hills and tired, sweaty hikers making their way back down. Things get a little more challenging once you make hit the numerous switchbacks and stairs that lead you up Leahi's summit—a 560-foot elevation gain. Fortunately, there are plenty of sturdy railings to help you along, and there are even a few lookouts where you can stop, catch your breath and to see how far you've come.
After climbing yet another set of stairs, you'll enter and imposing and dark tunnel. Yes, it is part of the hike, and yes, it's kind of weird. It's also pretty long—225 feet—and there are only small lights near the floor to guide you, so it might help to whip out your phone's flashlight.
Once you've made it to the end of the tunnel, you'll have to go through another one, which is fortunately much shorter than its predecessor. You'll exit this tunnel at the base of a metal staircase that leads you to the Fire Control Station, which was completed in 1911. It's 99 steps to the top. Here, you'll enter the station, which was built to direct artillery fire from batteries in Waikiki and Fort Ruger outside the crater. You've successfully reached the summit.
The View
The summit of Diamond Head offers one of the best views of Waikiki—and from such a short hike. From the top, you can see the historic Diamond Head Lighthouse and much of urban Honolulu. Looking toward the ocean, you'll get a bird's-eye view of surf breaks and even surfers gliding on waves. During winter months—like now—you might be able to spot a kohola (humpback whale) or two, playing in the Pacific.
For more information on the Diamond Head Crater Hike, visit DLNR's website.