How to Hike the Big Island's Kahuku Unit
This grassy section of Hawaii Volcanoes National Park was once a historic ranch and spans 116,000 acres.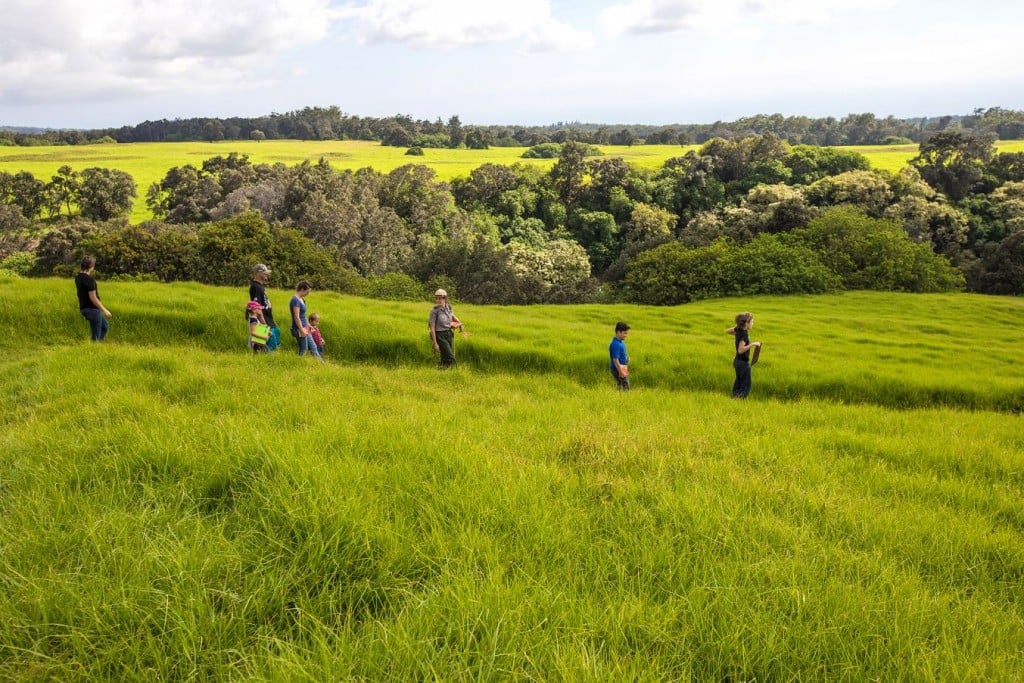 The Kahuku Unit of Hawaii Volcanoes National Park is perhaps one of the park's most underrated areas. Open to the public Wednesday through Sunday, from 9 a.m. to 4 p.m., this grassy section was once a historic ranch and spans 116,000 acres.  Guests can expect to see remnants of ohia lehua forests, unique plant and animals species and historic lava flows from the 1868 Kau eruption.
Guided hikes are offered Saturdays and Sundays, starting at 9:30 a.m., and are led by knowledgeable Hawaii Volcanoes National Park rangers. Orientation talks are also provided every day at 10:30 a.m., which include 20- to 30-minute discussions about the area, its history, culture and a brief update on current volcanic activity. Additionally, guests can grab a map of the area from one of the park rangers. If you want to pick your own adventure in the Kahuku Unit, check out the list below that highlights the unit's five distinct hikes, which all begin at various trailheads set along Kahuku Road.
Puu O Lokuana Cinder Cone
The shortest hike in the bunch, this quick loop is only 0.4 miles in distance, however hikers will have to work through an accelerated elevation gain of 100 feet. On the route to the top of the hill, be sure to keep an eye out for a historic cinder quarry—and once you've reached the top of this grassy, oversized knoll, expect to see a stunning view of lower Kau. Be sure to watch your step on the way back down.
Puu O Lokuana Trail
A shady 2-mile loop featuring a gradual incline, this sun-protected trek will take you along historic ranch roads. On the path, you'll see remnants of the past, such as lava tree molds, created when fast-flowing lava moves through a forest. The lava cools and hardens on the trees in its path, and the insides of the trees are incinerated, leaving tree-shaped lava shells in their place. Other sights include segments of the 1868 lava flow and a small hidden pasture surrounded by foliage.
Kamakapaa Trail
A trail for hikers of all ages and levels of fitness, this half-mile walk will take you to the top of a small cinder cone. Featuring a minor incline of 40 feet, the hike's grassy meadow setting makes it a great choice for a warmup route or just a place to bring a picnic basket.
Palm Trail
If you're looking to get an all-inclusive view of Kahuku, look no further. This 2.6-mile hike, the longest in the unit, will take you through much of the area's historic pastureland, where you'll come across fissures created by the 1868 eruption and relics from Hawaii's ranching era. Rising 310 feet in elevation, expect to get a bird's-eye perspective of Kahuku by the time you reach the top.
Pali O Kaeo Trail
A moderately difficult section, this hike will take visitors 410 feet up, and is the Kahuku Unit trail with the greatest altitude change. With this height however, comes exceptional views. Be sure to take in a large swath of Kau's coastline, which is prominently on display during this hike. The path itself is fortunately set in a wooded meadow, where it's easy to take a seat and rest. Be careful on your way down however, as the hike descends steeply.
For more information on the Kahuku Unit and its hikes, visit their website or call (808) 985-6000. Kahuku is located between mile markers 70 and 71 on Highway 11.