How to make Hawaii-style saimin broth (and find Sun Noodles on the mainland)
One take on an Island-style saimin broth using dried ebi (shrimp).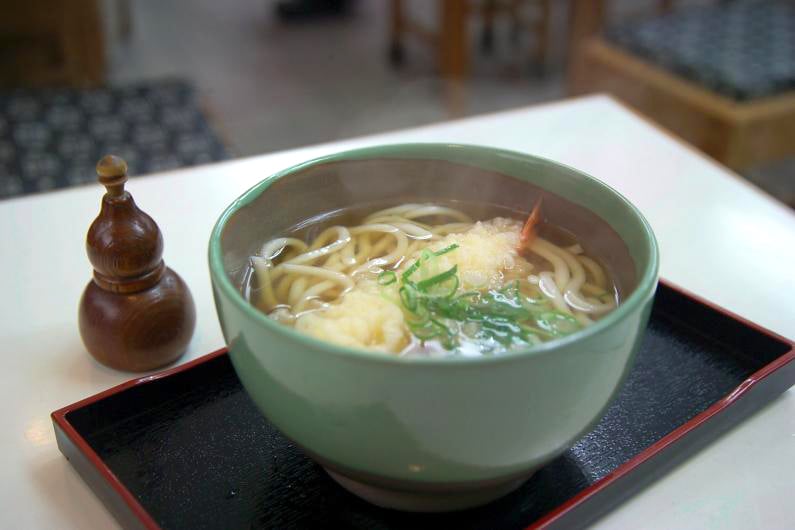 HAWAII Magazine reader Roy Manubag, of Dallas-Fort Worth, Texas, wrote us with a question about a longtime favorite Hawaii comfort food:
Where can I order udon from Hawaii and would you have a recipe for noodle broth using ebi (shrimp)?
You ask. We answer.
Udon is a thick wheat-flour noodle that is typically served in a hot, flavorful broth (pictured, above). Like ramen—which generally uses thinner noodles—the dish was born in China centuries ago, eventually finding its way to Japan and other Asian countries. The modern-day popularity of ramen and udon dishes in the Islands can be traced to the Hawaii noodle soup saimin.
First cooked up by field workers during Hawaii's plantation era, saimin—wheat egg noodles in a hot broth, garnished with anything from green onions and egg omelet slices to Spam and Chinese roast pork slices—remains a popular comfort food dish in the Islands.
In Hawaii, the largest supplier of udon, ramen or any type of Japanese noodle is Sun Noodle. The company's Honolulu factory (they also have a factory in Los Angeles, Calif.) produces more than 11,000 pounds of fresh noodles a day. Fortunately for noodle lovers on the Mainland, Sun's Honolulu factory ships their many varieties of Hawaii-made noodles across the country, and you may even be able to find their ramen kits at a store near you.
Shipping costs from Hawaii vary with type of noodle and location. A Sun Noodle representative in Honolulu informed us that the company has shipped as far east as Chicago, Il. Sun will ship further, but they caution against it, as the noodles' freshness may be lost in transit.
For more information or to place an order, call Sun Noodle in Honolulu at (808) 841-5808.
Now about that ebi broth recipe.
Broth is the make-or-break component of any bowl of noodles. It's also the signature mark of a noodle house, which is why many shops keep their broth recipes a closely guarded secret.
Undaunted, we tried to get some broth recipes anyway, placing calls to some of Hawaii's most popular noodle shops. No surprise, we weren't able to finagle a broth recipe from any of them.
We do, however, have a tasty homemade broth recipe—straight from the pages of the new Hawaii food tome, Kau Kau: Cuisine and Culture in the Hawaiian Islands. The book, by Hawaii writer Arnold Hiura, is stuffed with the histories, stories and recipes of our favorite Hawaii foods.
We've previously featured Kau Kau recipes for Hawaiian-style barbecue (teriyaki) sauce and plate-lunch-style macaroni salad.
Here's Kau Kau's take on an Island-style saimin broth using dried ebi. Not a shrimp devotee? Try chicken bones or pork instead for a rich, flavorful broth.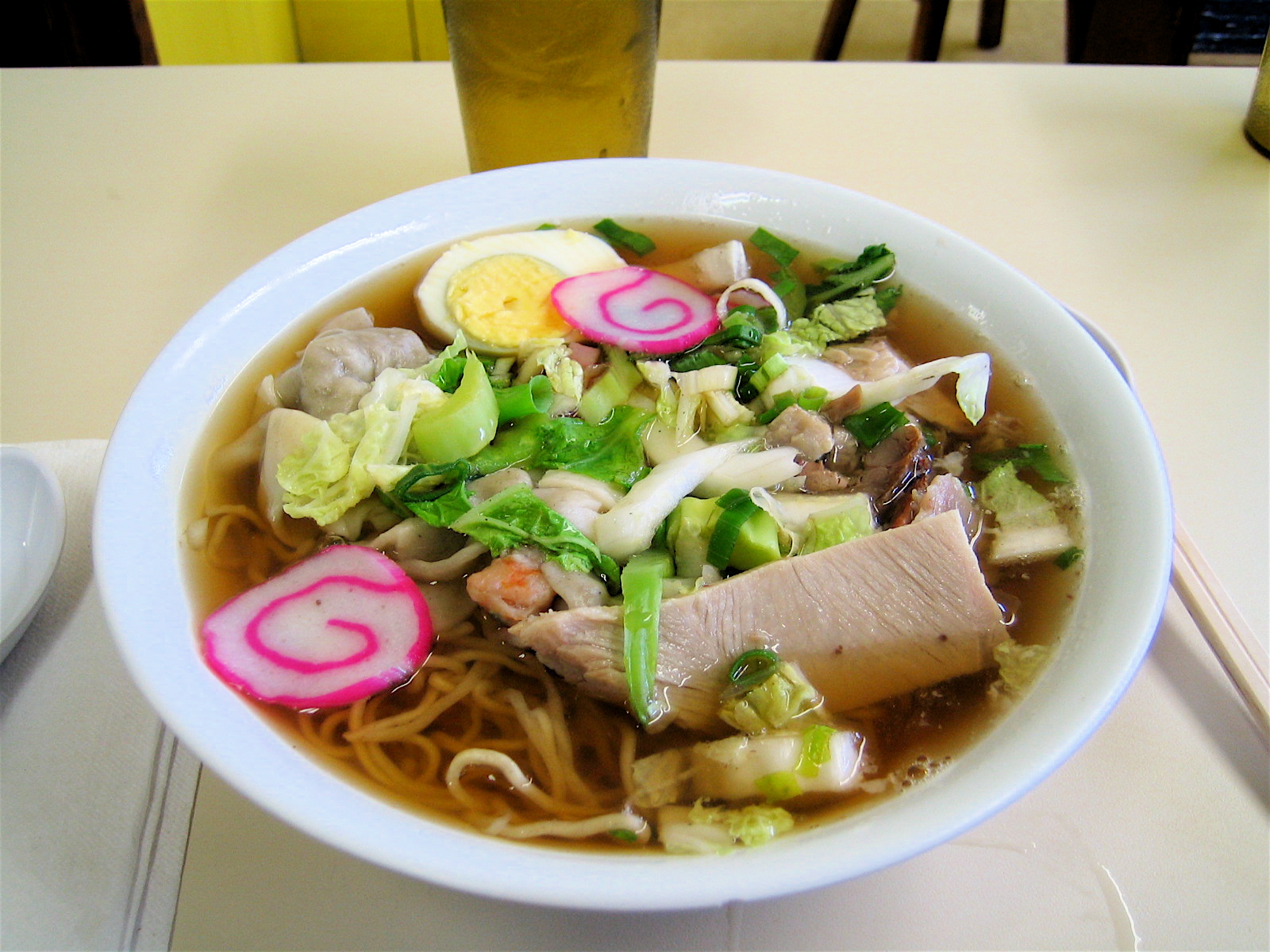 Hawaii-Style Saimin Broth
(excerpted from "Kau Kau: Cuisine and Culture in the Hawaiian Islands," by Arnold Hiura, Watermark Publishing, 2009. Reprinted with permission.)
Makes 8 servings.
1 cup dried shrimp
5 dried shitake mushrooms
1 thumb-sized piece fresh ginger
1 small sheet dashi konbu (dried kelp)
2 quarts water
1 tsp. Hawaiian salt, or more to taste
1 tsp. monosodium glutamate (MSG or Ajinomoto)
Bring all ingredients except Hawaiian salt and MSG to a boil. Lower heat and simmer, covered, about 2 hours. Add Hawaiian salt and MSG. To serve, add cooked saimin noodles and desired condiments, such as strips of scrambled egg or slices of roast pork or luncheon meat.