How to pack like Hawaii pro surfer Ezekiel Lau
The Oahu native shares his travel essentials (including a surfer's secret weapon) that are always in his luggage.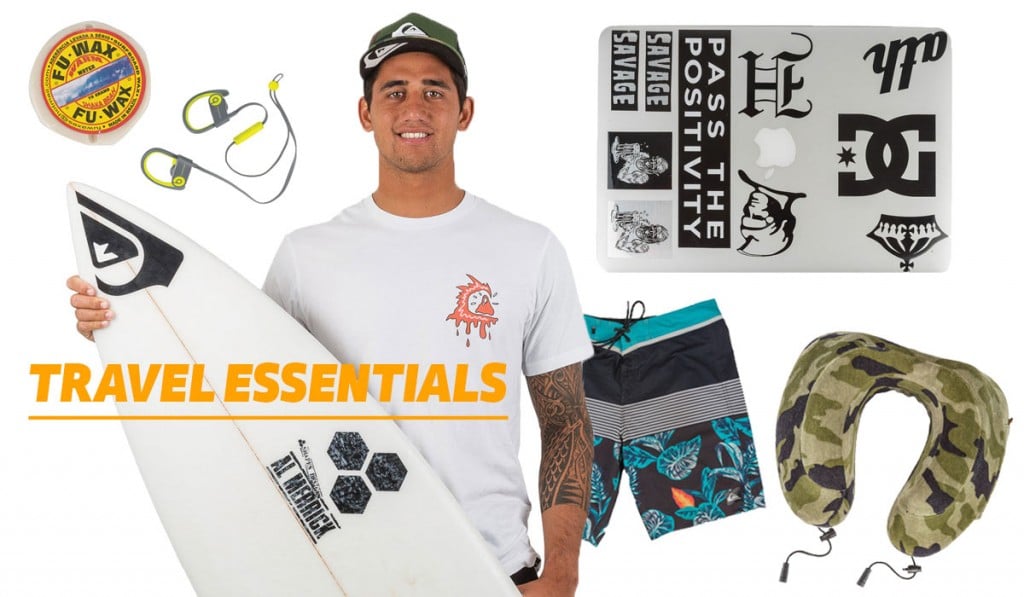 Professional surfer Ezekiel Lau tows around more than just his shortboards while touring with the World Surf League. For one of the best and most promising Hawaiian athletes, simplicity reigns supreme. And, Netflix (lots of Netflix).
"I haven't even unpacked this yet," pro surfer Ezekiel Lau says as he unzips his Quiksilver dry-bag locker, a tarpaulin Quiksilver backpack that's, naturally, waterproof. The 23-year-old has just touched down on his home island of Oahu; 72 hours prior, he was on the beaches of Landes, France, competing in the ninth leg of the World Surf League's Men's Qualifying Series. Just this past December, following the Van's Triple Crown of Surfing in Haleiwa, Lau climbed the ranks and qualified for the World Surf League's Championship Tour for 2017.
From the looks of his carry-on, he could easily throw it over his shoulder and be ready to hop a plane at a moment's notice—such is the jet-setting life of the league's most promising surfer out of Hawai'i. As Lau excavates his carry-on, it's not surprising his 6-foot, 1-inch frame would prioritize comfort while traveling. "There's like a whole other level to this," Lau says, resting a Cabeau memory-foam travel pillow (5) he swears by around his neck. "This is for when you get that middle seat. It's my third one this year, gives you all this added support."
Other essentials: Beats Powerbeats wireless in-ear headphones (4), an iPod playlist titled "Slow Jams," his iPad and laptop (1) with a Netflix queue waiting to be binged on the next international flight (he just finished "Narcos" and is thankful territorial screening restrictions have been lifted), an organizer that holds all his travel expenses (7) and LaCie external hard drives (6) containing megabyte upon megabyte of photos and footage of his heats from the tour.
Of course, none of that would exist if he wasn't in the water, so he always keeps a pair of trusty Quiksilver board shorts on his person (2), a lesson he learned the hard way after an airline lost his check-in luggage. Among the electronics, a secret weapon. "This is my last, brand-new bar," Lau says, referring to a lightly used block of Fu Wax (3), a Brazilian recipe coveted by the world's top surfers and unavailable in the U.S. "If you ask all of the guys on tour, most of them use this. It's just really sticky. I won't use anything else." Luckily, now is the perfect time to replenish his stock. His passport (8) is rippling with stamps and is ready for another. The next stop on his tour: Brazil.