How to Road Trip from Kailua-Kona to Hilo
Trust us, taking the long way to Hilo via Hawaii Belt Road and Mamalahoa Highway is worth the drive.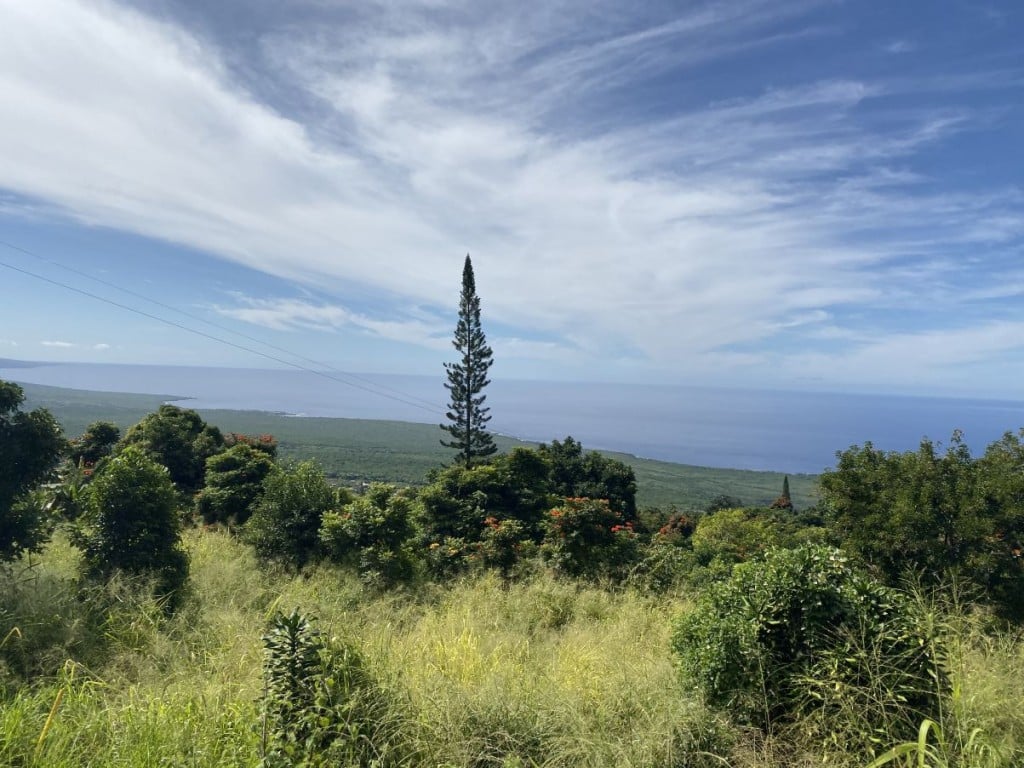 It's pretty hard to have a proper road trip in Hawaii. Driving from Oahu's central city of Honolulu to the North Shore, for example, takes less than an hour (without traffic). This is not the case on Hawaii Island, which rightfully earns its moniker, the Big Island. Driving to and from the island's two largest towns—Kailua-Kona and Hilo—will take well over an hour, and that's the short way. Driving along Hawaii Belt Road and Mamalahoa Highway would be considered the scenic route—the 125-mile trip takes about three hours. Fortunately, there's a lot to see on the way from Kailua-Kona to Hilo, so if you've got the time—and gas—to spare, here's a guide on what to look out for on your journey.
To properly begin your drive, you'll need to stock up on water, snacks and caffeinated drinks. Fortunately, Matsuyama Market (73-4040 Hulikoa Drive) is less than a mile from the Ellison Onizuka Kona International Airport; you can get what you need there. If you want to fill your tummy too, Pine Tree Café (73-4040 Hulikoa Drive) next door serves filling, onolicious plate lunches and breakfast options. Better yet, it opens at 6 a.m. every day, so you won't have to wait to get your long day started.
Now it's time to hit the road. Those with spending in mind might want to wander over to Alii Drive, a coastal road lined with chic boutiques and cozy cafés. Driving onto this scenic seaside strip will take you off of Hawaii Belt Road; fortunately you can just turn up Walua Road, then on to Kuakini Highway, which will bring you back to Hawaii Belt Road.
From here, we recommend heading for the hills, because nestled in Kona's upcountry is the charming little town of Holualoa. Known for its abundant supply of Kona coffee, Holualoa's charming galleries and artistic vibes will make you want to stay longer than you probably should. Once you've grabbed a cup of Kona coffee and maybe strummed a few ukulele at the Holualoa Ukulele Gallery & Workshop, get back onto Mamalahoa Highway and head south.
When you drive through Kainaliu, be sure to stop at the Donkey Balls Chocolate Factory (79-7407 Mamalahoa Highway), which sells its signature Donkey Balls (macadamia nuts encased in lots of chocolate). The company also sells other varieties with hilarious names like Blue Balls (macadamia nuts covered in semisweet chocolate and then coated with a layer of blue-colored white chocolate) and Salty Balls (milk chocolate-covered mac nuts rolled in Hawaiian sea salt).
The next town is Captain Cook. Be on the lookout for some of the eclectic thrift shops on its main drag. King's Daughter Ministry Thrift Shop (79-7401 Mamalahoa Highway) has a wide selection of aloha shirts and muumuu to choose from, and Creative Costumes (79-7412 Mamalahoa Highway) is a great place to dig for comic book collectibles and props.
After you've lightened your wallet, get back on Mamalahoa Highway and continue south while keeping an eye out for a little building called The Coffee Shack (83-5799 Mamalahoa Highway). While its exterior may look a little mundane, the panoramic bird's-eye view you get of Kealakekua Bay from the seating area inside is anything but. Don't let that jaw drop too far—you'll need it to chow down on the breakfast bistro's homemade pastries, like its freshly baked muffins and scones.
If you're still feeling hungry, continue down Mamalahoa Highway until you hit Kaaloa's Super J's (83-5409 Mamalahoa Highway). You'll step into what looks like someone's house—and is actually home to some of the best haupia and kulolo in the state. You'll want to grab a few of its mini laulau for the road, too. If you're not hungry but might want to eat some later, don't fret. The friendly aunties behind the counter have a stock of frozen laulau ready to go, and they'll even wrap it up for you in insulated packing material.
Hope you got your playlist sorted out—or are with companions who can keep a conversation going—because there's not a whole lot to see between here and Punaluu, the next town you'll want to stop at. There are a few pit stops where you can stretch your legs, like Manuka State Wayside, which has a 2-mile nature trail and is also a great place to have a picnic. If you want to get that perfect shot for your Instagram account, the street signs that dot Ocean View, a small community just past Manuka State Wayside, are hard to beat. The intersection of Luau Drive and Hawaii Boulevard makes for a prime photo op, and Aloha Boulevard and Tiki Lane will definitely let people know you're in Hawaii.
If you want to make this road trip just a little longer, head down South Point Road—it'll be on your right, just past Lorenzo Road—to get to Ka Lae, or South Point, the southernmost point in the U.S. The area is known for its cliff jumping; however, if you're faint of heart or simply don't want to get wet and salty, watching others dive feet, head and sometimes belly first into the ocean is more than enough fun.
It's time to get that famous Punaluu sweet bread, specifically at Punaluu Bake Shop (95-5642 Mamalahoa Highway), which is known for its Hawaiian-style sweet bread and malasadas. If you're feeling famished, the bakery doubles as a lunch spot, where you can get anything from a bowl of chili to a traditional plate lunch. While you're in Punaluu, stop at Punaluu Black Sand Beach—located off Ninole Loop Road, just past Hokuloa Church—where you may also come across resting honu (Hawaiian green sea turtles). If you do see one, remember that it is against the law to touch a sea turtle and violations can result in hefty fines.
If you've made it this far, well done, you're in the home stretch. That doesn't mean there isn't more to see, however. Kau Coffee Mill (96-2694 Wood Valley Road) is just up the road from Pahala and offers farm tours and tastings. You'll also pass through Volcano on your way to Hilo, which is absolutely worth a wander. The quaint country town is hidden in a rainforest on the slopes of Kilauea and has its own winery, pizzeria and art galleries. If you still have some metaphorical gas in the tank—and literal gas in the tank—Panaewa Rainforest Zoo and Botanical Gardens (800 Stainback Highway) is home to over 80 species of animals, including sloths, emus and two Bengal tigers.
Congratulations, you've reached your destination, Hilo. But really, isn't the journey the reward?