How to See Hawaii on a Budget
Not made of money, but want the island treatment? We've got you.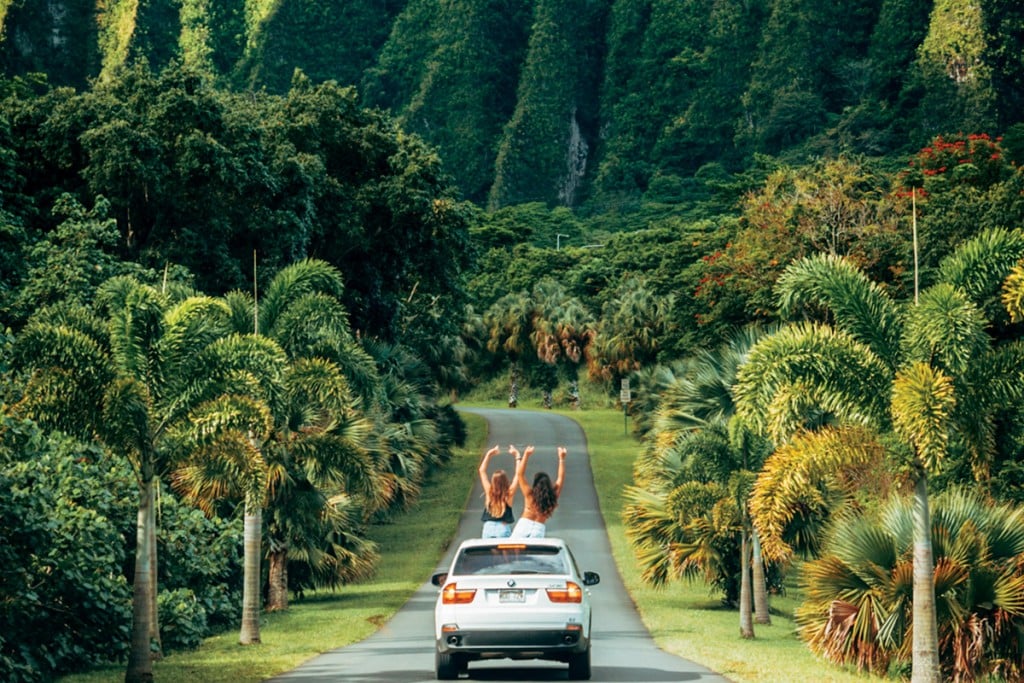 The price of paradise in 2018? Pretty darn high, and getting higher, thanks to everyone wanting a piece of the Hawaii experience. That's why we're always on the hunt for hacks that cut down on cost—while still giving the best the Islands have to offer. Here are some of our favorite ways to do it:
Adventure Outside
The beaches aren't the only can't-miss natural wonders in the Islands. Majestic green mountains (and the hikes that hide within them), beautiful state parks with sweeping ocean views—taking in the natural splendor can cost little to nothing, and there's plenty to do and see. For example: The Road to Hana on Maui is peppered with waterfalls; Kauai hides pockets of roadside caves that you can easily stop at and explore; and Oahu's beautiful and relaxing botanical gardens are also cheap ways (less than $5 per person) to learn more about the native flora.
Try: Strolling the expansive grounds of Hoomaluhia Botanical Garden, Oahu, or the Allerton and McBryde gardens on Kauai.
Hit Up the Local Markets
Take advantage of the myriad exotic produce, local meats, honeys, sauces and other flavors that are part of the local bounty, and eat in. Preparing your meals with farmers market finds is a great way to taste what the Islands have to offer, such as the famously plump and juicy Big Island lychee and longan. You'll even be able to find Volcano wines, Kauai mead, Honolulu-made hot sauces and Maui cheeses in some grocery stores. Pro tip: Grab your creations and picnic it up in the great tropical outdoors, whether that be on a beach or in a park.
Try: The Kapiolani Community College farmers market on Oahu or Kauai Community College farmers market on Kauai on Saturday mornings.
Go Public
There are a lot of reasons to ditch the rental car on Oahu: the hassle of parking, the worry of beach vandalism and, of course, cost. But, the island's public transportation options make it even more attractive. Within Honolulu and Waikiki, the still-new bike-share program, Biki, is a fun way to make short jaunts from lunch, to the beach and to the bar. And, did you know that TheBus can take you all the way from Waikiki to the North Shore and around the entire island on a scenic drive? Just embrace the languid island pace, and factor in more time for your trips.
Triage Your Experiences—and Costs!
When you're on a pricey vacation, every dollar can add up, so think through your high-value experiences carefully, with a smart give and take. If you don't want to completely miss out on the opulent Waikiki vibe, for example, try paring it down: Take in the sunset and a couple of fancy tropical cocktails at Halekulani's House Without a Key, but pass on the food menu and head for a bite at a spot that's a bit more affordable, such as Marukame Udon just down the street. Or, do your research on one big-ticket restaurant that hits all your favorites, and splurge there for one grand night out.
Think Big
Cut down on costs by assembling a whole group of pals. Some costs end up being cheaper per person when you're booking with a squad, such as larger Airbnbs, rental cars, kayaks and surfboards you can share. The ultra-luxe Travaasa Hana resort on Maui, for example, likely isn't something a lot of solo travelers' budgets could swing, but if you can manage to get a group of six together, consider going for one of its large family-style suites. You'll get it for a portion of what you'd normally pay per person, plus splitting a large van for the drive to Hana means less driving time (and fewer switchbacks on that gnarly road) for each person to handle.
Find Alternative Accommodations
Balmy weather and a view that's to-die-for make Hawaii an ideal spot for sleeping under the stars. And, since hotel costs often clock in at some of your heftiest expenses, why not take advantage of the on-point conditions and turn your vacation into an opportunity to have a camping getaway? While fancy hotels on Kauai, for example, can go for up to $600 a night (and more!), permits can cost you $5 or less per camper. If you can swing it, tote your tents and sleeping gear around, or opt for a cabin such as the ones at Kokee State Park on Kauai, or Camp Erdman on Oahu's North Shore. If you're a little less outdoorsy, scouring Airbnb and Vacation Rentals by Owners for out-of-the-way, off-the-radar rentals can result in much cheaper options, especially if you're willing to stay in a less-trafficked neighborhood.
Go on a Beach Crawl
Some of the best things in life really are free—especially in Hawaii. You've heard of a pub crawl, but how about a beach crawl? With a mind-boggling amount of world-class, gorgeous beaches, many with their own unique personalities, you'll want to hit up a handful and dedicate some time to exploring what each one has to offer. If you're on the Big Island, that's got to include the eye-popping Punaluu black sand beach and the stunning beach at Mauna Kea Beach Hotel. On Maui, you're going to want to mix things up with a dip in the clear waters of resort-studded Kaanapali (with views of Molokai and Lanai), as well as the remote country beaches near Paia, which have wide swaths of white sand and a get-away-from-it-all feel.
Embrace the Hole-in-the-Wall
Good eats don't always mean pricey. Some of Hawaii's most beloved spots on every island are the hole-in-the-wall gems of eateries, whether they be remnants from yesteryear, or modern, affordable lunch counter spots known for their master culinary creations. On the Big Island, that means hitting up Two Ladies Kitchen for some strawberry-filled mochi; Nori's Saimin for classic, retro-style noodle soups; and Café 100, purported origin of the first-ever loco moco. Oh, and don't forget Suisan Fish Market for ultra-fresh seafood and oh-so-ono, quintessentially Hawaii, poke bowls.
Try: Hamura Saimin Stand's lilikoi (passion fruit) chiffon pie on Kauai and Tasty Crust's banana hotcakes on Maui.
Do It Yourself
Tours and tour guides can add up in price, but there are tons of DIY adventures to try. Just on Oahu, the options are endless: Iolani Palace in downtown Honolulu offers self-guided audio tours, as does the USS Battleship Missouri Memorial and the Pearl Harbor Visitors Center. You can rent stand-up paddleboards in Kailua, then paddle your way over to one of the Mokulua Islands in Kailua Bay. Hiking out to Kaena Point will take you to a state seabird sanctuary where you're apt to see lounging monk seals and other wildlife (just keep your distance from these protected creatures). Or, bring along your own snorkels and hit up the shallow, protected tide pools of Shark's Cove on the North Shore.
Be Flexible
It's a long schlep from, well, anywhere, to Hawaii, but keeping your options open will enable you to pounce on last-minute deals. Work your dates around lower fares and know that new airline routes will often result in streaks of lower prices. Plus, play with your departure and arrival cities! Some of the different island airports have cheaper fares, such as Kona or Lihue, plus, they might be less crowded. So if you're willing to shift your island-hopping around, be adventurous and go with the flow, good things (and deals) could come to you. Luckily, the weather is almost always fantastic, so you don't need to worry about monsoon seasons or blistering summers quite as much as you would for other destinations. Compare your flights with nonholiday weekends or weekdays throughout the year to get an idea of when peak season slows down, and keep your eyes peeled—and Google Alerts set—for room deals at your favorite hotels. Some timeshares will sell last-minute rooms as well, so keeping your accommodations plan fluid (maybe booking a cancellable hostel bunk or being ready to camp if nothing comes up) could end up paying off.
Try: The Hotel Tonight app for last-minute deals on rooms.