How to See the Mauna Loa Volcano Eruption
Tips for planning a trip to Hawaiʻi Island to witness the historic eruption.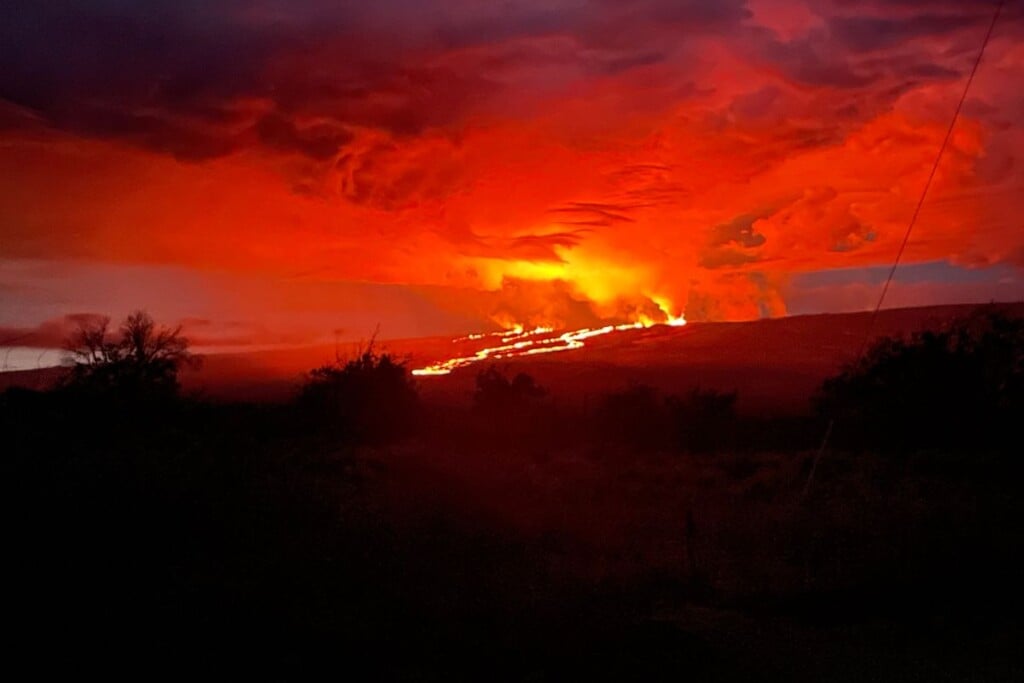 For weeks, the largest active volcano on the planet has been rumbling, sparking a series of mini earthquakes. Since September, geologists have reported an increase in seismic activity and on Nov. 15, 50 small-magnitude earthquakes rattled Mauna Loa on Hawaiʻi Island. Then on Nov. 27, at around 11:30 p.m. a fissure opened on the floor of the summit caldera. According to Hawaiʻi Volcanoes National Park, lava filled Mokaʻāweoweo within hours and produced a lava lake that overflowed on its southwest end.
By the next morning on Nov. 28, the eruption moved to the upper northeast rift zone. Fountains of lava erupted from three fissures in the rift zone, reaching heights between 100 to 200 feet. Geologists estimated that 130 cubic yards (100 cubic meters) of lava was erupting per second from the vent at this stage. Since then, the world has been following the volcanic eruption at Mauna Loa—the first since 1984.
Residents from neighboring Hawaiian Islands and out-of-state visitors have been flocking to the Big Island for a chance to see this historic eruption—a once-in-a-lifetime moment for some.
Many are heading to Daniel K. Inouye State Highway, commonly referred to as Saddle Road, to see rivers of lava flowing down Mauna Loa. Throughout the night, eager spectators and photographers pull their cars on the side of the road to witness Mauna Loa's breathtaking glow.
Hawaiʻi County has currently set aside spots to safely view the eruption along Daniel K. Inouye State Highway. However, no parking is allowed between mile marker 16 and 31.
The U.S. Geological Survey is closely monitoring the distance between lava and Saddle Road. On Nov. 30, there was only about 3 miles between the leading lava flow and the essential roadway, the fastest route connecting the east and west sides of the island. But according to geologists, the lava is moving at a speed of 400 feet per hour, and it's expected to slow down even more as it moves to much flatter terrain.
And it shouldn't be forgotten that the Big Island's Kīlauea is still erupting. For the first time in nearly 40 years, Mauna Loa and Kīlauea are erupting side by side. Kīlauea, what's considered the current home of the Hawaiian goddess Pele, has been erupting since September 2021. This is a significant time and sacred event in Hawaiian culture as many Native Hawaiians are paying respect and honoring the volcano deity.
The Mauna Loa eruption gives all an opportunity to watch as lava gives birth to new land. For anyone making a trip to Big Island to witness these eruptions, this is what you need to know.
What airport to fly into
The Big Island has two main airports, Kona International Airport (KOA) and Hilo International Airport (ITO), which are both open and operating during this time. Hilo International Airport is much closer to Hawaiʻi Volcanoes National Park, where you can see both Kīlauea and Mauna Loa from the same lookouts—with the right weather conditions. From the town of Hilo, it's about a 45-minute drive to the entrance of the park whereas it's about 2 hours from Kona. At the midpoint of Saddle Road, the Gilbert Kahele Recreation Area is open to view the Mauna Loa eruption. The park is about 40 minutes from Hilo and about 50 from Kona.
What to pack
Many travelers are eager to see the rivers of lava flowing down Mauna Loa and the illuminating red glow of the volcano. This is best visible at night—which means it will be dark and cold. Pack warm clothes, rain jackets and flashlights.
The best viewing locations
Both eruptions are spectacular sights to see. Crowds of spectators come to see the glow of lava, which is best seen when the sun is down. If you want to avoid throngs of people, avoid going at peak times, which include sunset, early evening from 7-9 p.m. and midnight. Instead, go early in the morning before sunrise. There are much less crowds between 3-5 a.m.
To see Kīlauea, you'll need to enter Hawaiʻi Volcanoes National Park, which is open 24 hours. If the parking lots are full, visit another area or try again later. Kīlauea's lava lake is visible from overlooks along Crater Rim Drive. With clear weather conditions, the glow of Mauna Loa can also be seen, providing a sweeping view of the two erupting volcanoes. In Hawaiʻi Volcanoes National Park, you can head to the Kīlauea Visitor Center and take a short walk to see a section of the lava lake. It's an easy, family-friendly trail.
One of the park's most popular viewing locations is the overlook near Keanakākoʻi Crater. You can park at the Devastation Trail and walk the easy 2 mile out-and-back trail, which is mostly paved. The last 300 yards of the trail is over an uneven surface of loose rock. When the sun is down, the visitors can see the magnificent lava from the overlook above the crater and on a clear night, the glow from Mauna Loa.
For viewing the lava flow from Mauna Loa, Daniel K. Inouye Highway has become a popular destination. Again, it's strictly prohibited to park along the highway between mile marker 16 and 31 at any time. The Gilbert Kahele Recreation Area, a midpoint between the east and west ends of the highway, is open with parking and restrooms. Puʻu Huluhulu, a native tree sanctuary and nature trail is also open.
Mauna Loa Access Road is currently closed.
What are current hazards
Volcano eruptions can cause vog, a form of air pollution that results when sulfur dioxide and other gases from an active volcano react with sunlight, oxygen, moisture and dust. It can pose risks to the health of humans and the environment. It's a hazard to everyone but especially young children and those with respiratory diseases. Falling ash and glass strands known as Pele's hair are also potential hazards. Face masks such as KN95s—which many people are now familiar with—help reduce inhaling of these particulates. However, the masks do not provide protection against sulfur dioxide or vog. If you're starting to feel sick and you believe it's due to vog, the best course of action is to travel away from the volcano.
With another eruption, more neighbor island and out-of-state visitors are traveling to the Big Island. This is resulting in more vehicles on the road. So, remember to drive mindfully. There have been car accidents on Saddle Road due to the influx of traffic and distractions. The red glow from Mauna Loa is visible from the start of the highway near the University of Hawaiʻi at Hilo. Drivers should keep their eyes on the road.
And remember: Do not go past blocked off areas, even if it's just for a moment to capture a photo for Instagram. You're putting yourself in danger and possibly others. Certain areas are also blocked off to protect culturally significant places, too.
What are the best resources to state up to date
With any volcano eruption, there are hazards including an increase in air pollution as well as road closures. Before and during your trip to the Big Island, it's critical to stay up to date with the latest information on the Mauna Loa eruption. The Hawaiʻi County Civil Defense provides alerts to both residents and travelers. Hawaiʻi Volcanoes National Park is also a great resource to learn more about the timeline of seismic activity at Mauna Loa and where to see eruptions inside the park. HAWAIʻI Magazine will continue to cover the eruption.