How to spend 24 hours at Hawaii Volcanoes National Park
From sunrise to sunset, how to get the most out of Kilauea volcano's awesome sights.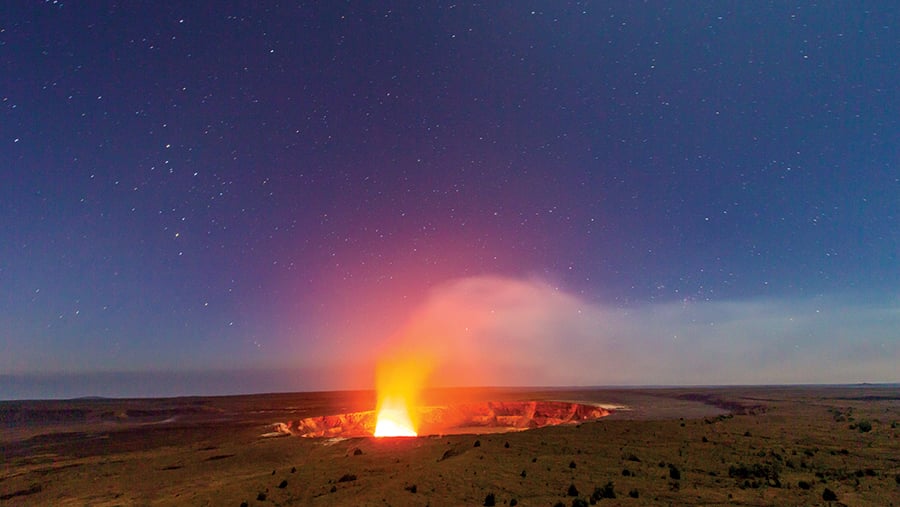 One of the questions we're asked most often by readers is, "What shouldn't we miss in Hawaii Volcanoes National Park if we only have one day to visit?"
If you're willing to Park it your entire day from sunup to sundown (and beyond), here's our advice.
The sky was still dark as I drove the 20 miles of Chain of Craters Road from Kilauea volcano's 4,091-ft. summit to its sea level Puna coastline lava cliffs and Holei Sea Arch. My quest for the day? Answering an often-asked question from Hawaii Island-bound readers: "What are the must-sees in Hawaii Volcanoes National Park if we have only one day to visit?" With more than 323,000 acres to explore in Hawaii's largest—and still growing—national park, it's a good question. A full 14 hours later, here's my sunup 'til well-past sundown timeline for a visit filled with a bit of everything great about the park. Pack a lunch and lots of water.
6:30 a.m., Holei Sea Arch:
I had the wave-carved, 90-foot ocean arch's viewing area all to myself as I watched the sun climb above the horizon. OK, there was a pair of nene geese, too.
8 a.m., Nahuku (aka Thurston) Lava Tube:
One of the park's most popular attractions, the cave-like tube and its fern forest loop trail were also all mine at this hour and, save for nature's cacophony, blissfully silent.
9 a.m., Kilauea Visitor Center:
Opening time for the park's main visitor center. I picked up trail maps and chatted hiking suggestions with rangers.
10 a.m., Kilauea summit trails:
Don't leave without even a short hike into the volcano's summit wilderness. Maps in hand, I pieced together a circuitous six-mile trek from the visitor center linking five summit trails, and traversed a temblor-damaged roadway edging Kilauea's summit caldera (Earthquake Trail), a rainforest on the caldera's rim (Crater Rim Trail), the floor of a once lava-filled crater (Kilauea Iki Trail), and the forested cliffs and lava fields of the caldera (Byron Ledge and Halemaumau Trails). Can't do six miles? The circuit I took is easily broken up into shorter loop trails.
3 p.m., Steam Vents & Haakulamanu Sulfur Banks:
This easy, post-lunch afternoon hike began with a misting of warm water vapor from multiple volcanic crevices and ended at an odiferous hillside seeping volcanic gases. Hold your nose at the latter.
5 p.m., Thomas A. Jaggar Museum:
I arrived at the volcanology museum just in time for "Life on the Edge," a tight, enjoyably informative ranger lecture on Kilauea volcano's plumbing, Halemaumau crater's gas plume and lava lake and the past 24-hour cycle of lava activity.
6 p.m., Hawaiian Volcano Observatory Overlook:
Just outside the museum and adjacent USGS-operated summit observatory, I spent a couple of hours taking in the famed glow of water vapor reflecting the molten lava lake hidden below the Halemaumau summit crater floor. Why two hours? The always-open overlook loses its crowds the later it gets. By 8:30 p.m., I'm almost alone in the park's darkness again.
Hawai'i Volcanoes National Park, more information on park sites and features at nps.gov/havo