How to Spend a Day on Oahu's West Side
Chow down on some ono grinds, pursue inner peace, hike through a natural reserve and catch a sunset out in the wild, wild west (side).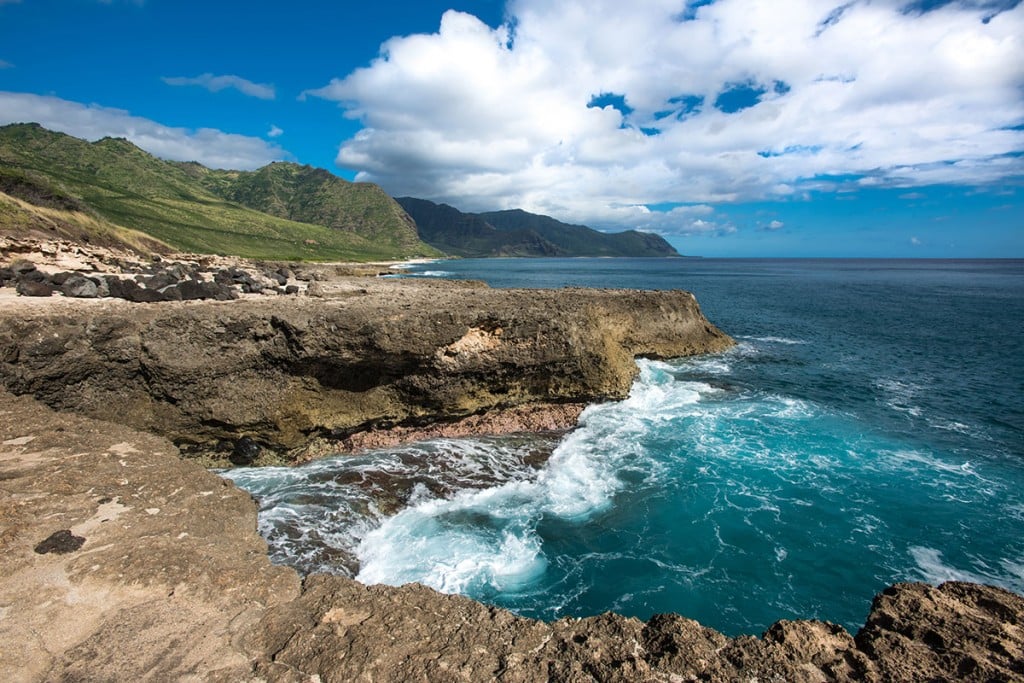 Oahu's west side gets a bad rap: Parents tell their kids to leave their valuables at home if they're heading in that direction, and its town names, such as Waianae and Nanakuli, strike fear into the hearts of some visitors and locals. However, much of that is unwarranted and the rugged beauty of the island's western coastline may surprise you. If you decide to spend a day here, expect to find long stretches of sand, vast mountain ranges and an escape from the crowds.
Breakfast at Moena Café
Opened late last year in the new Ka Makana Alii shopping center, Moena Café offers a luxurious breakfast experience at an affordable price. Apologize to your Instagram followers in advance because filling your feed with pictures of its slick interior design is inevitable. Decked to the nines with white furniture and contrasting black wood tables, the only thing more appealing than this eatery's decor is its food.
Menu items are delicately prepared and shout, "I was born to be on your social media! Just look at me." Those with a sweet tooth may prefer the banana pancakes with Chantilly sauce topped with toasted coconut, while somebody looking for a heartier meal will enjoy the fan favorite Mo'Egga, an artichoke tapenade over two pieces of bread and topped with poached eggs. Open daily from 6:30 a.m. to 3:00 p.m., 7192 Kalanianaole Hwy., moenacafe.com.
Yoga with Kahumana Farms' class
A big breakfast means it's time to fold into downward facing dog and burn off some calories. Hosted three times a week, this yoga class has no immediate fee, however there is a suggested donation of $10. If you want to gaze at the west side's mountain ranges, consider the Morning Mauka Yoga, which is hosted on Saturdays. The class gathers on the café stage, a lovingly handcrafted platform that overlooks acres of farmland and the colossal Waianae mountains. Expect to find your inner peace as the faint hint of mango permeates through the air and a mixture of birds, insects and trees create a natural soundtrack. Class schedule can be found here. 86-660 Lualualei Homestead Rd., kahumana.org.
Lunch at Countryside Café
Not just country in name, this hardwood diner will make anyone from a small town feel right at home. Reggae beats softly drone throughout the café, waitresses want to talk story, and coffee comes in mugs that you might find in your parents' cupboard. The food provides a local flavor and the Maili Point Special, which includes a heap of fried saimin paired with hibachi chicken and boneless kalbi rib, proved to be the most ono. Parking is a non-issue as the establishment provides ample spots, and customers can choose to be seated inside or on its outer patio. Open Monday through Saturday 7 a.m. to 2 p.m., Sunday from 7 a.m. to 1 p.m., 87-70 Farrington Hwy., countrysidecafe808.net.
Hike to Kaena Point
As Farrington Highway ends, the hike to Kaena Point begins. The trek to Oahu's westernmost point is roughly 4 miles round-trip, which may sound intimidating to some, however the flat terrain turns and low elevation gain turns the hike into a leisurely nature walk. Wildlife is effervescent along this remote coastline, with Hawaiian monk seals and humpback whales making regular appearances. Although Hawaiian folklore believed that this site was the jumping-off point for souls to enter the underworld, resist the urge to jump into the sea as undertows and dangerous rips make any ocean related activities hazardous. Remember to bring plenty of water, sunscreen and a hat, as Kaena Point tends to be one of the hottest spots on the island.  dlnr.hawaii.gov
Lounge at Yokohama Bay
Just the drive to Yokohama Bay encapsulates the west side's raw beauty by sandwiching you between rugged coastline and acres of undeveloped land. Located about as far away as you can get from any high-rise or vacation rental, Yokahama Bay, also known as Keawaula Beach, or Yokes, is an idyllic escape from the hubbub and city noise. Perfect for lounging in the summer and surfing in the winter, this mile-long strip of sand is also popular among campers, barbecuers and tanners. This shoreline is where you want to be when the sun dips into the ocean, splattering vivid hues of red and pink across the soon to be night sky.