How to Travel Around Hawaiʻi Island Like a Foodie Family
Follow one family's food adventures on a weekend jaunt to Hawai'i Island.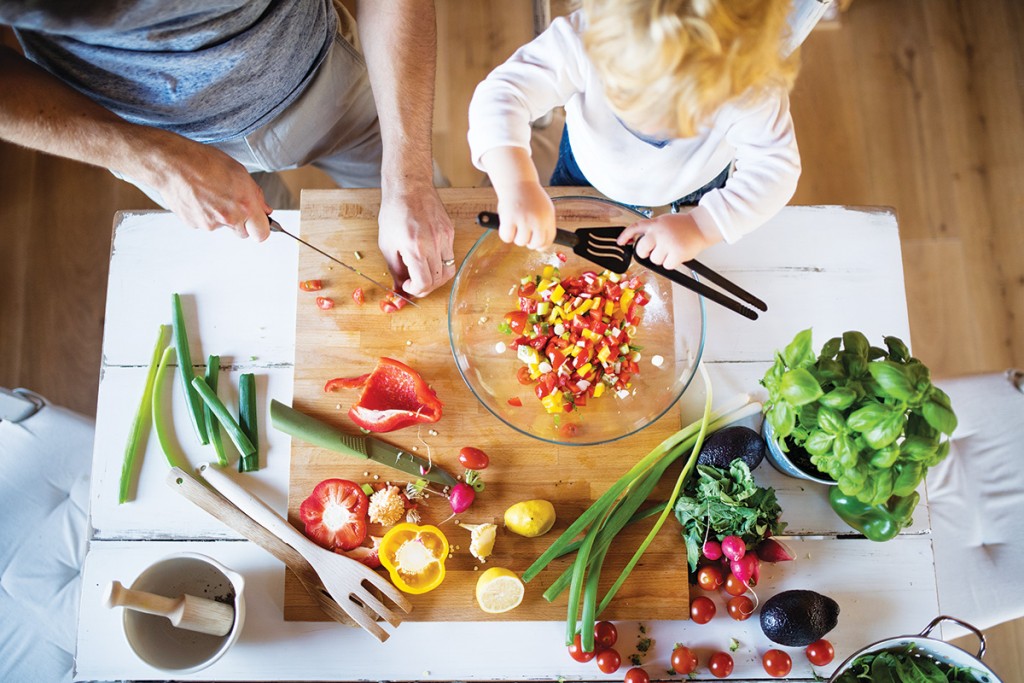 My husband and I think about food most of the time, so it is only fitting that our vacation itinerary revolves around the next meal. Instead of museums or monuments, you'll find us at farmers markets, tasting rooms and hole-in-the-wall restaurants. We find more pleasure in collecting edible experiences than tangible souvenirs, which would only add to the clutter of our already chaotic lives. Plus, they wouldn't fit in our Kaka'ako condo anyway.
When our son, Duke, was born almost three years ago, this didn't change. And actually, we've found that our travel style works well for him, too. While young children may not understand the significance of a historical site, they can all relate to food. Since taste is an intrinsic sense, it is a natural way for children to explore a new place and culture. Besides, kids would rather run around a farm than be confined to a stroller in an art gallery and being told to be quiet.
Our latest 'ono adventure was "hunting and gathering" on Hawai'i Island—a playground for foodie families like ours—and bringing everything we found back to our vacation condo to cook a family-friendly feast. Home to 10 of the world's 14 climate zones, Hawai'i Island produces an abundance of local delectables, from fire-engine-red tomatoes to umami-bomb mushrooms, from grass-fed beef to sweet shrimp, from small-batch vanilla to luxurious cacao, and, of course, the island's famous coffee, which every parent needs on a vacation with a toddler.
Here's what our food-filled day looked like:
9 a.m.   The Golf Villas at Mauna Lani, Kohala Coast, 68-1310 Mauna Lani Dr.
It's Saturday and the family is packed into our rental minivan equipped with an empty treasure chest (a cooler with ice packs) eagerly anticipating the delicious loot that we will fill it with. We're heading to a small fish market in Kawaihae, a short drive from the condo.
9:15 a.m.  Hale I'a Da Fish House Seafood Market, Kawaihae, 61-3665 Akoni Pule Highway, (808) 882-1052
In an unassuming but colorful building across from Kawaihae Harbor, this market receives fresh seafood directly from local fishermen throughout the day. Part of the fun is that you never know what they will have in stock when you arrive—it all depends on what comes in from the boats. We jump at a delicate fillet of 'ōpakapaka (pink snapper) that had been caught the night before. A unique flavor of poke also catches our eye—wasabi pistachio 'ahi—so we have to have some of that, too.
10 a.m.   Waimea Town Market at Parker School, Waimea, 65-1224 Lindsey Road, waimeatownmarket.com
With its higher elevation, moderate temperatures and fertile volcanic soil, Waimea is home to a plethora of ranches and farms, as well as Hawai'i Island's paniolo (cowboy) culture. One of several farmers markets open on Saturdays, the Waimea Town Market celebrates the region's riches, offering creamy goat cheese, vibrant beets, candy-sweet strawberries, fresh bread and pastries, handmade sausages and more. We purchase the staples for our dinner: tomatoes, goat cheese mozzarella, a baguette, lettuce, radishes and beets. Duke loves watching a vendor cut open fresh coconuts for patrons to sip on as they stroll through the market.
11 a.m.   Ānuenue Playground, Waimea, Corner of Lindsey and Kawaihae roads, anuenueplayground.org
Duke spots the rainbow-colored playground across the street from the farmers market. Perfect for stretching our legs before piling back into the car, the community park offers enough space for him to run, jump, slide and swing his heart out with the backdrop of the gorgeous hills of Waimea.
11:30 a.m.  Waimea Butcher Shop, Waimea, 64-1032 Māmalahoa Highway, Suite 101, (808) 657-4178, waimeabutchershop.com
A quick peek in our cooler and we know what is missing: meat. Just a short drive down the road, we arrive at Waimea Butcher Shop, which offers Hawai'i Island-raised beef, pork, lamb, poultry, sausage and even homemade Spam. If you don't see what you are looking for in the case, just ask. The butcher is happy to freshly cut a pork tenderloin for us.
Noon  Village Burger, Parker Ranch Center, Waimea, 67-1185 Māmalahoa Highway, Suite E-109, (808) 885-7319, villageburgerwaimea.com
Looking at food all morning has made us hungry, so we head to Village Burger for a hearty lunch. The best part of this casual burger joint is the local ingredients it uses, from the Kahuā Ranch wagyu beef burger to the Waipi'o taro burger, the Āhualoa Farms chipotle goat cheese to the Tropical Dreams ice cream milkshakes. With happy bellies, we load back up in the car and head back to the condo for naptime and, later, a dip in the pool.
5 p.m.   Condo kitchen, The Golf Villas at Mauna Lani
Since cooking on vacation shouldn't be a chore, we keep it simple: no recipes, just the basic seasonings of olive oil, black pepper and Hawaiian sea salt (which are provided at the condo and also jive perfectly with Duke's picky palate). By using fresh, high-quality ingredients without a lot of fuss, you can truly taste each element and the place it came from. On the menu: tomato caprese bruschetta with kiawe-smoked black salt, pork tenderloin lettuce wraps with beets and radishes and grilled 'ōpakapaka.
6:30 p.m.  Eating under the stars, The Golf Villas at Mauna Lani
While eating on the condo lānai (porch) under the stars, we reflect on our day. From the green rolling hills of Waimea down through black lava rock to the deep blue sea, we experienced a mauka (mountain) to makai (sea) adventure celebrating the Hawaiian system of land division, ahupua'a. Rather than reading about ahupua'a in a book or looking at an exhibit in a museum, we experience it in a day—and now get to savor its delicious treasures.
As a freelance writer, foodie traveler and mom of a toddler, Laura Dornbush is always on the hunt for a quiet place to write, the perfect playground and a creamy Chardonnay.