How to Travel with Pono Intentions
Visitors to Hawaiʻi are encouraged to travel with respect and to seek a deeper understanding of the culture.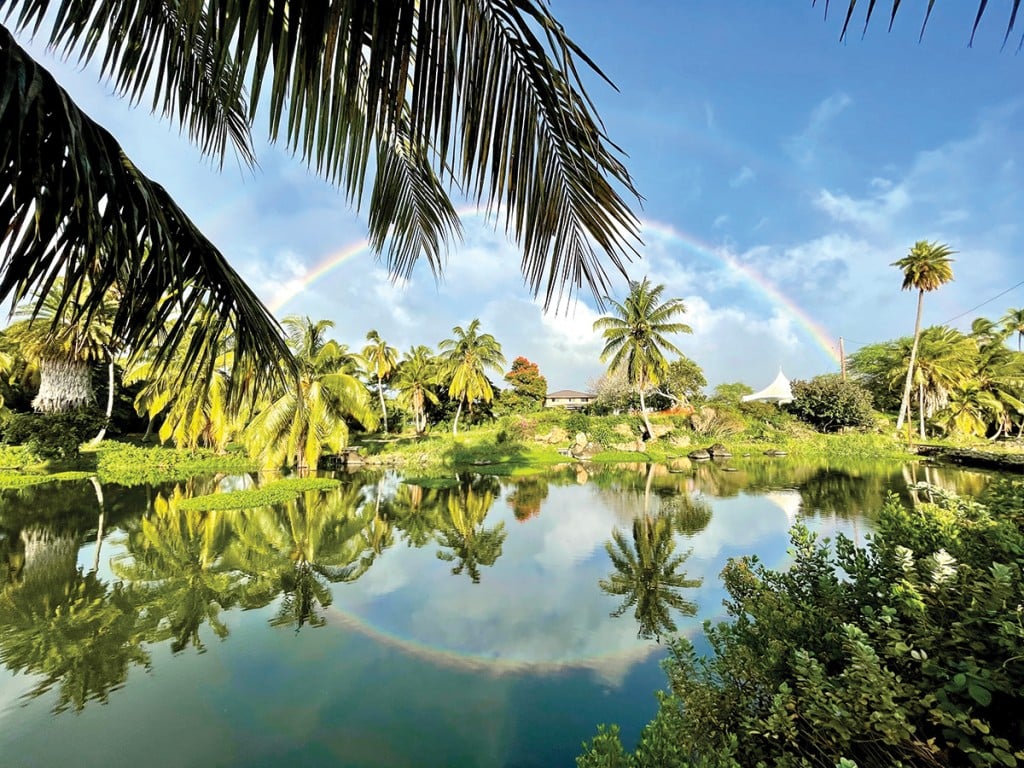 It's no surprise the Hawaiian Islands are a top travel destination. While the scenic beaches, lush tropical forests and 'ono (delicious) food are unforgettable, it's the welcoming people willing to share Hawai'i and its rich culture that make a trip to the Islands exceptional.
However, Hawai'i isn't just a destination—it's home to 1.5 million people. In 2019, a record-breaking 10.4 million visitors journeyed to the Islands. It's a staggering number and an unsustainable one, experts warn. Hawai'i's delicate environment and local communities just can't take the stress.
When Covid-19 halted nearly all visits to the state, critical environments such as the coral reef at Hanauma Bay began to recover from decades of human impact. Roads, hiking trails and beaches were less congested. Ultimately, this time of seclusion allowed Hawai'i to reevaluate how we intend to share our home.
Hawai'i is reimagining a travel industry that is sustainable for the environment and communities. We're striving toward a regenerative tourism model that not only ensures less harm to the natural environment but takes great strides to protect and restore it. And every visitor is encouraged to be a part of it.
In Hawaiian culture, all elements are intertwined. The mountains and the ocean, the streams and the wildlife all play a role in maintaining the Islands' delicate natural cycle. Humans, too, have a role and responsibility.
Savili Bartley, the Native Hawaiian plant technician and cultural tour coordinator at Loko Ea, explains: "We have cultural ties and connection to ʻāina (land)—'āina is our makua (parent). We believe it's our provider. Our older brother is from 'āina, kalo (taro). We're tied by family bonds. It may be a foreign concept to visitors, but what better way to show them than by having them here, in 'āina, with us."
Loko Ea is an organization dedicated to preserving the Loko Ea fishpond in Hale'iwa on O'ahu's North Shore. In addition to its conservation efforts, Loko Ea runs educational programming for students and groups. Bartley leads the Holole'a program, a project designed specifically for travelers to Hawai'i.
"The reason we did this program was to give groups of visitors our full attention," says Bartley. "We believe it's important that if you're visiting here, you get the full scope of what we do."
Each Holole'a program begins with an oli (chant). The oli pays respect to a sacred space and announces the intentions of people entering. Bartley then guides groups through the sanctuary and explains the significance of the fishpond. Following the tour, groups assist in tackling the tasks of the day, such as removing invasive grass and other plants from the pond.
Volunteering at Loko Ea, and at similar conservation sites in Hawai'i, provides opportunities to engage with both the land and the culture. While these organizations benefit from volunteers, visitors also gain a stronger appreciation for their travel destination. For many, it's a more rewarding way to go.
"Making connections to 'āina is so important. That's what we want to instill in our visitors," Bartley says. "You're not only pulling weeds, you're helping clear space for the next generations. You're helping clear space to plant more native plants. They're a part of building that foundation."
Volunteers help ensure future generations can experience Hawai'i, which is why keeping the beach pristine goes far beyond aesthetics. Underwater lies a brilliant world of wildlife and vibrant coral ecosystems, all of it threatened by marine debris and toxins. Along with volunteering, making conscious choices can aid in preserving the health of these creatures and their fragile habitats. Hawai'i is the first U.S. state to ban the sale of sunscreen containing coral-harming chemicals. However, the ban does not prevent travelers from bringing their own chemical-based sunscreen into the state. Unless visitors already own reef-safe sunscreen, they should wait to purchase it here in the Islands. This way, they can be certain it doesn't contain coral-degrading ingredients.
"One of the best ways to give back," besides going to a beach cleanup event, "is just being mindful before leaving home," suggests Barbara Wiedner, the education and outreach chair for the Surfrider Foundation's Kaua'i chapter. The chapter created an online guide to being an ocean friendly visitor to Kaua'i; it's featured on the group's website (kauai.surfrider.org/ocean-friendly-visitors-program). From participating in beach cleanups to respecting marine life, it's a resource for all travelers to the state.
Wiedner notes it's a rare day when she doesn't notice a bottle washed up on the shore while strolling the beach near her Garden Isle home. She encourages everyone to use reusable bottles while traveling. "Many visitors leave their Hydro Flask at home because it involves pouring your water out before TSA and refilling it after," she says. "One of the biggest things visitors can do is pack a reusable bottle, and it's a simple thing."
Alongside volunteering, seeking out educational opportunities can strengthen a visitor's understanding of Hawai'i as a whole. At the Kā'anapali Beach Hotel on Maui, cultural advisers lead workshops open to all guests, with such topics as lei making and the history of ancient Polynesian voyaging. Gayle Miyaguchi, a cultural resource specialist at the hotel, says the goal of the interactive program is to engage travelers with the traditions and customs of Hawai'i. A hula class illuminates how the dance isn't just for lū'au shows: It also helps to preserve the language, history and ancient stories of Hawai'i.
Miyaguchi hopes that education leads to a better understanding of Hawai'i's culture and surroundings. "Hopefully guests learn to respect places," she says. "We teach them about Pu'u Keka'a (commonly referred to as Black Rock). We want them to learn that is a sacred place and won't be jumping and climbing all over it."
Bartley says he notices many visitors who volunteer with Loko Ea return later to contribute even more to restoration efforts. Frequently, he hears visitors say they're surprised by the ingenuity and significance of the fishpond. "When they come here, they're really shocked," he says. "They're very appreciative to be in this space and learn the importance of it as well as the functionality of it."
Hawai'i is more than just paradise. Filled with rich history, the Islands have a strong culture tied to nature. From learning about the development of traditional Hawaiian music to partaking in a conservation project, when visitors travel to Hawai'i with respect, formative experiences follow. Bartley refers to it as "pono intentions." In Hawaiian, pono refers to righteousness and a sense of responsibility. Visiting with pono intentions is a way for visitors to say mahalo to Hawai'i's people and land.
This story was originally published in our 2022 Spring issue. Buy a copy here.