How to Trek North Shore's Scenic Ehukai Pillbox Hike
Short, steep and shady, this Oahu trail gives you an unrivaled view of the North Shore.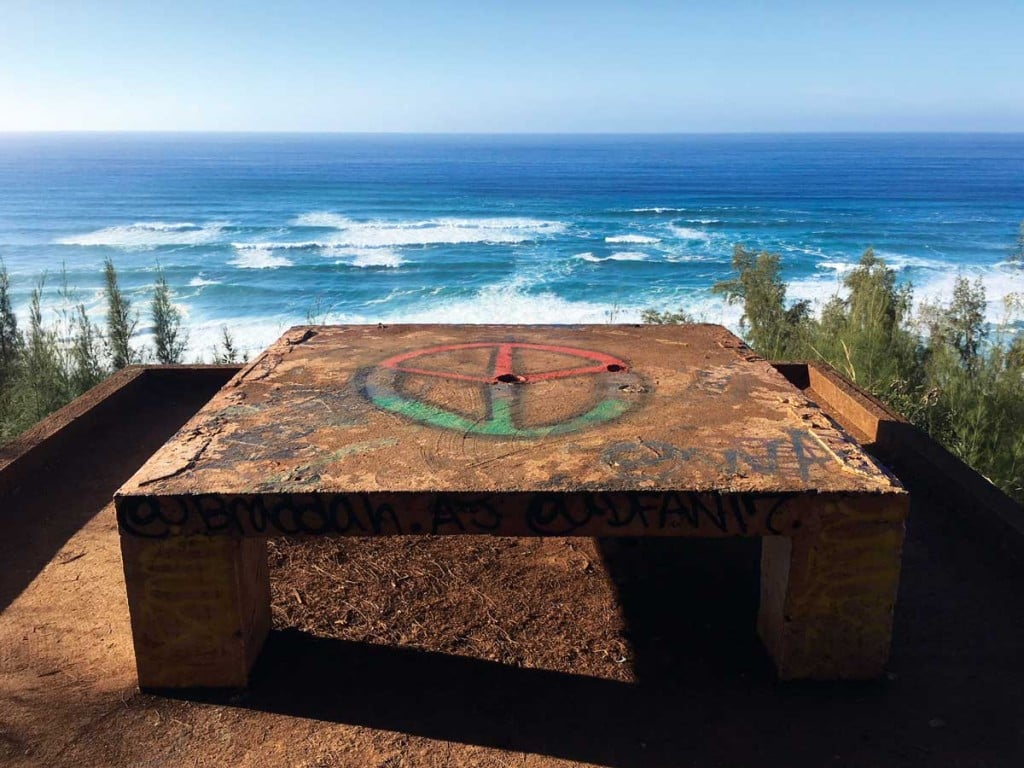 Hawaii's full of awe-inspiring hikes, but not many will give you such a bird's-eye view of Oahu's North Shore like the Ehukai Pillbox Hike. Located next to Sunset Beach Elementary, this hike has been a regular activity for local residents for years, and its stellar views of the Seven Mile Miracle have recently begun sprouting up on social media. Here's a quick guide on how to tackle this short and easy trail.
Preparation
Be sure to bring ample water and sunscreen. Although the trail isn't too long—a mile-and-a-half round-trip with ascent and descent each taking 30 to 45 minutes—it's always better to be safe than sorry. And if you're bringing food or snacks, be sure to also bring a bag to throw away your trash or any rubbish you find on the trail.
Going early in the day or later in the afternoon–but not after 5 p.m. or you risk hiking past sundown–will save you from getting blasted by the sun. Going on a weekday will save you from encountering groups of other hikers. Lastly, don't forget the bug repellent.
Trailhead
Park either along Kamehameha Highway, which has ample roadside spots, or in the Sunset Beach Neighborhood Park's public parking lot. Keep an eye out for a bright orange sign in the parking lot that reads "Mahalo!" A small inlet in the pines next to the sign is where the trailhead begins.
The Hike
Now for the fun part. The hike up starts on level ground, however, it will become a leg–burning incline for 15 to 20 minutes. Fortunately, much of the hike is shaded by pine trees, so take your time and be careful not to roll any ankles on the numerous roots protruding from the ground. After working up a nice sweat, the ground will once again level off and the hike becomes much easier.
After a few hundred feet of flat land, you'll see a picnic table where you can rest. It also serves as the hike's first scenic lookout, so take in as much of the North Shore as you can before proceeding on. After another 10 minutes of flat, shaded ground, you'll reach the first pillbox.
On Instagram, you might have spotted photos taken from a second pillbox with a large, uncolored peace sign. That is actually on private property so we wouldn't recommend visiting it, but you'll get ample views from the first.
The View
If you really want to take it all in, stand on the top of the pillbox. From here you'll be able to see so much coastline you'll have to take a panorama shot on your phone to capture it all. Check the surf at the world famous Banzai Pipeline or get a clear view of Sunset Beach in its entirety. Residents of the North Shore will likely be able to pick out their houses from this vantage point, as it looks down on many of the colorful neighborhoods and residences.
Another part of the hike that's a must-see is the inside of the pillbox, which artists have turned into their own public gallery. Every square foot of the walls have been covered with graffiti art and you can spend a good chunk of time in the nice damp coolness of the pillbox admiring the eclectic designs.