How Two Entrepreneurial Kauaʻi Surfers are Supporting Sustainability
The aptly named Slow Yourself Down boutique in Hanalei combines a love for the ocean with sustainable creativity.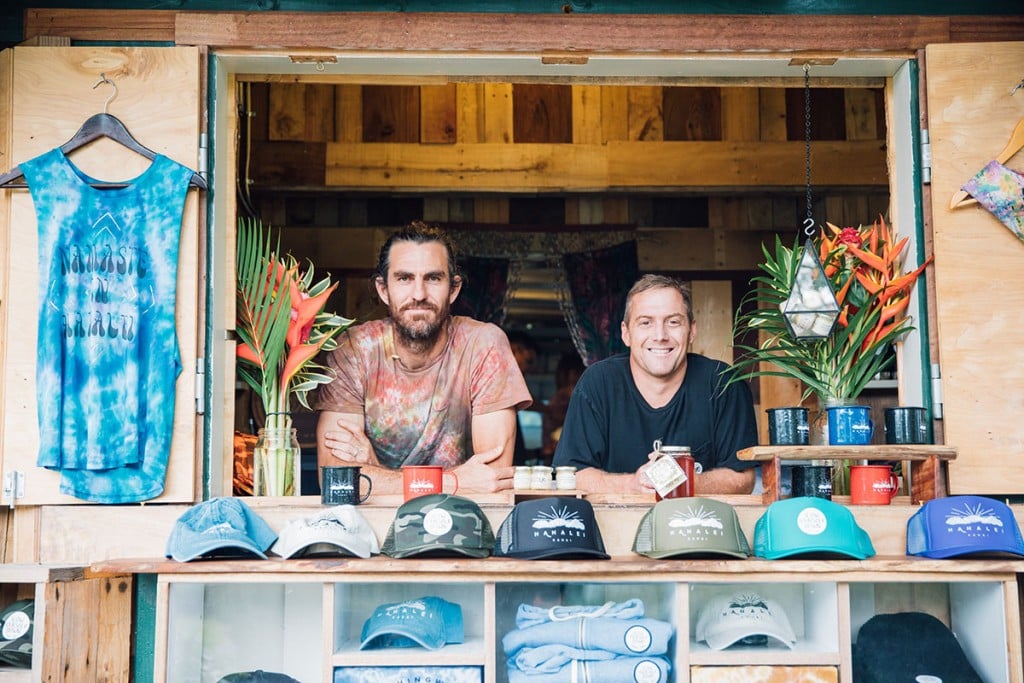 Soon after entering the idyllic town of Hanalei on the north shore of Kaua'i, after crossing the river and passing the taro fields framed by verdant mountain peaks, you will find Slow Yourself Down, a boutique owned by childhood friends Jesse Merle-Jones and Aamion Goodwin. Organic cotton slogan tees and accessories with a laid-back surfer vibe line the walls of the cabinlike store.
You are greeted with a sign that says "Aloha Starts Here," which the owners mean both literally—people have been flocking to Hanalei for decades—and figuratively. "Aloha starts wherever you are, it starts within yourself," says Merle-Jones. "We want to embody that old-school Hawai'i vibe of welcoming and aloha."
The Wishing Well shave ice truck—the duo's other venture—is parked under a wooden green roof on the same lot as the boutique along with a smattering of picnic tables and an errant chicken or two. Colorful hand-painted signs advertise the goodies for sale: organic-flavored shave ice, cold-brew coffee and heaping gorgeous açaí bowls ready for their Instagram cameos.
Merle-Jones and Goodwin grew up together in Hā'ena, a sleepy enclave at the end of the road past Hanalei, where the beach washes into the Pacific and the dramatic Nāpali Coast begins. The friends spent their childhood immersed in nature and started surfing at an early age. At 13, they both began competing. By 19, they were surfing professionally and traveling the world, often together. Goodwin parlayed this into a modeling career as a lifestyle athlete for surfwear brands; Merle-Jones went on to win the Foster's Professional Surfing Tour in 2002.
A few years later, Goodwin was quoted in an interview using the phrase, "Slow yourself down," while promoting the film, "Given," about his nomadic family's worldwide travels. Immediately a lightbulb went off and they thought it would be great on a sticker. Hurley, one of their sponsors at the time, went on to print a small run of these stickers, and it would serve as inspiration for their future business. Though the phrase became their mantra—a reminder to stay present—Merle-Jones is quick to point out that they didn't make it up. "I have the clearest memories of my elders telling me that's how you flow with the ocean—you have to slow yourself down so you're not hurried," he says. "I think us being surfers, it really resonated with us."
Surfing professionally landed both men sponsorships with big-name action sports brands and introduced them to the apparel business. By the end of his pro surfing career, Merle-Jones started working for Fox Racing, a brand that had previously sponsored him, affording him the chance to sit in on sales and marketing meetings and giving him firsthand knowledge of surf labels and merchandising. He was particularly enthused about the brand's organic cotton shirts. "I was really attracted to being creative and sustainable at the same time," he says.
Soon the entrepreneurial spirit took over and together Merle-Jones and Goodwin started Slow Yourself Down in May 2015. Though now the moniker has caught on, back then, people were advising them to come up with a different name for their business. But Goodwin and Merle-Jones were passionate about the slogan, and it stuck.
What they didn't know, however, was how they would fund their new startup. As luck would have it, a popular shave ice truck in Hanalei, Wishing Well, was for sale. Beloved by locals, it had been a town staple since 1983—it was actually where Goodwin and Merle-Jones bought shave ice as kids. The friends bought the turnkey business in 2015 and were fortunate to learn the art of shave ice making from Auntie Diana, the previous proprietress. While the original Wishing Well was an old-school Hawaiian business open at odd hours and famous for adding a gummy worm to the shave ice, the men brought a new level of professionalism to the operation. Now it's open daily and the traditional syrups have been switched out for seasonal, organic flavors such as liliko'i (passion fruit) and guava topped with coconut cream or macadamia nut ice cream.
A year went by before they designed their first order of 50 Slow Yourself Down T-shirts, which sold out immediately. This confirmed to them that people were indeed attracted to the message. Business took off and the proceeds from the quickly growing shave ice venture soon went into creating a storefront for Slow Yourself Down.
Then, serendipity struck again. A small art gallery just steps from the shave ice truck became available and the duo decided to take it over. Goodwin led the rebuild and together they gutted the space, tore out the windows and installed big sliding barn doors. In November 2019 they opened a retail space there.
"There's no perfect business or no way to not have any footprint, but we are trying our absolute best to work with really sustainable, organic, high-quality cotton and the fair trade," Merle-Jones explains. "We enjoy hearing the stories about where our product is coming from and the people who are producing it and how it is sustainable within their community, just like we are hoping it is sustainable within ours."
The two friends have tried to implement sustainability in all aspects of their business. Last year, Wishing Well stopped using single-serve plastics, thereby greatly reducing its waste, and the friends are thrilled to see customers using their popular Hanalei Mason jars for coffee and juice runs around town. When some of the shop's white T-shirts were inevitably stained from shave ice syrup, they came up with a creative solution: Goodwin's father, Aaron, a well-known tie-dye artist, whipped up some colorful creations to hide those stains and they were quickly a big hit.
These days, Goodwin is busy raising his three kids in Hā'ena with his wife, Daize Shayne, herself a two-time world champion longboarder, while Merle-Jones has moved farther up the shore to Kīlauea. They remain committed to surfing, to the business and to each other.
While Goodwin is the dreamer, the one with the vision of what the brand can become, Merle-Jones enjoys the business side, with an approach that seems to echo the brand's mantra. "It's really letting go and letting the demand dictate where the business flows to—you have to really surrender to it," he says.
O'ahu-raised writer IJfke Ridgley loves hearing about and supporting locally owned Hawai'i businesses—like Slow Yourself Down, the Kaua'i boutique she profiled for this issue—especially in the current economic climate.
Slow Yourself Down
5-5080 A Kūhiō Highway, Hanalei, (808) 342-5005, slowyourselfdown.com