How Waikīkī's Legendary Beach Boys Defined Aloha
The famed first generation of Hawaiʻi beach boys offered the Islands' earliest visitors lessons in surfing, paddling and Hawaiian culture.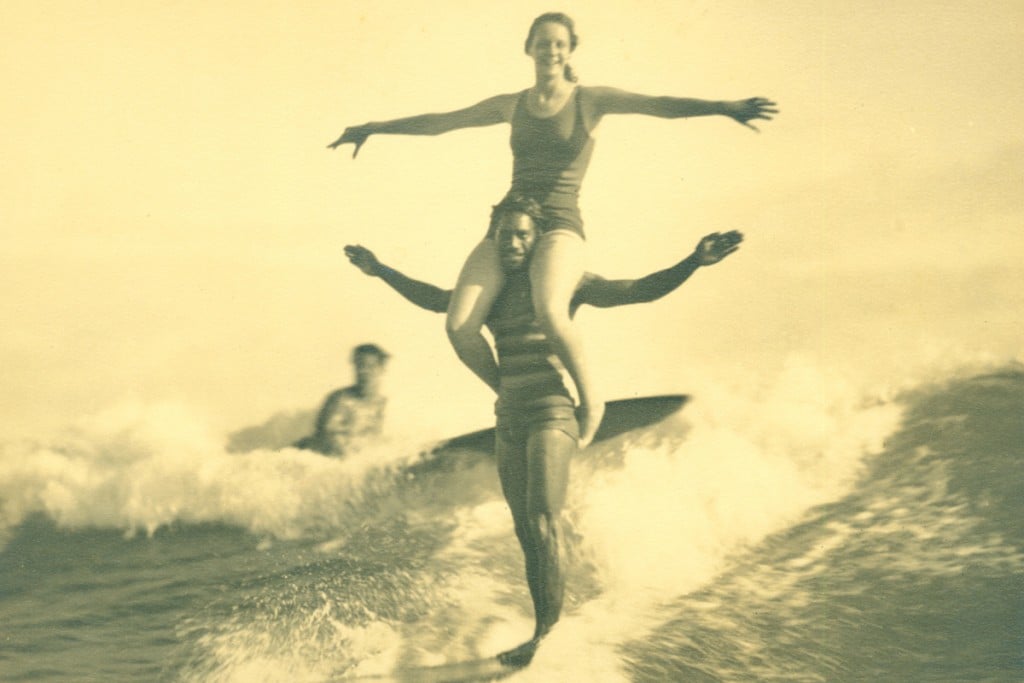 A group of wet-haired kids pours out of a traditional Hawaiian canoe on Waikīkī's Kūhiō Beach, smiling and laughing.
The kids are from Waimānalo, a rural town on the windward side of Oʻahu. They're spending the clear, bright day in Waikīkī with their teachers. The adults, sporting rashguards, revel shamelessly in the sunshine, too.
The group has just checked off an important activity on the day's agenda: catching waves in an outrigger canoe in the world-class surf off Waikīkī Beach.
"Everything worked out?" asks Didi Robello, owner of Aloha Beach Services, which organized the canoe ride for the kids. He walks over to meet the group, now scattered on the sand fronting his concession stand.
"Yeah," responds one of the teachers, wiping her face with a beach towel. She looks at Robello and smiles. "It was perfect. The kids had a lot of fun."
Robello gives the group a sizable discount and instructs his staff of beach boys, already rinsing off the canoe and putting away paddles, to take the remaining cash and split it among themselves.
"No write 'em in the book," he says. "I not going take nothing."
Robello walks toward Aloha Beach Services' neatly organized surfboard racks, passing a small seating area landscaped with avocado, mountain apple and tiare trees, and ti plants grown from leaves tossed into the ocean at memorial services in Waikīkī. Many of these memorials in recent years have been for members of Waikīkī's first generation of beach boys, an aging group of famed watermen who offered surf lessons and canoe rides to visitors during the resort area's earliest years.
Robello, age 56 and a second-generation beach boy, grew up on the beach, learning his craft from these Waikīkī beach legends. His father, Harry, opened the stand in the 1950s, working side by side with beach boys such as Albert "Rabbit" Kekai, Charles "Panama Dave" Baptiste, Sam "Steamboat" Mokuahi and William "Chick" Daniels.
"The best thing is I got to know all the beach boys before they passed away," says Robello. He took over his father's stand in 1983 and keeps the true beach-boy tradition alive. "I can't think of a better place to work. It's the only thing I know."
The beach boys of Waikīkī are the stuff of local legend—a lionized and partially mythologized band of laid-back Hawaiian watermen who worked and played on the area's beaches as it rose to become Hawaiʻi's premier resort destination.
Highly skilled in the water and knowledgeable about the ocean, they could surf, steer canoes, fish, dive and swim. And they made their living sharing all of this with the first visitors to the Islands.
"The beach boys represented the very basis of what aloha is," says Paul Merino, 64, captain of the City and County of Honolulu's Waikīkī lifeguard unit. "And that was welcoming strangers into your home as if they were family. That's what a Waikīkī beach boy did, day after day after day."
Waikīkī's first beach boys began showing up around the time the beachfront's first hotel, the Moana, was completed in 1901. Tourists flocking to Waikīkī were immediately enamored of the romantic lifestyle of the beach boys, who, in turn, happily shared their knowledge of Hawaiian and surf culture with them … usually for tips.
By 1911, two surfing clubs—the Outrigger and Hui Nalu—had set up beachfront quarters in Waikīkī, each with a staff of beach boys offering surfing lessons, canoe rides and lifeguarding services.  Five years later, Hui Nalu (Hawaiian for "wave club") captain Edward "Duke" Miller struck an arrangement with the Moana to provide the hotel with its own concession on Waikīkī Beach. Dubbed the Moana Bathhouse Gang, these clean-cut beach boys sported uniforms and weren't allowed to drink, gamble or flirt with female visitors—a stark contrast from the then-prevailing beach-boy stereotype.
By the time the luxe, pink-stuccoed Royal Hawaiian Hotel opened next door to the Moana in 1927, Waikīkī was quickly becoming a premier visitor destination, luring Hollywood celebrities like Bing Crosby, Cary Grant and Carole Lombard for sun and surf. Riding a rising tide of demand for beach services, Waikīkī's beach boys profited from the influx of wealthy visitors, who rewarded them with dinners, gifts and even envelopes of cash.
"Beach boys were a well-known symbol of Hawaiian culture, of the activities at famous Waikīkī Beach, especially surfing, and of Hawaiian men in general," says DeSoto Brown, archivist and collections manager for Oʻahu's Bishop Museum. "The image of a beach boy may or may not have been true to life, but regardless, on the whole they were seen very positively. Considering what other racial stereotypes existed in the United States in the 20th century, beach boys were 'good guys' who Hawaiians can look back on with pride. They stayed connected with Hawaiian cultural traditions even as they interacted with the rest of the world, and adapted to it."
In many ways, Hawaiʻi's eventual rise as a world-class tourist destination can be traced, at least partially, to the hospitality and aloha spirit proffered by Waikīkī's earliest cadres of beach boys.
"Something I really appreciated about the beach [was that] the people that came … were from all walks of life, and, in those days, aloha was the name of the game," says George Downing, a legendary big-wave surfer who opened his own beach-boy concession, Kūhiō Beach Center, in 1961. "That's what I learned from 'Steamboat' and 'Chick.' You take care of the people. And when you take care of them, they going take care of you. This was very important. Aloha was very important to us."
"Beach boys weren't beach bums," says Susie Kekai, daughter of Rabbit Kekai. "They weren't into scamming tourists and ripping them off. They brought their family values to the job. That's the way it was—all ʻohana."
It's likely that, when many people imagine the model, traditional Waikīkī beach boy, they envision Olympic gold-medal swimmer and surfing patriarch Duke Kahanamoku. By the time he was a teenager, just after the turn of the century, Kahanamoku all but ruled Waikīkī's beaches with his surfing and swimming skills.
In reality, Kahanamoku was never a wage-earning beach boy. But the lifelong Hawaiʻi "ambassador of aloha," credited with introducing surfing to the world, remains the embodiment and gold standard of a true beach boy—skilled, respectful, friendly.
At Waikīkī Beach Activities, a beach-boy concession at the Hilton Hawaiian Village Beach Resort & Spa, a koa paddle displayed prominently in the shop's window bears Kahanamoku's creed of aloha: "Try meeting or leaving people with aloha. You'll be surprised by their reaction."
It's a tenet many of today's beach boys continue to take to heart.
"The beach boys today are different. They're more modern. They have cell phones. They have digital cameras. But the culture is the same," says Bob Hampton, who has owned Waikīkī Beach Activities since 1989. "We try to emulate Duke Kahanamoku. We try to be ambassadors of aloha."
Family, however defined, was important back in the day and remains so now.
Waikīkī's first beach boys chased hooky-playing kids back to school and collected money for other beach boys who were sick or needed rent. They made sure everyone had something to eat.
"The bottom line is, when you making enough money to feed your family, it's all good," says Clyde Aikau, who has worked as a beach boy since age 19. (Aikau's brother was famed Hawaiʻi lifeguard and surfer Eddie Aikau, for whom the big-wave surf contest at Oʻahu's Waimea Bay is named.) "But along with the money comes the pleasure of what we are doing, being in the water, teaching our Hawaiian heritage of surfing and canoe surfing."
Strip away the high-rise hotels, resorts and visitor infrastructure that has sprung up around it, and the roughly two-mile stretch of sandy beach in Waikīkī hasn't changed much since the heyday of the area's beach boys. The reef-sheltered bay and beaches of Waikīkī are still among the best locations in the Islands for just about any kind of ocean activity, from surfing, stand-up paddling and outrigger canoeing to swimming or floating in pink-flowered inner tubes.
Sure, there are more sun worshippers spreading out beach blankets and umbrellas, more folks in the waters near shore and more surfers queuing for waves further out to sea. But the allure of Waikīkī remains as strong for all who dream of someday walking its sands as it does for at least some of the beach boys who still escort visitors into the calm waters fronting those sands.
Says Aikau, "At 61, I still get a rush when I push somebody and see them stand up for the first time."
Even the watermen who no longer work the beach full time keep fond thoughts of Waikīkī and its beach-boy culture, past and present.
"It's the only place in the world where you can catch a wave, watch the sunset and listen to music all at the same time," says one-time beach boy Downing, smiling. "It was always magic."
*Editor's note: Big wave surf legend and environmentalist George Downing passed away in March 2018 at the age of 87.