Humpback Whale Season in Hawaiʻi is in Full Swing Right Now
Researchers hope whale numbers will increase this year.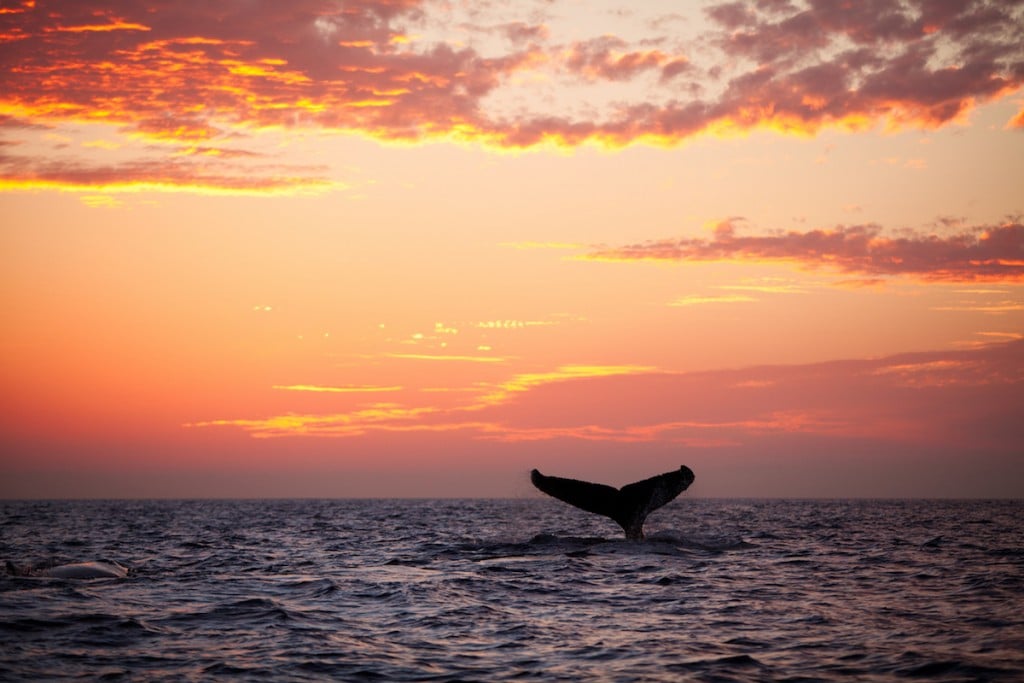 November is when the koholā (humpback whales) return to Hawaiʻi to breed, birth and nurse calves. An estimated 8,000 to 12,000 of the protected marine mammals migrate from Alaska to the Islands' warm, shallow waters through April, when they head back north again.
This year, though, the first North Pacific humpback whale sighting was reported on Oct. 8 off Maui, according to the Pacific Whale Foundation—earlier than normal. Researchers at the Hawaiian Islands Humpback Whale National Marine Sanctuary, a 13,700-square-mile sanctuary created in 1992 to protect whales in their preferred habitat around the Islands, are getting reports of whale sightings from around the state.
They are also hopeful that total numbers of whales that will be counted this season—now through March 2021—will trend upward. In 2016, numbers dropped nearly 50%, likely due to a lack of food. That was the same year the koholā were removed from the endangered species list.
The COVID-19 pandemic may affect the whale count, too, with fewer whale tours running and fewer visitors in the Islands.
"We can say that (in 2019-20), whale abundance and singing activity was the highest in about five years, indicating that whale numbers in Hawaiʻi have been increasing," said Marc Lammers, research coordinator with the humpback whale sanctuary, in a webinar he presented last month on the sanctuary's website.
Whale tours on Maui are running, albeit not at full capacity. PacWhale Eco-Adventures, for example, reduced its passenger capacity to 50% and assigns seats on its boats to ensure proper social distancing. The company also requires temperature checks at check-in and mask wearing at all times (unless eating, drinking or snorkeling) and has implemented a staggered boarding process.
Don't know much about koholā ? Here are some fun facts compiled by the National Oceanic and Atmospheric Administration and National Geographic:
Humpback whales have an estimated life span of 40 to 50 years. They can weigh up to 40 tons and grow to 60 feet in length.
The North Pacific stock of humpback whales spends the winter in Hawaiʻi, western Mexico and the southern islands of Japan. In the spring and summer, they migrate up to 3,000 miles to feed in colder northern waters in places such as Alaska.
Humpback whales feed on krill and small schooling fish. Instead of teeth, they have baleen: platelike bristles made out of keratin, the same protein that constitutes human hair and fingernails.
Humpback whales occasionally blow bubble nets to catch fish.
Male humpback whales are known for their songs, which vary based on the time of year, location and purpose.
Mothers and calves swim close together, often touching each other with their flippers in perceived acts of affection.
And learn about the cultural significance of whales in Hawaiʻi here.