Humpbacks are back! Hawaii's 2012-13 whale-watching season now officially under way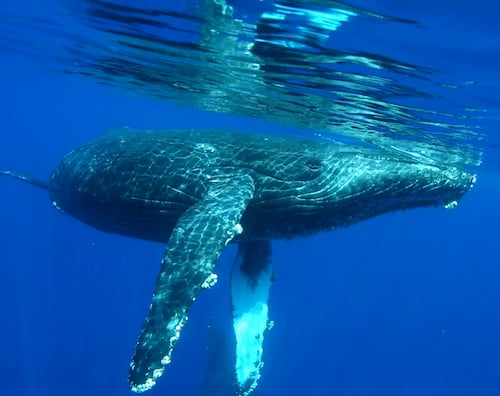 Ocean recreation tour operators in Honokohau Harbor kicked off a very early start to the 2012-13 whale-watching season yesterday morning when they spotted a humpback whale in waters near the Big Island's Kailua-Kona area.
The confirmed sighting may be the earliest to be documented in recent history, according to a news release issued by the National Oceanic and Atmospheric Administration (NOAA).
Last year's first sighting was on Sept. 26. The first sighting for both 2010 and 2009 occurred on Oct. 20. According to the Maui-based Pacific Whale Foundation, which has records from at least the last dozen years, prior to this week's confirmed sighting, the earliest arrival of the first humpback was on Sept. 16, 2000. The latest occurred on Nov. 11, 2005.
According to a NOAA news release, tour companies Atlantis Submarines, Captain Zodiac, Kona Diving Company and Wild Hawaii Ocean Adventures yesterday observed an adult humpback whale surfacing off Honokohau Harbor.
Scientists estimate that there are 20,000 humpback whales in the North Pacific. An estimated 12,000 swim to Hawaii each winter to mate, give birth and nurse their calves in warm Hawaiian waters, where they are protected.
With the arrival of humpbacks, NOAA reminds ocean to keep a safe distance from these 45-ton visitors to the Hawaiian Islands Humpback Whale National Marine Sanctuary. The sanctuary, which lies within the shallow (less than 600 feet), warm waters surrounding the main Hawaiian Islands, constitutes one of the planet's most important humpback whale habitats.

Federal regulations prohibit approaching within 100 yards of whales when on the water, and 1,000 feet when operating an aircraft. These and other regulations apply to all ocean users, including vessel operators, kayakers, paddle boarders, windsurfers, swimmers and divers throughout the Islands.
Peak whale-viewing months are typically January through March. The last remaining mothers and their calves usually depart our Islands for Alaska by early May.
The best way to see the humpbacks up close is aboard a whale-watching tour. In recent years, though, thanks to an increase in the number of whales gliding along in the channels between the Hawaiian Islands, it has been fairly easy to spot them from the shoreline. For shoreline recommendations, check out Hawaii Magazine's Landlubber's Guide to Whale Watching in the Islands.
If you come across an injured or entangled marine mammal, maintain the required safe distance and call NOAA's Marine Mammal Hotline, 1-888-256-9840 immediately, or the U.S. Coast Guard on channel 16. If reporting a suspected approach zone violation, call the NOAA Fisheries Enforcement Hotline, 1-800-853-1964. For additional guidelines and safety tips, click here.