I Traveled to Oʻahu During COVID and This is What Happened
Tips and tricks from a veteran traveler who safely vacationed in the Islands under the state's pre-travel testing program.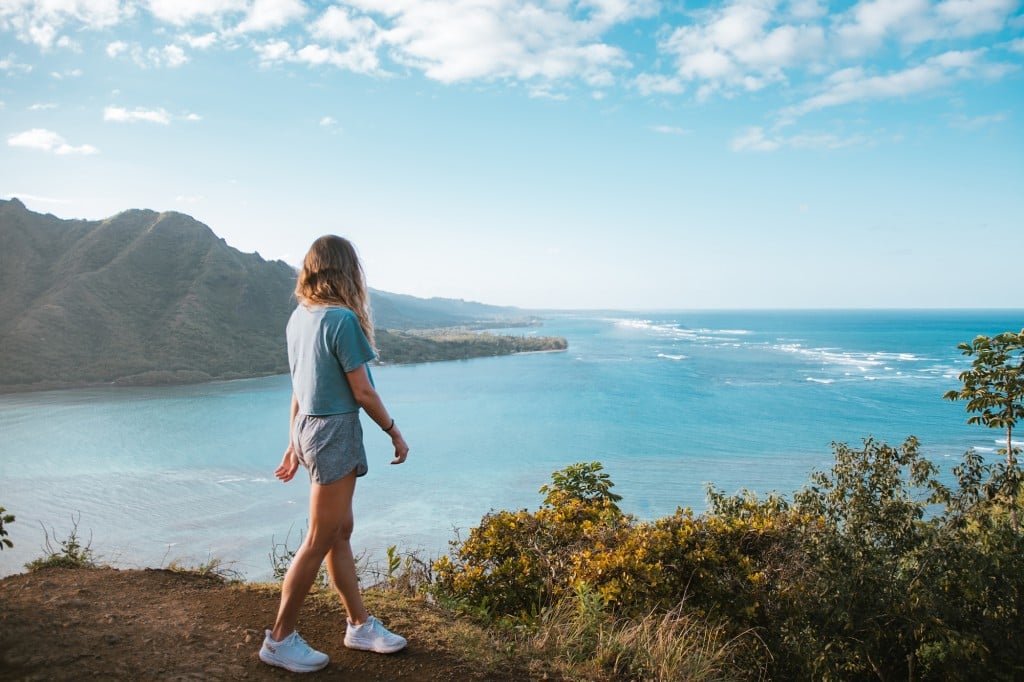 Itching for a weeklong getaway after one too many winter days trapped inside, I found myself scanning flights in search of somewhere warm. My interest was immediately piqued when I stumbled upon a nonstop round-trip flight to Oʻahu on Hawaiian Airlines. I spent much of 2019 flying back and forth between the East Coast and Oʻahu for a work assignment and quickly fell head over heels for the island's beautiful scenery and laid-back vibe. It had been almost a year since my work travel came to an abrupt halt and this flight to Honolulu was calling my name.
I had questions though. What were the travel policies in place? Could I plan my trip to keep my health and the health of the local community a priority while simultaneously supporting the tourism industry? I knew with COVID-19 still being very present in each of our lives that travel during these unprecedented times would take careful thought. A quick Google search revealed that the state's Safe Travels Hawaiʻi pre-travel testing program made it possible to visit Oʻahu responsibly and safely without needing to participate in a 10-day quarantine. Check out my tips and tricks for how I prepped and planned my trip to Oʻahu.
Note: Each island allows travel in its own unique way, so if you're planning to visit other islands, like Kauaʻi or Maui, there might be additional steps. Make sure to follow instructions for the island you will be visiting.
Pre-Travel COVID-19 Test
I used the hawaiicovid19.com/travel website to research the state of Hawaiʻi's trusted testing partners located in my area. I chose to pay extra for a rapid test—$170 from the clinic I used—that guaranteed results within 24 hours. For your results to be accepted, you must have taken the test and received the results no more than 72 hours prior to your flight's departure time. If your flight has any layovers, the 72-hour window ends at the departure time of the last leg of your flight (the flight that will land on Oʻahu). So I scheduled my test for a Monday afternoon for my direct flight departing early Thursday morning.
Tip: It's important to make sure your COVID-19 test is with a Hawaiʻi-certified testing partner listed on the website or else it will not be accepted. These partners can change so I made sure to double-check the site prior to my appointment and to ask again when I arrived for my test.
Uploading to the Safe Travels Hawaiʻi Portal
Once I received my negative test results, I went online to create my profile at the Safe Travels Hawaiʻi portal. There, I uploaded my results and filled in my flight and trip information. There's also a mandatory health questionnaire you have to fill out 24 hours prior to your flight, all handled in the same, easy-to-use portal. When all of the information has been uploaded, a QR code will be sent to your registered email address. Make sure to take a screenshot of the QR code or have the email readily available when you arrive at Oʻahu's Daniel K. Inouye International Airport.
Tip: Don't forget to have a hard copy of your test results in hand or at least the PDF of the results downloaded to your cellphone as a backup.
Arriving in Hawaiʻi
Once I got off the plane in Honolulu, I was immediately ushered into a room where airport checkpoint representatives met with travel groups individually to check their documents. This was where I showed my ID, the QR code and had my temperature taken. Once my documents were verified, my Safe Travels Hawaiʻi portal updated to show that I was officially screened and exempt from the 10-day quarantine.
Tip: Be sure to take a screenshot of the page in the Safe Travels Hawaiʻi portal that shows you are screened and exempt. I needed to show this a few times throughout my trip, like when I arrived at my hotel and prior to going on a boat excursion.
Checking In
After leaving the travel screening room, I picked up my bags and headed over to grab my rental car. Renting a car meant I had the freedom to explore the island on my own accord. My first stop was to check in at the Surfjack Hotel & Swim Club in Waikīkī, an affordable boutique accommodation with a great location and midcentury modern aesthetic that immediately caught my eye. While there are a number of desirable areas to stay on Oʻahu, I chose to stay in Waikīkī so I could walk to the various restaurants for meals as well as pop down to the beach for sunset or a quick dip.
The Surfjack had a number of other vacationers like me. It was a pleasant amount of guests, with common areas never crowded but never empty either. Masked guests kept their distance within their groups but still enjoyed the amenities. Kids often filled the swimming pool while adults lounged in sitting areas, listening to the nightly local music performer.
Tip: As a part of the check-in process, I had to show that I had officially been exempt from the 10-day quarantine. The Surfjack required masks in all common areas including around the pool and at the restaurant unless actively eating, drinking or swimming. Hand-sanitizing stations were set up in various common spaces and wet wipes were available, too.
Exploring Oʻahu
Upon leaving my hotel to walk around the city, I was put at ease by the sight of so many others wearing their masks while they went about their daily business. Masks were a common sight in Waikīkī and are required inside businesses unless you're seated at a table for eating and drinking. Masks were not common to see at the beaches and on hikes where it was easy to safely distance from others.
I walked the streets of Waikīkī many times in the year prior, but this time was different. The sidewalks were calmer, the streets quieter, and the atmosphere almost peaceful. The bustling, tightly packed crowds of the past were nonexistent. Instead, masked vacationers strolled about, walking in and out of restaurants and stores. As I got closer to the beach, I saw more people laying on the golden sand and swimming in the serene waters. The beach capacity was maybe half of what I had seen in the past, still humming with activity but not the overly crowded shores I had experienced during high season the year before.
I chose to go to Oʻahu for its outdoor activities: Being outside not only meant I got to enjoy the sun and warm weather, it also allowed for plenty of social distancing. After checking in to my hotel, I kicked off my trip by driving straight to the North Shore. Winter is my favorite time to visit the beaches up north to watch the surfers, and I heard the waves were in the 15-foot range so I knew it would be my first stop. There was very little traffic driving into Haleʻiwa and I was able to easily cruise down the typically car-lined Kamehameha Highway to find parking near Sunset Beach.
The next few days consisted of hikes, beach time and water activities. I woke early to do my favorite sunrise hike to the Lanikai Pillbox (aka Kaʻiwa Ridge, above) in Kailua where the path was less crowded than normal—just a few hikers wearing masks and others keeping their distance. I also checked out a place that I would have avoided pre-COVID-19 due to the crowds: Waimea Valley, where I swam in the cool waters of Waimea Falls. Within the 1,875-acre park, masks were required but could be taken off while swimming. I also rented a kayak to explore the waters around Kāneʻohe Bay, where I was first required to show my official Safe Travels Hawaiʻi quarantine exemption. I ended my trip on the Leeward Coast with a whale-watching and dolphin snorkeling excursion; temperature checks, quarantine exemption papers and masks were all required. While wearing a mask on the boat was different, it didn't take away from seeing multiple whales, hearing their songs and even spotting a few sea turtles while snorkeling. (Tip: January through March is peak migration season for whales in the area. I'd highly suggest an excursion to see these amazing creatures.)
Before leaving the island, I also had to hit a few of my favorite food spots. Dining was allowed indoors at limited capacity while I was there and I did a combination of takeout (Sunrise Shack and Lanikai Juice), eating outdoors (Maui Brewing Co. and the Hideout), and eating indoors (Beet Box Café and Yard House). All establishments required a mask until you were seated at a table (even the outdoor restaurants) and were bustling with people within their limited-capacity requirements.
During my time on the island, Oʻahu felt just as I had remembered: I loved it! In fact, I enjoyed having many activities to myself that I know would have been crowded at other times. Even though COVID-19 has changed many aspects of our everyday lives, Oʻahu remains an outdoor lover's paradise, with adventure around every corner.
Bottom Line: Thumbs Up for the Safe Travels Hawaiʻi Program
If you're in need of a warm, tropical getaway and it's important to you to adhere to COVID-19 travel safety guidelines, I would highly recommend visiting Oʻahu. The Safe Travels Hawaiʻi program is just what it sounds like: the state's effort to encourage safe and healthy travel. It's possible to enjoy travel, even now, while still respecting the island and its people. Just follow the rules and regulations in place.
NOTE: COVID-19 travel regulations are evolving at all times. Please be sure to check the hawaiicovid19.com/travel website for the most up-to-date information on travel to Hawai'i.
Kathryn Bennett is a travel photographer, story-teller, and content creator behind the @katbennettphoto account on Instagram and Been There Blog on her website www.katbennettphoto.com. She has traveled to over 30 countries, camera in hand, to capture the beauty of our planet and share it with others.