Ice Cream Made on the Slopes of Haleakalā
How a love for sweets and goats inspired Haleakalā Creamery.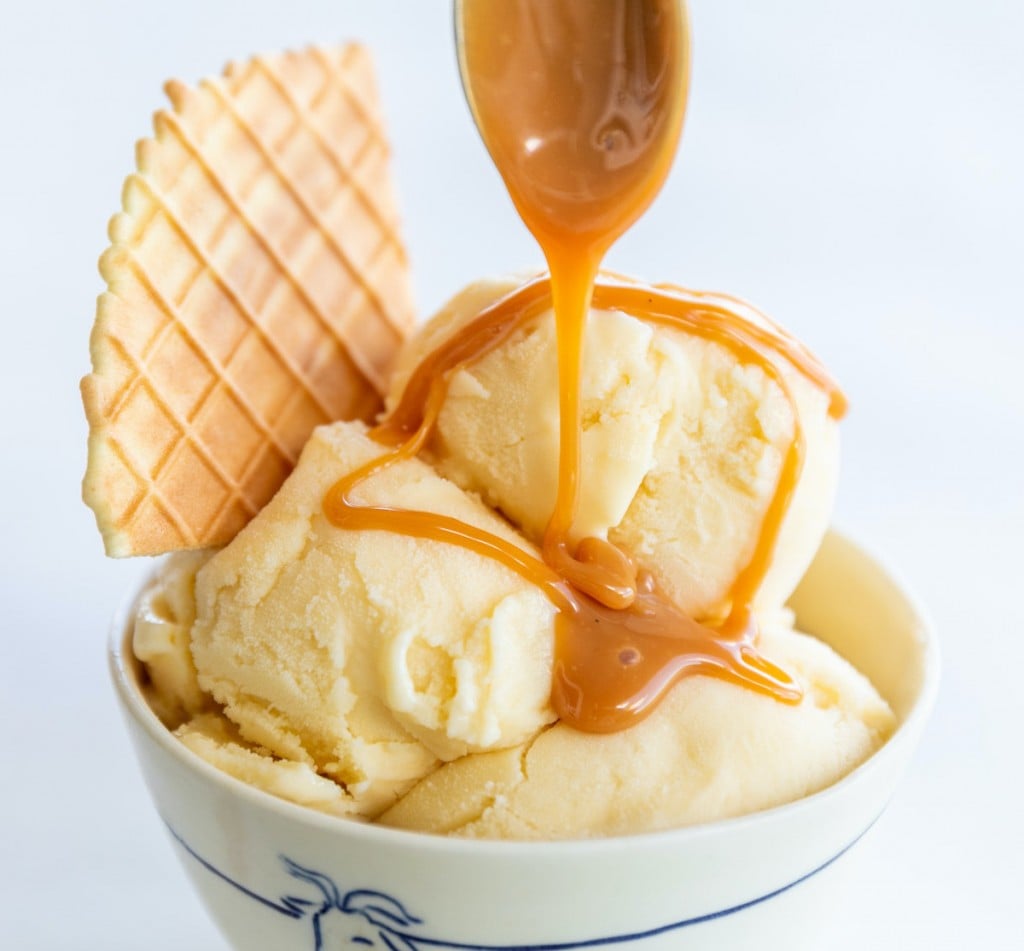 In small batches, Haleakalā Creamery makes one-of-a-kind goat milk ice cream and cheeses. The Maui family business also hosts farm tours so people can meet its friendly goats, learn about local farming, and taste a spread of gourmet goat-milk products.
Striving to be a part of the Islands' farm movement, Rebecca Woodburn-Rist was determined to produce her own food from Maui's agriculture and livestock. She decided on a dessert farm. "I just wanted to make my own ice cream because I have a sweet tooth," she admits.
With one goat and an insatiable craving for sweets, Woodburn-Rist started Haleakalā Creamery in 2011. She now cares for 42 goats at her family farm in Kula, which specializes in small-batch "goatlato," creamy caramel sauces, chèvre and Island Skyr cheese.
Prior to establishing Haleakalā Creamery, she had never tasted ice cream made with goat milk, yet she was drawn to becoming a dairy goat farmer anyway. "I like goats for how cute, efficient and easy they are. Cows use more water while goats use less and make more milk. I can also drive goats around in the back of my truck," she says with a laugh.
Haleakalā Creamery began with Curry, Woodburn-Rist's first goat. However, after six months, Woodburn-Rist realized Curry was a mountain goat and wasn't suited for dairy production. Unfazed by the setback, Woodburn-Rist began her pursuit for goat milk ice cream again, but this time with dairy goats.
Made like gelato rather than ice cream (using milk as opposed to cream), Woodburn-Rist coins her cold desserts goatlato. The ice cream is light and refreshing—not as thick and creamy as cow milk ice cream. "When we first tried goat milk ice cream, we knew we had to share it with people," she says.
Woodburn-Rist's goatlato is flavored with ingredients from the Islands, including Maui coffee and vanilla beans from local farms. She also incorporates her handcrafted caramel sauces into the goatlato.
The sauces are made in a cajeta-style, a type of dulce de leche made with goat's milk. It's a simple recipe of milk and sugar that is popular in Latin America. The mixture is simmered for hours, resulting in a complex, rich caramel sauce.
"Caramel sauces you find in the store are usually a quick 30-minute process. Mine is a four-hour process, so you get more flavor," Woodburn-Rist explains. The caramel can be drizzled over a goatlato sundae, stirred into coffee, or just eaten by the spoonful.
Woodburn-Rist admits she could eat sweets all day, but to satisfy her goat-loving customers with savory cravings, she also makes cheese. Haleakalā Creamery's chèvre is a mild, soft cheese blended with sea salt and herbs. It can be spread on crackers and crumbled into salads. Woodburn-Rist recommends adding it to pesto for a creamy pasta sauce.
Smooth and tangy, the Island Skyr is an Icelandic cheese resembling Greek yogurt. The skyr is packed with probiotics and protein that can be paired with fresh fruit, honey and granola. The Haleakalā chèvre and skyr are used as ingredients at restaurants on Maui including at the Andaz Hotel in Wailea and Montage Kapalua.
"We make the cheese and skyr to satisfy the people that can't have sugar," Woodburn-Rist says. But she maintains a running list of new sweets she hopes to add to Haleakalā Creamery's inventory. "I like my candies. I want to make more chocolates, caramels, truffles and fudges. These aren't as heavy as a jar of caramel sauce so that if you want to take something home to the mainland, you have something simple—a little taste of Hawai'i."
Woodburn-Rist's weekly farm tours are a way to share her love for goats and to increase interest in farming, and guests even get to milk the goats after learning how. Through the tours, she says she hopes visitors are inspired to produce their own food—and maybe even create something as delicious as ice cream.
"I'm not a professional chef. I just like being able to make food from an animal product," Woodburn-Rist says. "That's why I wanted an ice cream farm. I wanted to make things that I can just raise on a farm."
Pints of Haleakalā Creamery's "goatlato" can be found in Hawaiʻi grocery stores, along with its jars of caramel sauces. Haleakalā Creamery products are also sold at Maui's Upcountry Farmers Market on Saturdays as well as local farm stands. For more information or to schedule a tour, visit Haleakalā Creamery's website.